Energy, then and now: Covering the issues consumer-members care about
Since our first issue as Kentucky Electric Co-op News, this magazine has had one overarching mission: informing Kentucky's electric cooperative consumer-members on important energy issues. Some of our early topics, like promoting the use of electric tools and appliances, are quaint artifacts of their time. Other topics, however, like energy generation, reliability and affordability, have been part of the discussion for decades—and they remain just as relevant as ever.
In October 1973, the Arab oil embargo and subsequent energy crisis pushed energy topics to the center of public conversation nationwide. Your magazine took a bold approach to the issues readers cared about, with many of our cover stories in 1974 tackling subjects like coal, nuclear energy, electric reliability and consumer advocacy, to name just a few.
Looking back, it's surprising how much has changed in a relatively short period of time—and even more surprising how much remains the same.
COAL
Then
In the fall of 1973, Americans buttoned up their sweaters and prepared for a cold winter. It would be cold, not just because of the weather, but because the cost of a barrel of oil had nearly quadrupled. The Arab members of the Organization of Oil Petroleum Exporting Countries embargoed oil exports to the United States in retaliation for U.S. support of Israel during a conflict that October. For decades, Americans had been accustomed to cheap, plentiful energy, but the sudden confluence of increased demand and constricted supply shocked both the market and public awareness of energy issues.
The oil embargo was lifted in March 1974, but high prices and supply issues persisted throughout the decade. The same month, we explored Kentucky coal in a special section devoted to our state's abundant energy stores.
"Coal is the only fossil fuel that is presently available in abundance," Editor Ladell Futch wrote in the March 1974 issue. "America's supplies of oil and gas are running out. Recent experiences demonstrate the inadvisability—to say the least—of relying upon imports from other nations to supply our energy needs."
Futch pointed out the ample supply of Kentucky coal—the state's known reserves were the seventh largest in the U.S.—as well as the advantageous location of Kentucky's coalfields near "concentrated population and industrial centers."
He also pointed out environmental problems related to mining and burning coal, as well as the practical challenges of ramping up the infrastructure and workforce necessary to capitalize on coal reserves.
"To do all this in environmentally acceptable ways will require extensive research and development of new techniques and skills as well as heavy investments in equipment and manpower training," Futch wrote.
Now
As energy demand continues to grow in the U.S., so does interest in alternative ways to generate electricity. Kentucky's electric cooperatives take an all-of-the-above approach to generating electricity, using all the tools they have to provide electricity that is safe, affordable and always there when consumer-members need it.
In our September 2022 issue, East Kentucky Power Cooperative CEO Tony Campbell and Big Rivers Electric Corporation CEO Bob Berry called readers' attention to the continued importance of dispatchable energy sources—those that can produce energy on demand—like coal-powered generation plants.
Berry and Campbell pointed out that solar and wind energy—while valuable additions to the grid—can't be relied on 24/7. Energy is generated at the moment it's used, which means when the wind doesn't blow and the sun doesn't shine, wind and solar sources can't contribute. Battery technology is "largely in developmental stage," they write, and less than 1% of U.S. wind and solar is currently backed up by batteries.
"EKPC and Big Rivers Electric are committed to doing everything we possibly can, by utilizing every tool available to us in protecting the reliability and cost-effectiveness of the energy we supply for 1.35 million Kentucky residents and businesses, while moving toward a more sustainable future as technology allows," Campbell and Berry wrote. " … We call on our nation's leaders to make the same commitment and also to ensure the U.S. does not expose the cost and reliability of our abundant domestic energy supplies to the whims of radical interests, foreign nations and our enemies who have unscrupulously weaponized the world's energy supply."
NUCLEAR
Then
Our May 1974 issue began with an editorial note that changes were coming. "Today, more than ever, it is important that rural electric members have a reliable source of factual information concerning the energy situation," the editors wrote. "We are determined to make the Rural Kentuckian magazine such a source."
It was our goal to provide readers with information to understand complex energy issues, and to "sort out the truth from the many confusing and conflicting claims and counterclaims which too often cloud the energy situation picture."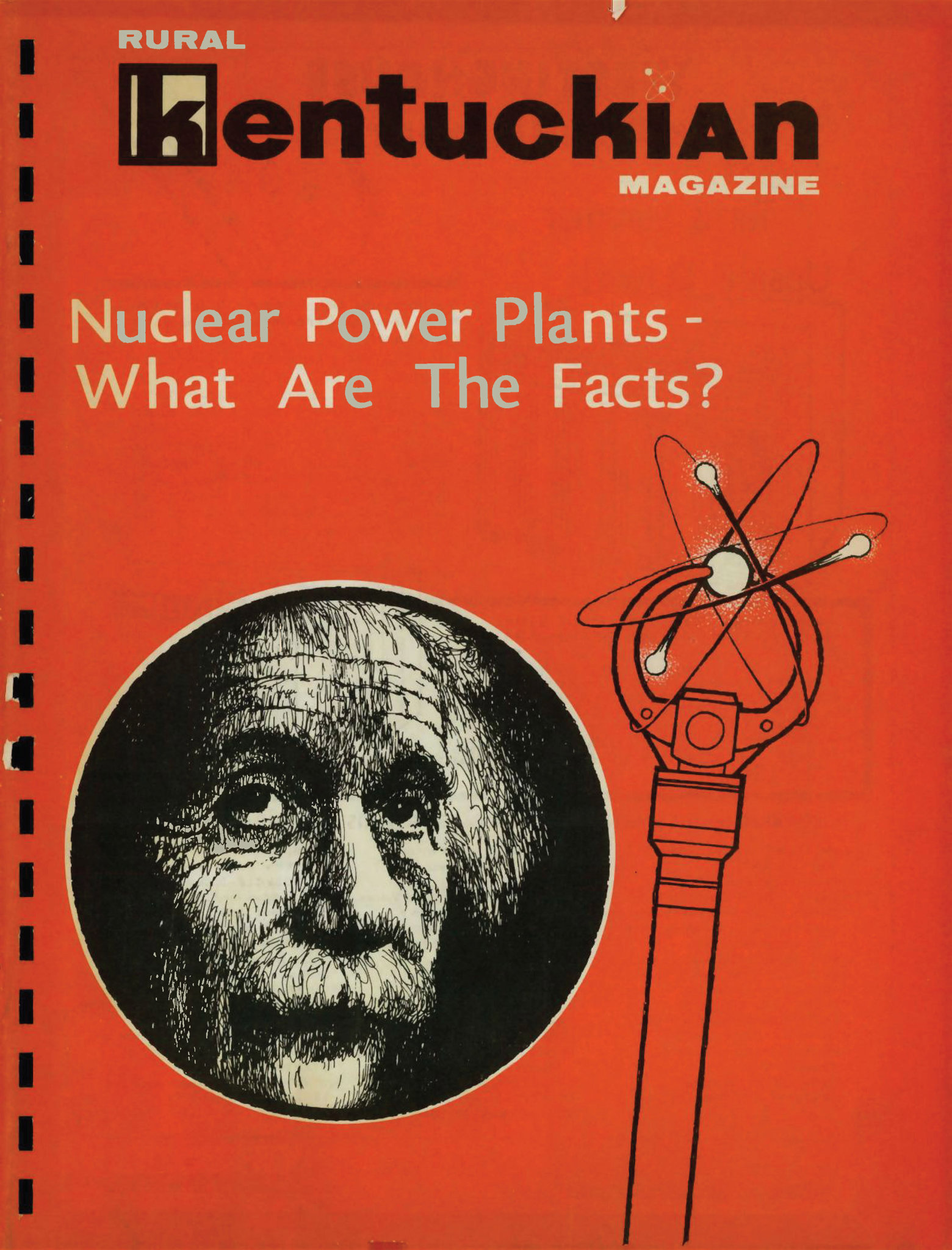 Nuclear energy was already an important piece of that energy picture. In February 1974, Louis B. Strong, the general manager for the statewide association, called for "maximum emphasis" on the development of nuclear energy. He believed that nuclear fission, and, someday, nuclear fusion, would "offer the best hope for meeting both America's and the world's future energy requirement."
In the spirit of offering reliable information, the May 1974 cover story addressed common questions about the risks of nuclear energy, from fears about nuclear explosions to emissions to transportation and waste disposal. Quoting research from the U.S. Atomic Energy Commission, Futch wrote that risks from natural background radiation, medical X-rays and even jet airplane travel were all significantly greater than the risk of radiation exposure from nuclear power generation.
"The relatively small risks are far outweighed by the tremendous contribution that nuclear power can and will make toward a better life for us all," he concluded.
Now
New investment in nuclear energy in Kentucky was halted in 1984, when state law required nuclear plants to have a permanent disposal solution for nuclear waste. In 2017, the passage of Kentucky Senate Bill 11, sponsored by state Sen. Danny Carroll, lifted that moratorium. The new law requires facilities to have a plan for managing waste rather than a means of permanent disposal.
Nuclear investment takes time and resources, but Carroll said, in a 2017 press release, U.S. energy demand was expected to rise 22% by 2040, and that new energy sources would be an important part of long-term reliability.
In 2023, the Kentucky legislature approved a joint resolution creating the Kentucky Nuclear Development Workgroup. The group's 23 members comprise state officials, nuclear energy experts and utility industry representatives, including Kentucky Electric Cooperatives President/CEO Chris Perry and representatives of Big Rivers Electric Corporation and East Kentucky Power Cooperative. The group is tasked with identifying barriers to nuclear power generation in the state and developing recommendations for the creation of a permanent nuclear energy commission. It is to submit a report to the governor and the Legislative Research Commission by Dec. 1.
As nuclear once more plays a growing role in statewide energy conversations—and with exciting technological developments on the horizon—Kentucky Living continues to keep members informed about this important energy source.
RELIABILITY
Then
"As we are witnessing the end of the petroleum era, we are also witnessing the beginning of the electric era," our cover story predicted in July 1974. But ramping up electric use would create challenges of its own.
"Electric utilities must gear up to produce and deliver the enormous amounts of electric power required to support such an electric economy," Futch wrote, accurately forecasting the demands that an electrified economy would place on the grid. "Electric utilities are already feeling the pinch between increasing power demands on the one hand and a combination of difficulties in increasing generating capacity on the other."
As petroleum supply diminished and electric utilities became responsible for more of the nation's energy needs, Futch predicted that electric providers would face serious challenges.
"Many electric utilities are already operating dangerously close to their capacities," he wrote. "Nuclear power, which was expected to be picking up a significant portion of electric generation by this time, has not developed as fast as was projected," and other plans to increase capacity were being delayed by government regulations and red tape. Plants powered by oil and gas were being urged to switch to coal.
Now
The end of the petroleum era that we predicted in 1974 has not yet come to pass, but our other prediction—the beginning of the electric era—certainly has. With increased demand for electricity in every area of life, from transportation to personal communication to entertainment, we expect more from electricity than ever before.
The resulting challenge Futch identified—producing and delivering that electricity—is complicated today by the need to reduce carbon emissions and a growing emphasis on non-carbon-producing energy sources like solar and wind. Kentucky's electric cooperatives are committed to providing safe, affordable electricity and they are advocating for commonsense policy solutions to ensure reliability for the future.
Our January 2022 cover story cautioned that, while we may be conditioned to take electricity for granted, " … the reality is far more complex. For every electron coursing into your home or business, for every microwave meal, video game console or load of laundry, the electrical grid is constantly at work. This complex network of power plants, substations, poles, wires, transformers, switches, monitors and people ensures the reliable and safe delivery of energy to your home or business."
In this rapidly shifting energy landscape, Kentucky Living continues to be a trustworthy source for consumer-members, keeping you informed about what's happening in Frankfort, in Washington and in your own cooperative.
CO-OPS SAW IT COMING
By September 1979, it was time to look back at the energy crisis and reflect on its lessons for the future. A column by the statewide association's then-General Manager Louis B. Strong offered one bracing conclusion: Kentucky's electric cooperatives had been sounding the alarm long before the crisis ever took place.
Strong said that, prior to the energy crisis, Rural Kentuckian magazine and the statewide association's annual reports made four relevant predictions:
1. We are facing a serious energy crisis that will stretch over a 10- to 15-year period.
2. No matter what kind of energy you use, electricity, gas, oil, butane or gasoline, the price will rise sharply over the next 10 years and some fuels may even be rationed.
3. We will see a clash between a desire for a cleaner and more attractive environment on the one hand, and our need for energy on the other, so that some compromise will have to be reached between the two.
4. Congress will adopt a national energy policy that sets priorities and policies on how certain kinds of energy can be used. This will probably affect the kind of car you can drive and the kind of home you can build.
"I think the above would indicate that the electric cooperative leaders were right about the energy situation six years ago when most Americans did not believe we had a problem," Strong said.
His point was this: co-ops know what they're talking about. In the same way people trust a medical expert to give medical advice, they should trust energy experts to give energy advice. We can't all be experts on everything, but Kentucky's co-ops demonstrated their expertise with accurate forecasts and sound judgement.
"We have to decide who we are going to trust in those areas where we do not have the facts and information on which to make an intelligent choice," Strong wrote. "I believe the record will show that your Rural Electric Cooperatives have a pretty good understanding of the energy crisis—its problems and solutions all along."