Fleming County native Johnny Jett shares his love for log cabins on Barnwood Builders show
"Dad, do you think somebody could take one of those down and put it back together?" 10-year-old Johnny Jett asked his father.
Jett doesn't remember exactly which state park he had been visiting with his mom, dad and brother. The important thing is what he was looking at—a log cabin, more than a century old.
"Well, son, I guess you could," his father replied.
Today, the 72-year-old Fleming County native makes his living taking log cabins and barns apart and putting them back together on Barnwood Builders, a hit show on the DIY Network, now in its 11th season.
Jett, a Fleming-Mason Energy consumer-member, has been on the show since its first season, but his experience with log cabins began long before. After returning from service in Vietnam, Jett moved back to the family farm with his wife and young son. He wanted to live in a log cabin, and his brother, Billy, an accomplished carpenter, was in the business of moving and assembling cabins for customers. It wasn't long before they found a prospect.
"There was an old guy still living in it, and the guy that owned it said, 'If the old guy dies or leaves there, I will give you the log cabin if you'll take it down it put it back up and live in it,'" Jett says. "I said OK. I lived in that cabin on the family farm. That's part of my life story."
Jett entered the world of log cabins fulltime after his brother had a heart attack and died in the middle of a cabin build at Cave Run Lake. To cope with his grief, Jett decided to finish the cabin on his brother's behalf. He took off from his job as a backhoe driver at the Fleming County Water Association and asked a friend to help. Together, Jett and Sherman Thompson—also a cast member on Barnwood Builders—finished the project, only to find they couldn't stop.
"I said, 'If you want to, we'll go into the log cabin business,'" Jett says.
In 1996, the pair started contracting for Mark Bowe, now starring on Barnwood Builders, who had just gotten into the cabin business and was looking for stock.
"I said, 'How many do you want?'" Jett recalls. "And he said, 'I want 100 by the end of summer.'"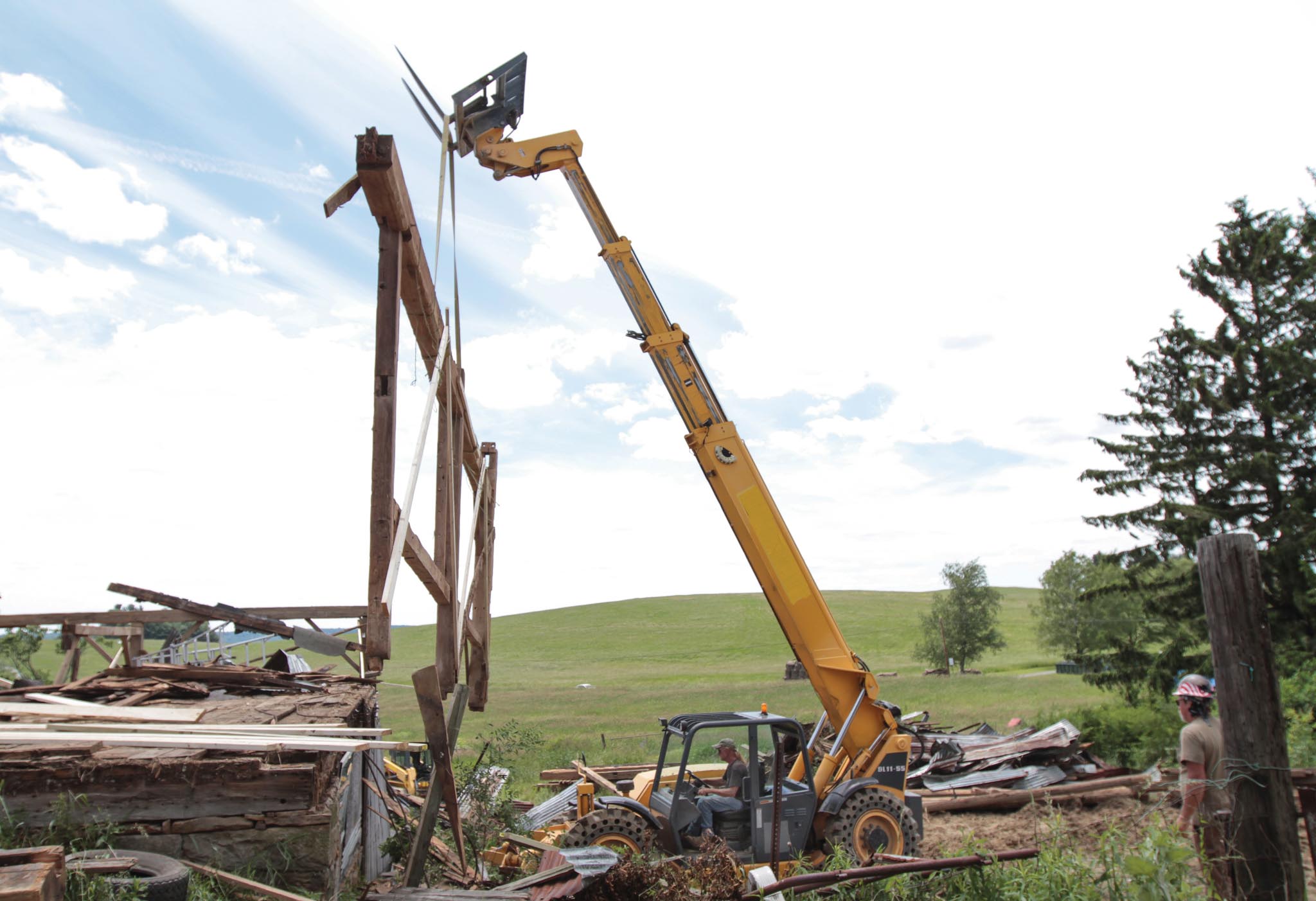 Jett's curiosity around rebuilding cabins began at an early age, but he had no idea it would land him on a TV show. Photo: Silent Crow Arts
Barnwood Builders is born
When Jett and Thompson weren't working on cabins themselves, they scoured the hollers of eastern Kentucky and West Virginia for cabins that, apart from their intervention, might have become casualties of time and weather. They began working for Bowe full time in 1998, and Bowe's business attracted the attention of the DIY Network after a passerby filmed a short documentary based on their work.
The first season of Barnwood Builders was released in 2013, and it has remained one of the network's most popular offerings.
"It's a very highly rated show on DIY—a fan favorite," says Mika Duncan, a line producer at Silent Crow Arts, the show's production company. "I think people really enjoy the fact that these guys have an appreciation for hard work, for their heritage and history, and they enjoy watching people who work well together."
Despite the fact that the team members are described on the show's website as "five fun-loving West Virginians," Jett still lives in Fleming County and considers himself "Kentuckian all the way."
He seems baffled by his late-in-life TV fame, but as a man of deep faith, he knows of only one explanation: "I'm just a regular guy that God has taken a liking to."
Mostly, Jett considers himself blessed to do what he loves. The living history captivates him—immaculate craftsmanship, initials carved in posts, artifacts of settlers and Native Americans found underneath buildings. As he plays a role in preserving cabins, Jett becomes part of their ongoing story.
"I would have liked to have been here the year this barn was built, and stand here before daylight and see what happened," Jett says, referring to a barn he had recently been working on. "We just love saving the history and making a living. If you can make a living and love what you're doing, you're doing better than most people."
Barns and art
For more about Barnyard Builders, go to www.diynetwork.com/shows/barnwood-builders.
Johnny Jett's paintings are available for purchase at www.johnnyjettart.com.