Co-op supports one of its own in time of need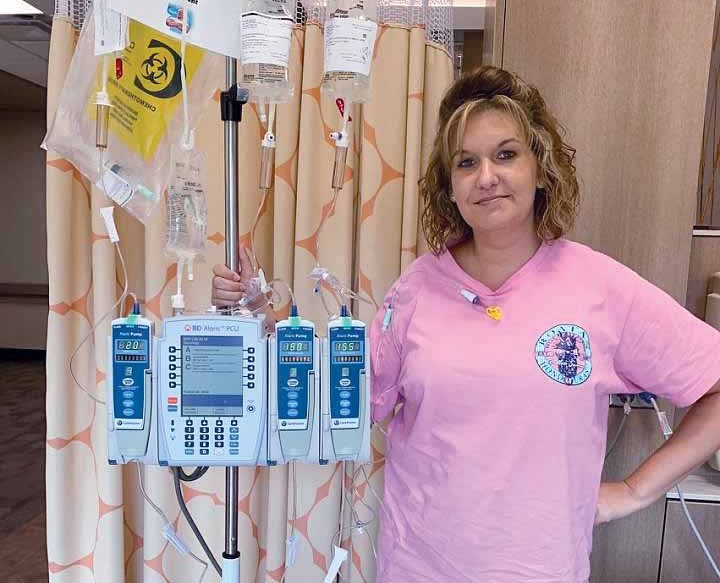 Life lessons learned
MAYFIELD
This could have been a sad story.
At age 38, in June 2019, Andrea Phillips was diagnosed with colon cancer. An onset of persistent back pain and abnormal fatigue were the only signs that something was amiss. It was a shock when her doctor told her she had a malignant mass taking up 75% of the circumference of her colon on the right side. She had Stage 3 cancer. Her future would include surgery, chemotherapy and five years of follow-up with doctors.
Andrea, assistant to operations at West Kentucky RECC, says she decided she "wasn't going down the rabbit hole of grief and despair" and that this would be a positive story regardless of what she needed to endure.
"I told my family I didn't want any drama surrounding the cancer," she says. "I had seen people who had cancer, and it defined everything in their life. Yes, it was scary and awful, but your attitude really affects the situation."
Instead of tears, Andrea says she and her sister made poop jokes (stool is processed through the colon). Along the way, she realized that she hadn't been really living; she was just existing. Five weeks after the surgery, she joyfully returned to work and started doing the things she had always wanted to do—travel, volunteer at the local humane society and spend more time with her extended family.
But the best lesson came as help flowed in from all directions, particularly from her co-op family. They cared for her in ways she says she couldn't have imagined.
Andrea's office friends all wore royal blue for colon cancer awareness on the day of her first scans after chemotherapy, hoping for clear results. "It made me cry," Andrea says. "You know you have friends and people at work that you get along with, but you don't realize the level of support until something like this happens." The hopes for clear results were realized.
Their support never wavered. Co-op folks took her to every chemotherapy appointment. They accompanied her to yoga and the gym. They brought food. She received gift cards and a prayer box. Everyone became a cheerleader.
They also encouraged her to be as healthy as possible so her body would have more to fight with. One of the lineworkers shared an apple with her every day to encourage her to eat healthy.
"I work with 45 men and am the only woman who works in the warehouse," she says. "Every one of them was supportive. They were out defrosting my car. They brought me all the junk food I love. I learned that the co-op family really is a family."