Critters, Concerts, And An Anti-cancer Campaign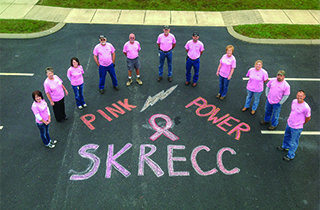 Cancer awareness
SOMERSET
South Kentucky Rural Electric Cooperative employees recently "pinked out," all of them wearing pink shirts, to increase awareness of breast cancer and the importance of regular checkups.
"Cancer, in some way, touches the lives of nearly every member in our service territory," says Allen Anderson, president and CEO of South Kentucky RECC. "We wanted to draw attention not only to breast cancer but to all types of cancer. This was one way we could do that.
"South Kentucky RECC has supported the American Cancer Society's Relay For Life by raising funds for cancer research. I'm proud of the effort that our employees put forth to help this worthy cause."
Camp environment
STANTON
About 175 fourth-grade students learned about the connections in the natural world when Clark Energy Co-op served as co-host of the second annual Environmental Day Camp provided by Powell County 4-H Youth Services. Chris Carpenter sponsored the amphibian exhibit, which included this salamander. With teachers Steve Colwell and Charanda Fugate, the Powell County High School Science and Ecology Team offered several programs, including "Oh Deer," "Turtle Hurtles," "Sum of the Parts," and "The Incredible Journey." A student created the "Recycle Race" activity.
The art of orchestra
WEST LIBERTY
Licking Valley Rural Electric Co-op brought music education to Morgan County students by co-sponsoring a visit from the Lexington Philharmonic. The Philharmonic musically narrated the book Jake the Philharmonic Dog.
"Programs such as these help give children exposure to music and the arts," says Kerry K. Howard, general manager and CEO of Licking Valley RECC. "Studies have repeatedly shown the importance of the arts in learning, so we are proud to be able to provide this program for our young people."
In coming years, the Lexington Philharmonic will visit other counties served by the cooperative.