Dock Trot 2023
September 16, 2023
•
2:00 PM
100 Beachview Lane
Dunmor
,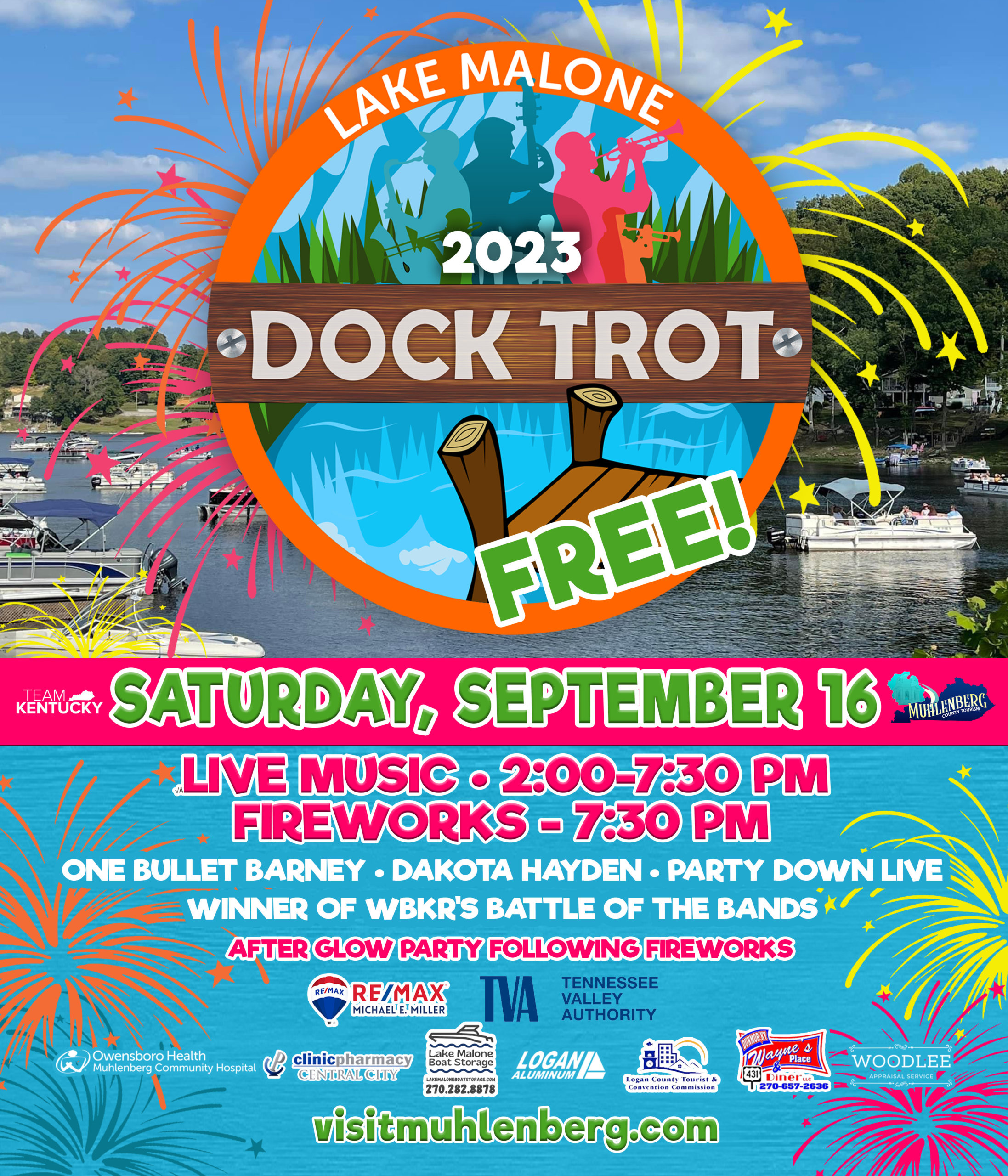 Let's do the DOCK TROT! The Muhlenberg County Tourism Commission is excited to bring back this FREE, family friendly event that features live entertainment on beautiful Lake Malone! The event is slated for Saturday, September 16th and features a crowd-pleasing line-up of new and returning bands.
This year's line-up will feature American Idol contestant Dakota Hayden, local band One Bullet Barney, the winner of WBKR and Friday After Five's "Friday Night Fight" Battle of the Bands and Nashville based band, Party Down Live.
Dakota Hayden is a singer/songwriter and American Idol alum who first played Dock Trot in 2022 and quickly became a crowd favorite. Dakota has played many gigs at local bars and events and was most recently awarded a golden ticket to Hollywood at his second appearance on American Idol. Plus, he's still in the running to be this season's Idol. Dakota calls Fordsville home and is excited to return to the Dock Trot stage with is unique and captivating sound!
One Bullet Barney is a Southern rock band that has been performing for over 10 years. They are known for their energetic and powerful shows that leave the crowd wanting more. They can often be found performing at Hu-B's at Kuttawa on Kentucky Lake on the weekends throughout the summer! The MCTC is looking forward to welcoming them to Dock Trot 2023
The MCTC is also pleased to announce a new partnership between Dock Trot, WBKR 92.5 the Country Station and Friday After Five in Owensboro. WBKR 92.5 the Country Station is the official media partner for Dock Trot 2023! This partnership is a win-win for the Dock Trot and WBKR and greatly expands both organizations reach. This partnership will bring the winner of WBKR and Friday After Five's "Friday Night Fight" Battle of the Bands to the Dock Trot stage! This event is incredibly popular and always brings out the best in regional talent. The competition begins in June and bands will compete through August when a winner will finally be crowned.
The finale band for 2023 is Nashville's very own Party Down Live. Party Down Live is one of the region's premier cover bands. They play songs from all different genres, including rock, country, and pop. The cast of talented musicians in Party Down Live have toured with A-list acts such as Selena Gomez, Kelly Clarkson, Kane Brown, Keith Urban, Billy Idol and more! This level of talent in the band is unrivaled and will have everyone on their feet dancing the night away in their boats!
To enjoy the event, launch a watercraft and embark on a free musical journey. Cruise along the Dock Trot route, navigating the waters from dock to dock where four live concerts will be performed. Anchor for a bit and enjoy the music, then motor on over to the next Dock Trot Stop to hear another talented group of musicians. No boat? No problem! There are always land viewing options each year. Patrons will have a chance to enjoy live music at the Lake Malone State Park dock and beach area and the Shady Cliff Resort.
As always, the event will also end with incredible fireworks display that everyone can enjoy.
Book mark this page or follow the Muhlenberg County Tourism Commission on Facebook and Instagram to find complete event details as September 16th draws closer.
This event is brought to you by the Muhlenberg County Tourism Commission and the following generous sponsors: Clinic Pharmacies, Logan Aluminum, Owensboro Health Muhlenberg Community Hospital, Tennessee Valley Authority – TVA, Logan County Tourism Commission, Lake Malone Boat Storage, Wayne's Place, Michael E. Miller/Remax and Woodlee Appraisal Services.