Civil War account evokes modern-day lessons 
The ability to hear firsthand accounts of our country's war history is quickly dwindling as the number of veterans who can share their experiences decreases, making it even more important to record their memories for future generations.
Jessamine County author and Blue Grass Energy consumer-member C. W. Shumate bases his historical fiction book, Ghosts of Blackberry Holler, on his great-grandfather Harper Hunt's recollection of the Civil War. Hunt was a sergeant in the Union Army and passed away in 1927 at 82.
The book picks up Hunt's story in the midst of an action-packed skirmish as the Civil War comes to an end. Hunt and his men have spent a long two years away from home and loved ones, seeing and doing things they hope to forget, yet forging a bond as strong as family as they work together to survive in the harsh conditions of war. Hunt is a gentleman to all he meets, friend or foe, even as he proves to be a soldier loyal to the cause, strong in his leadership and unafraid to carry out the hard tasks.
When the government declares the war over and Hunt is free to return home, he fights a new battle as he readapts to civilian life, hitting rock bottom as his demons threaten to overcome him. With the help of a few good-hearted strangers and old friends, Hunt eventually finds redemption, both mentally and spiritually, from great loss, anger and the ghosts of his past. Oddly enough, much of the help he receives comes from those who supported the Confederate cause, teaching him that folks cannot always be defined by labels and affiliations, and that paying forward the good benefits both the receiver and giver—good lessons today as well.
In addition to insight into a Civil War soldier's experience, readers will get a glimpse, through Hunt's eyes, of life at the turn of the century in familiar places such as Cynthiana and Cincinnati, as riverboats carry goods up and down the Ohio River, electricity powers homes and cars occupy driveways for the first time. Also relevant is a reminder of the damage done when a country declares war on itself, dividing instead of uniting its people.
Shumate reports that the real-life Harper Hunt, widowed with six adult children at age 55, married his second wife, Shumate's great-grandmother, when she was 16. Together, they raised eight more children before Harper's passing.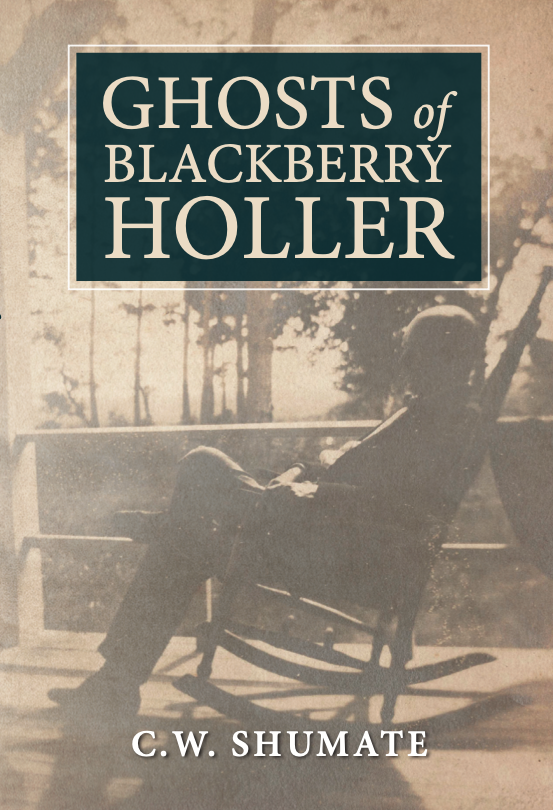 Ghosts of Blackberry Holler, (Butler Books, $24.95), is C.W. Shumate's first novel. After retiring from over 30 years in the corporate world, he realized a dream come true in committing stories to print. Previously, he published a series of five illustrated young reader chapter books, the Blackberry Tails Adventure Series, based on whimsical dog characters and their scrapes.
In addition to writing, Shumate is known for his cultivation of quality blackberry products, taking top honors in both local fairs and the Kentucky State Fair for his culinary entries. Find details on how to purchase these items or his books at www.cwshumate.com.