Lineman's Rodeo puts spotlight on safety
More than 100 compete in 15th annual two-day event to test skills

Before the sun could break through the morning clouds at the 15th Annual Kentucky Lineman's Rodeo in late September, Anita Gerreston was already beaming brightly enough on her own.
"He just makes me very, very proud," Gerreston says as her son, Owen Electric lineworker Brandon Day, competes at the Hardin County Fairgrounds.
"It's unbelievable what these guys have to go through, seriously," Gerreston adds, "especially the wintertime, summertime, storms. They went to hurricanes down south and people just don't understand."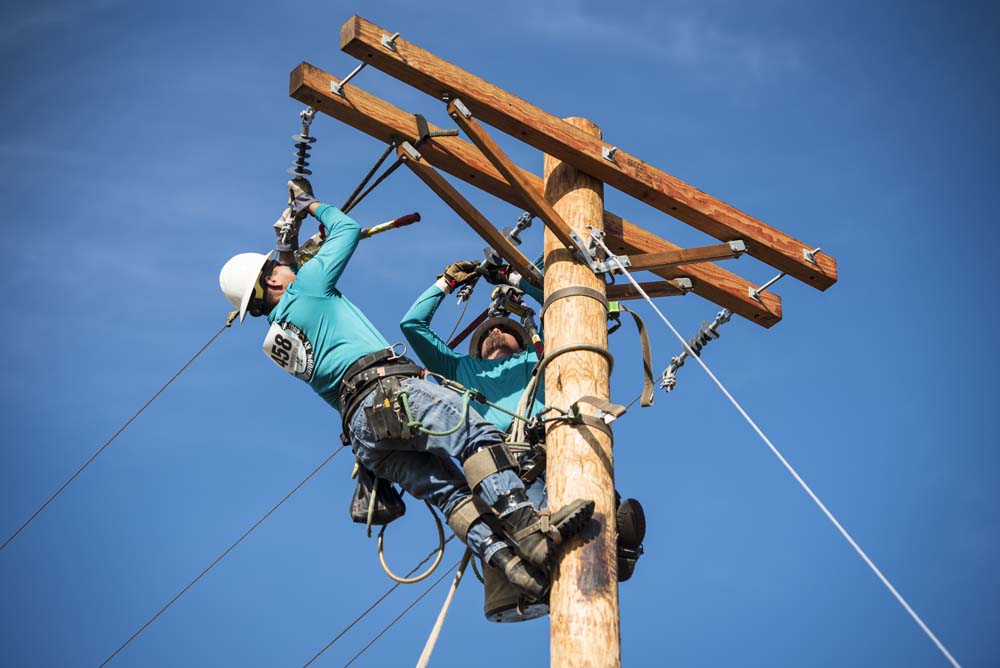 Coordinated by Kentucky Electric Cooperatives, the rodeo showcases the skills and safety training of electric cooperative lineworkers. More than 100 lineworkers from 15 of Kentucky's 26 electric cooperatives competed in the two-day event, cheered on by their families and their co-op families.
"I'm thankful for my family," Day says. "They support me in so many things and for them to come here and be a part of this and see what I do, day in and day out, is really worthwhile."
From chairs, bleachers and vehicles that ring the rodeo field, spectators applaud and shout encouraging words as the lineworkers compete on and around about two dozen utility poles.
"It was an honor to get to play the role of host for this year's Lineman's Rodeo. Nolin RECC takes great pride in lineworker safety," says Greg Lee, president and CEO. "This rodeo is a testament to the statewide effort to preserve safety and build camaraderie among lineworkers."
The individual and team competitions are rooted in real-world tasks and safety training, such as the hurt-man rescue, skills climb and a mystery event.
"When you get to come to a competition like this, you get to meet guys from other co-ops, and you just get the brotherhood that's in it," explains Kristian Clark, a Warren RECC lineman. "I may be competing against some of these guys, but at the same time, I know they all have my back. We all kind of serve our own area, but when there's a big storm, an ice storm or a hurricane, I've seen a lot of these faces out there working."
With his wife and son watching from the stands, Shelby Energy lineworker Richard Spoonamore competed in the Angle Clip event.
"The camaraderie is just huge," says Spoonamore. "People always talk about the cooperative being a big family, and until you're actually working for them, or you see it firsthand, you don't really notice it. … You watch them compete. You want to win, you want to do good and you want (others) to do good. But at the same time, it's a little competition to show your skills."