State park managers reveal their favorite spots
Improbably, it can be an entrance road or a single campsite. More traditionally, it can be a scenic view. While websites, brochures and park personnel can help point you to the best features of Kentucky state parks, the experts—state park managers —have shared the most scenic spots and best activities in the parks they represent. Their favorites may become yours!
---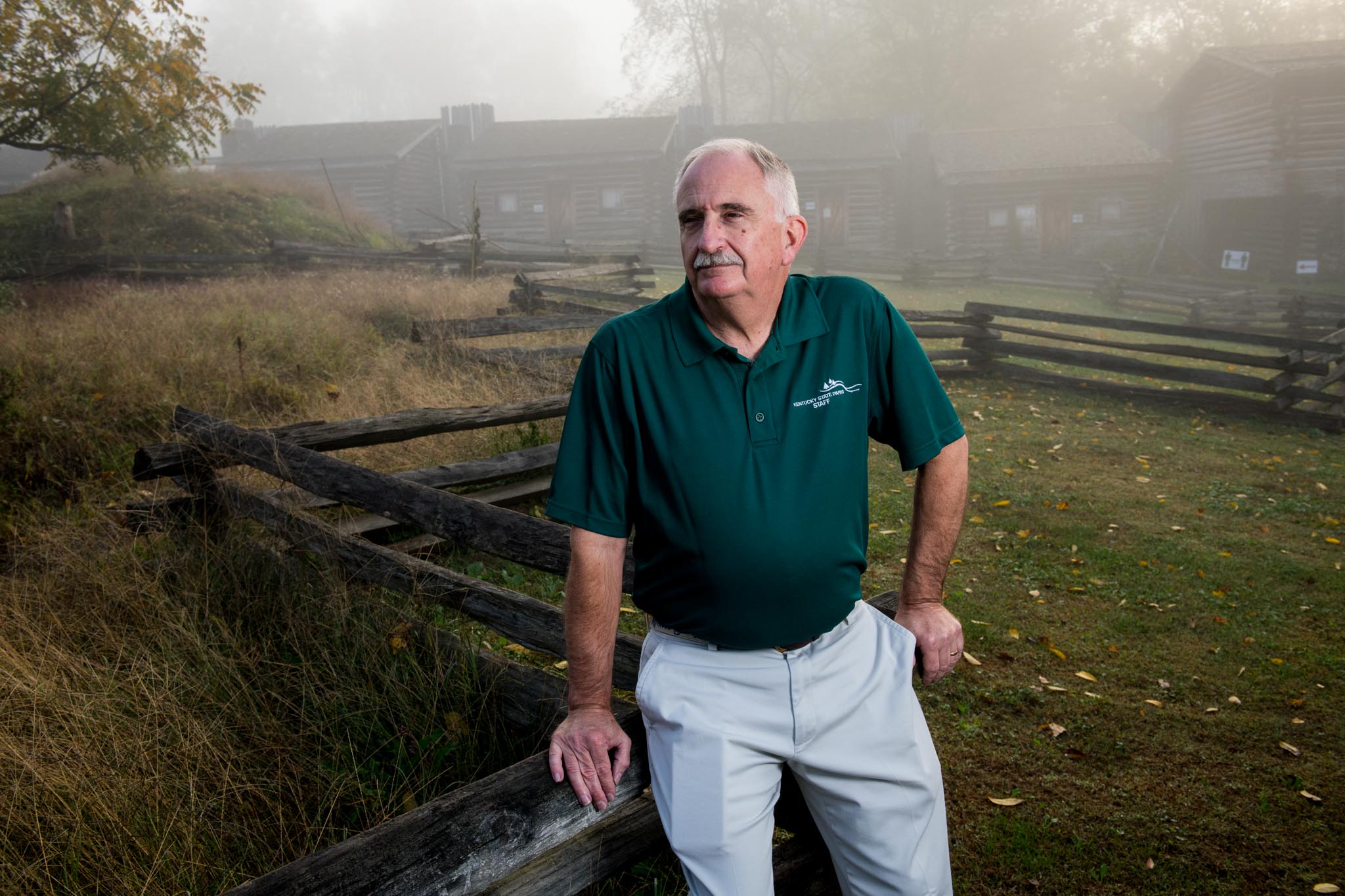 PARK MANAGER: JACK WINBURN
Fort Boonesborough State Park, Richmond
Size: About 170 acres
Main activities: picnicking, birding, hiking, boating, trails, swimming, camping, mini golf, reconstructed frontier-era fort
Photo: Tim Webb
Feeling adventurous? Follow in the footsteps of legendary pioneer Daniel Boone and his trekking team to Fort Boonesborough State Park.
Just over two centuries past the original fort's founding, Park Manager Jack Winburn was hired in 1978 as a grocery clerk for the campground grocery store, and has worked there ever since, named park manager in August 2019.
The park welcomes visitors from all states and many countries, he says.
"I enjoy working with the public and it is such a historical site to be interested in protecting the historic and cultural resources of it," he says. "…I like the original fort site, the monuments there. You're there where Boone and Kenton and Chief Blackfish and George Rogers Clark stood."
Though he's spotted a few bald eagles in the past, he hopes to see a much larger, furry four-legged specimen in the park someday.
"I keep looking for a bear—that's my goal!" Winburn says.
---
PARK MANAGER: CARLET HAGAN
Nolin Lake State Park, Mammoth Cave
Size: Park, 333 acres and Nolin Lake, 5,795 acres
Main activities: Camping, hiking, biking, fishing, boating, swimming, nature center, animal encounter program
Photo: Joela Brown
Feeling at home near the water, Carlet Hagan has been park manager at Nolin Lake State Park for just over two years, after having crisscrossed the state participating in fishing tournaments in her teens and early 20s.
After that, she earned a bachelor's degree in recreation administration and master's degree in recreation and sports administration at Western Kentucky University, helping start the WKU bass fishing team and teaching a recreation class.
She most enjoys meeting guests and helping them enjoy their stay.
"You get to share all the history, all the nature, everything from trails to mountain biking," she says. "You just get to make people laugh and smile and have a good time."
Her favorite spot in the park is primitive campsite 27, which she says has "its own little oasis to our park," and is the prettiest area to pitch a tent.
"It's just like serenity," she says. "You get the view of the park in the back, which is cool, but you get this whole sunrise/sunset view on the lake."
---
PARK MANAGER: CINDY LYNCH
Columbus-Belmont State Park, Columbus
Size: 160 acres
Main Activities: Site of Civil War Battle of Belmont, birding, camping, hiking, museum
Photo: Georgann Lookofsky
Cindy Lynch has been a state park employee for 44 years, starting as a teen.
"My grandfather (John S. Adams) was manager here for many years, so I just kind of grew up in the park here with him and my parents," she says. "I lived not too far from here, and so afternoons he'd come and get me and we'd ride around the park and he'd tell me about it, so that's where it began— me spending time with my grandfather."
Though she loves the entire park, she says any point with a view of the Mississippi River brings her particular joy.
"It's a beautiful view and very tranquil," she says. "Over the years it's been a great place to sit and ponder life's changes and things of that nature."
---
Starting at the front desk of Pine Mountain State Resort Park in college at age 20, Park Manager Rita Edmondson has spent more than two decades working there, but her acquaintance with the park began in early childhood.
Her family often visited the park, and her father's family held its family reunion there. Her grandfather, Gillis Jackson, who died before she was born, was a superintendent at the park in the 1960s, and her father worked there for a time as well. She's been park manager for about six years.
"What I enjoy most about the job is getting to meet the different people that travel through here," she says. "Honestly, when I was younger I didn't understand how many people visited this park."
She says she's so familiar with the property it's hard to pick one favorite spot, but selected the Laurel Cove Amphitheater, a popular venue for weddings and concerts.
"It's just so unique and it's beautiful down there," she says.
---
PARK MANAGER: CHRIS PERRY
Carter Caves State Resort Park, Olive Hill
Size: Just over 2,000 acres
Main activities: Lodges, cottages, camping, biking, boating, swimming, fishing, hiking, horseback riding, rock climbing, tennis, cave tours
Photo: Tim Webb
After graduating from Morehead State University, Chris Perry says his father told him it was time to join the real world and pay his own bills.
He'd worked at the Carter Caves State Resort Park Golf Course while in college, so he asked the park manager about job openings, landing a position at the front desk. Though he'd intended to pursue a career in business management, Perry enjoyed meeting new people and his office environment and stayed on, earning the park manager position in 2012.
He says he most enjoys working with staff to plan new and different activities, such as recreational programs and drive-in movie events on the repurposed former golf course.
His favorite place in the park is its entrance road, which he says is beautiful year-round, from fall foliage or a coating of winter white to spring and summertime splendor.
"It's beautiful, absolutely beautiful!" Perry says.
---
---
State park rangers protect visitors, property
Serving as state parks' sworn law enforcement officers, park rangers must be courteous, observant, knowledgeable, safety-minded representatives of the parks they serve, according to Col. Jeremy Slinker, director of the Ranger Division for the Kentucky Department of Parks.
The ultimate goal is for visitors to feel safe and secure during their visit, he says.
"We're there to, one, be of assistance to them and help, as well as give them a sense of security and safety while they're there," he says. "And then if they have an emergency need while visiting, you have somebody trained and equipped and directed to solve those emergencies." 
Photo: Kentucky State Parks
Slinker, a 25-year veteran of the Kentucky State Police, was born and raised in Greensburg but since 1990 has lived in Richmond. In his new role since spring 2020, he says he most enjoys helping Kentucky state parks visitors to have a great experience.
Slinker said there are about 50 rangers among 45 Kentucky state parks, about 40 full-time and the remainder seasonal. Their jurisdiction extends to state park property as well as the highways that traverse them. His role is to regularly communicate with rangers in the state's three regions—east, central and west.
Within those regions there are also districts in which rangers are assigned to serve. Slinker oversees statewide ranger operations, captains oversee each region and sergeants cover each district. Meetings are held routinely to ensure the same information is getting out to all rangers statewide, Slinker says.
There are one or more park rangers per park, he says, working to support their respective park managers, who are keenly aware of the busiest and slowest times for visitor traffic, and when and where the rangers are most needed. During special events planning, they team up to discuss how many people are expected and tackle any safety concerns, he adds.
In addition to their routine safety patrols, rangers also work with local search and rescue personnel in trail rescues on park property. Rangers are equipped with a pack containing water, juice and snacks in case people don't prepare enough provisions for a hike, become overwhelmed and need help.
"Trail rescues are very common," Slinker says. "A lot of the trails in the mountains are pretty rocky and a lot of incline and declines" that may result in occasional twisted ankles or knees, and sometimes those people need to be carried out.
Rangers must know park property inside and out to respond quickly when people need help, and to simply answer questions when visitors need directions to a particular area of the property, Slinker says.
They also enforce rules about trash pickup, fires and other regulations. "We can be the enforcement if we have to be, but we also take pride in the majority of our time just providing a safe environment for everyone to enjoy the park and to be helpful," he says.
---
GET TO WORK!
Do you enjoy the outdoors and meeting new people? The Kentucky Department of Parks may have a career for you. Visit Parks.ky.gov/employment for information about benefits, job openings and student internships.
More than 500 volunteers statewide help keep Kentucky's state parks in tiptop shape for guests while enjoying the great outdoors. Volunteers can receive discounts, pool passes, golf course access and more. Information about volunteering in Kentucky State Parks can be found at Parks.ky.gov/volunteer.