Louisville Zoo celebrates a half-century of animal magnetism

You may not have gotten your first real six-string in the summer of '69 or have taken the first steps on the moon, but if you lived in Kentucky—you got your first zoo. The Louisville Zoo opened full-time May 1, 1969, with 15,000 visitors and 250 animals for them to view. Admission was 50 cents for adults and a quarter for children.
This month, the Louisville Zoo commemorates its golden anniversary by hosting 50Fest, May 18-19.
For the past half-century, Kentuckians have created memories and escaped the Bluegrass to get a taste of far-off lands—or at least their wildlife—at the state's zoo. Now everyone is invited to celebrate its journey.
In the beginning
In 1962, Louisville's mayor announced a gift from J. Graham Brown for $1.5 million to establish a zoo, and so the adventure began.
Three years later on a snowy January day, ground was broken. In 1967, rhinoceroses, yaks and camels moved to Kentucky. A year later, the zoo had 19 different animals, including giraffes, elephants and zebra.
Since then, acreage hasn't changed much, but around 1,100 animals now call it home. Instead of the sun blazing down, trees have matured, creating ample shade.
"It has aged well and is a very beautiful zoo," says Steven Taylor, assistant director of conservation, education and collections at the zoo.
Despite transformations, it continues to create innovative exhibits, educate visitors and promote conservation.
Innovation on display
Visitors then and now see predator and prey in one sweeping view. Low barrier walls, fencing and moats create the illusion that animals share space. This zoo design was new to North America when Dr. Ivo Poglayen, its first director, introduced it from Europe.
"The zoo started with innovative exhibitry, and now it's known in the profession as having some of the most innovative facilities for exhibit design," Taylor says.
In 1989, HerpAquarium brought exotic creepy-crawlies to the Louisville Zoo. It also brought great recognition as one of the first zoos to display animals based on similar habitats, not homelands.
"We try to continue to push the envelope in exhibit design," Taylor says.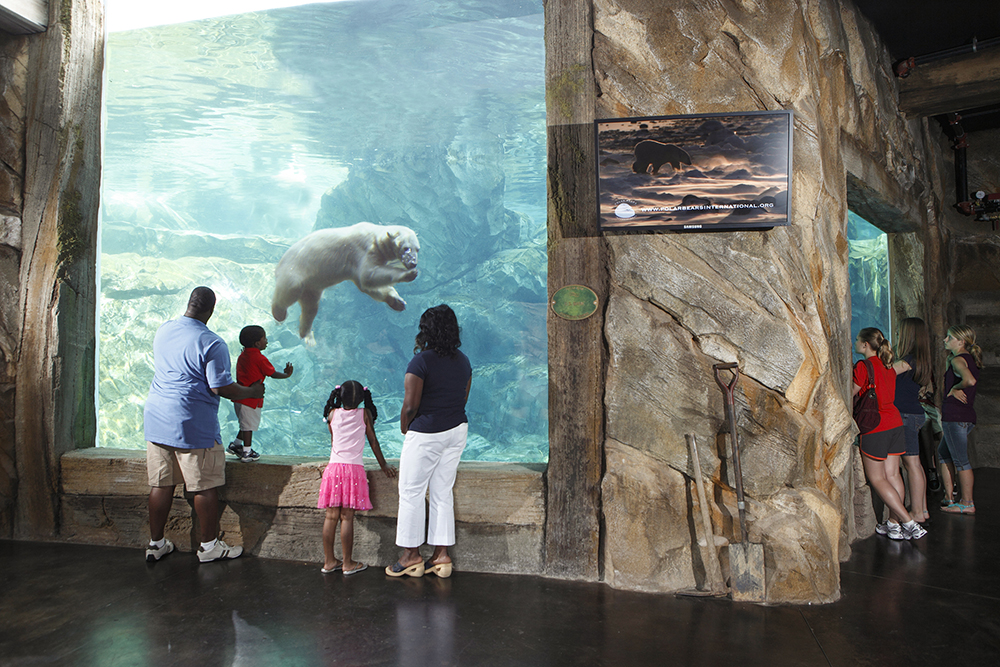 The newest exhibits use overhead walkways to give visitors an engaging view of the animals. If you visit Snow Leopard Pass, the cats could stalk from above; monkeys could dance overhead at Colobus Crossing.
Visitor education & conservationism
The Louisville Zoo's commitment to education began under direction of Robert B. Bean and continued with Dr. Bill Foster, the second and third zoo directors.
"We are curators of education and have a commitment to our community," Taylor says.
By 1975, education programming was in full force. Some of the most popular programs were Safari Day Camp, Night Safari, ZOOper Kids and the current, award-winning School at the Zoo.
"Every exhibit in the last 20 to 30 years has been focused on education and themes of conservationism," says Kyle Shepherd, the zoo's media relations manager.
In the '90s, the zoo joined forces with five other facilities to save black-footed ferrets, one of the most endangered mammals in North America at the time. As of 2016, over 1,000 ferret kits were born at the zoo and 700 of them have been released into the wild. The zoo has also won the Association of Zoos and Aquariums' (AZA) Conservation Award for gorilla conservation efforts. It received funding from the AZA Conservation Endowment Fund to build Cuban crocodile species survival plans, and has led many other conservation efforts.
50Fest
50Fest is what the Louisville Zoo is calling its birthday celebration. Visitors can meet two new mascots—a giraffe and a rhino—and shake hands with other animal characters. Local bakers will compete for best-designed birthday cake, chosen by 50Fest visitors.
This event is "a chance for the public to celebrate their zoo together," Shepherd says.
"We want to be a good partner in the community and offer a nice place where people can create memories and have fun," Taylor adds.
The next 50 years
Where does the Louisville Zoo go from here? It will continue to educate visitors to live in balance with their planet, says zoo Director John Walczak.
"For 50 years, families have had the chance to catch their breath at the zoo while building lasting memories and experiencing some of the most precious species on the planet," he says. "We look forward to providing this escape of modern distractions and a place to reconnect with nature for another 50 years and more."
Destinations
While you're in town visiting what's new at the zoo, check out these attractions in and around Louisville.
Belle of Louisville
401 West River Road
(502) 574-2992
Travel back in time with the entire family as you take a ride on the Belle of Louisville, a steamboat built in 1914.

Bernheim Arboretum & Research Forest
2075 Clermont Road, Clermont
(502) 955-8512
With over 16,000 acres, "connecting people with nature" is understandably its slogan.
Kentucky Derby Museum
704 Central Ave.
(502) 637-1111
Adjacent to historical Churchill Downs, the Kentucky Derby Museum celebrates one of the region's most famous traditions.
Kentucky Science Center
727 West Main St.
(502) 561-6100
Play, tinker, explore, experiment and learn about science with the family.
Louisville Mega Cavern
1841 Taylor Ave.
(877) 614-6342
This underground adventure cave features zip lining, ropes courses, trams or bike rides and more.

Louisville Waterfront Park and Big Four Bridge
1101 River Road
(502) 574-3768
Enjoy beautiful views of downtown Louisville and walk across the Big Four Bridge. Splash through the spray park at Waterfront Park.
Muhammad Ali Center
144 N. Sixth St.
(502) 584-9254
Understand how Muhammad Ali learned to "float like a butterfly and sting like a bee" and be inspired by with Ali's story and six core principles.

Slugger Museum
800 West Main St.
(877) 775-8443
Tour the factory where the Louisville Slugger bats are made and maybe snap a picture with a few of the most famous players in history.