Rethink containers for the holidays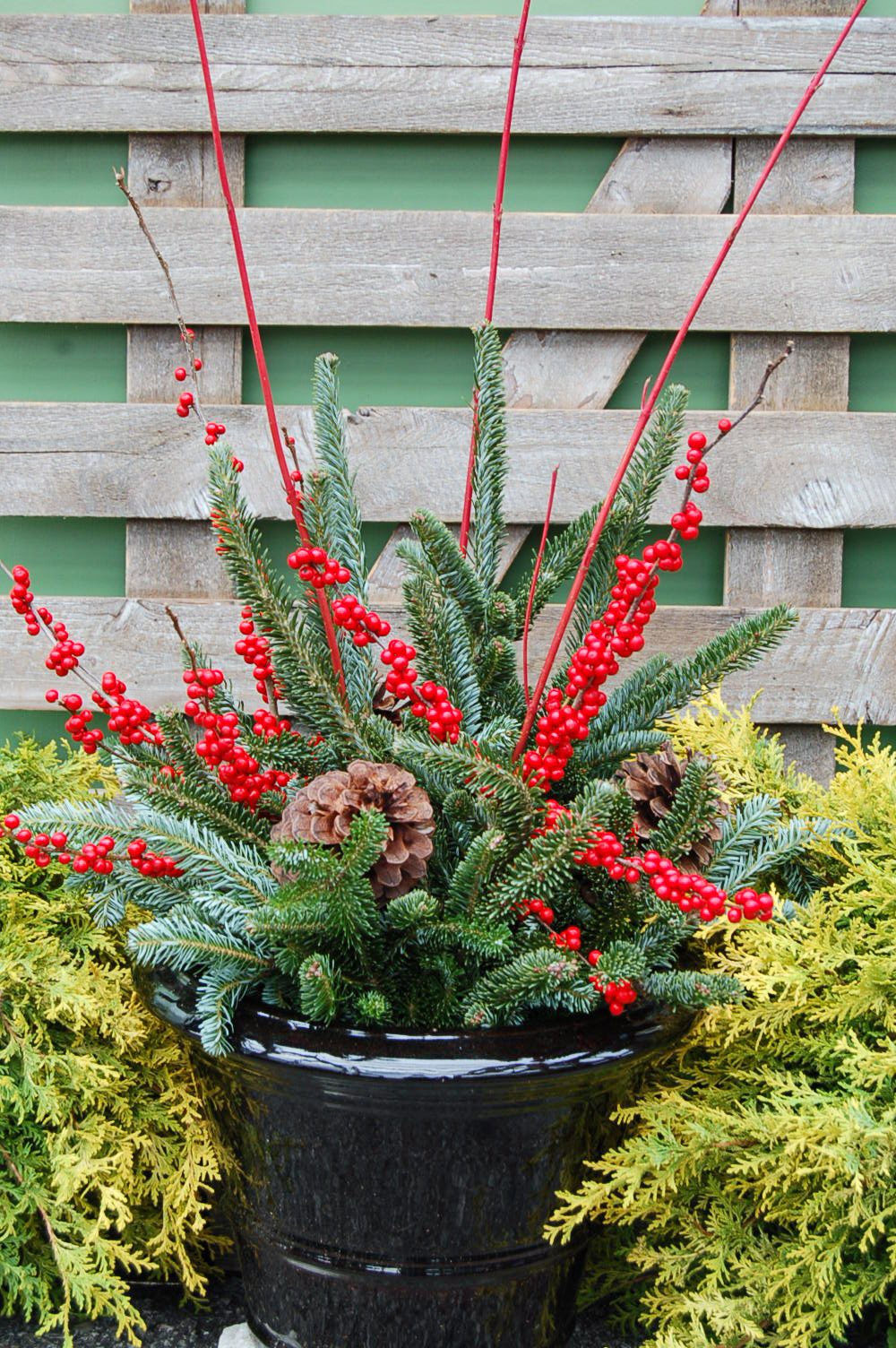 Ideas for winter outdoor arrangements
One easy way to decorate a few of your most important outdoor containers in the winter may be found be right in your own landscape. Evergreens like boxwood, pine and arborvitae; hollies, dogwoods, grasses, and so much more can provide foliage, stems or fruit that can quickly and easily make your front door container winter ready.
Stems can be stuck into the soil of existing containers once the summer plants are removed, but sometimes this is harder than it looks. I prefer to make a base out of an old black nursery pot—like a mock vase for filling—and drop the entire arrangement into the container.
FIRST, SELECT A BASE FOLIAGE that will fill the bulk of the pot. Western arborvitae, Norway spruce and white pine are just a few common evergreens from which you can harvest small amounts of foliage without any harm to the plant. Cut all these stems the same length and cut enough to fill the pot.
pick an accent foliage. Magnolia, holly, dried ornamental grasses and golden arborvitae are a few good examples. You will need three to five pieces of one of these, cut a little longer than the base pieces and placed at equal distances around the base. The base foliage should be full enough in the pot to keep your accent foliage in place.
ADDING some height IS EASY with long thin branches of river birch, red or yellow twig dogwood, ornamental grass plumes or curly willow. You will need three to five stems of varying heights. Then, add some pizazz with deciduous holly berries, nandina berries or beautyberries. Put one large berried stem right in the middle or three smaller stems equally around the base. Finally, finish with some pinecones. Wire them to the branches or glue them to a small stick and insert them spaced equal distances around the pot.
Your finished arrangement can now simply be dropped in your decorative porch container, and it's designed to handle the outdoor elements. Most arrangements can last two to three months. The "winter season" is the new buzz phrase in the garden, so look out for more options for decorating the great outdoors even in the cold months.
SHELLY NOLD is a horticulturist and owner of The Plant Kingdom. Send stories and ideas to her at The Plant Kingdom, 4101 Westport Road, Louisville, KY 40207.