Home tours for the holidays
Find the Christmas spirit without the stress at these historic houses

As Christmas approaches and expectations mount, don't fret if you don't have a cozy fire crackling in the hearth and expertly wrapped gifts arranged just-so beneath a dazzling Christmas tree.
Just visit the places that do.
Many historic homes across Kentucky open their wreath-bedecked doors for the holidays to welcome visitors with special events and Christmas experiences that help stoke the holiday spirit with no added stress or skills required on your part.
A notable example is at Waveland State Historic Site in Lexington, its mansion completed in 1848 by Joseph Bryan, Daniel Boone's grandnephew. The mansion is decorated each holiday season in Victorian-era splendor, Park Manager Charla Reed says.
One returning favorite is the live production of Charles Dickens' A Christmas Carol with about 30 actors performing the play in the home's true-to-life setting.
The iconic novel on which the play is based was written during the same era the house was built, "so the characters in the play are all dressed in that same time period and it just kind of captures you, not only to the story, but almost takes you back in time to a more simple life, a very enchanted story that puts you in the mood for the holiday," Reed says.
Waveland also will host daytime and evening holiday teas, along with events for children hosted by Santa and Mrs. Claus.
So, maybe surgery doesn't spring to mind when you think of Christmas. But after you visit McDowell House Museum in Danville, the connection will click.
In what some called a "Christmas miracle" on Christmas Day in 1809, Dr. Ephraim McDowell performed the world's first abdominal surgery. McDowell's home and office, built in two phases in the late 1700s and early 1800s, is now a National Historic Landmark and museum. Its staff celebrates the holidays—and McDowell's achievement—each year, Assistant Director Lauren Clontz says.
The Garden Club of Danville decorates the museum festively, with special viewings December 5-15, and will host its 55th annual free holiday Green Tea December 8.
"The decorations are always lovely and it's a beautiful home," Clontz says. "Especially during the Green Tea, it's a great time to come see it."
In Princeton, Adsmore Museum is celebrating the holidays with many natural decorations that would have adorned the rooms in the Victorian/Edwardian-style estate in 1901.
Curator Andrew Bond says museum staff researched family documents detailing the natural greenery, holly, flowers, magnolia leaves, real fruits and vegetables, antique ornaments and stockings used in holiday decorating there more than a century ago.
A small orchestra will play during a December 14 candlelight tour and beeswax-dipped candles will be lit, he says, adding to the home's grace and ambiance.
"It's set up exactly to the details as best as we could recreate," he says.
The only historic house museum in Bowling Green, Riverview at Hobson Grove, is an Italianate estate built in the Civil War era for Atwood Hobson, Executive Director Brooke Westcott Peterson says.
For the past 20 years or so, a free candlelight tour has been held as a gift to the community for its support. Visitors tour the home, which is decorated in Victorian style and lit with lamps and candles. This year's event is December 14.
"There are docents in each room in period dress telling you a little bit of what could've happened in that particular room during a Victorian Christmas," Peterson says.
Though it was named for the plentiful ash trees on the property, Ashland, the former home of famed Kentucky statesman Henry Clay, is known more for its Christmas trees when the holidays roll around.
Clay lived at Ashland from 1809 until his death in 1852, and the 18-room home has been lovingly restored by his descendants and open as a historic house museum since 1950.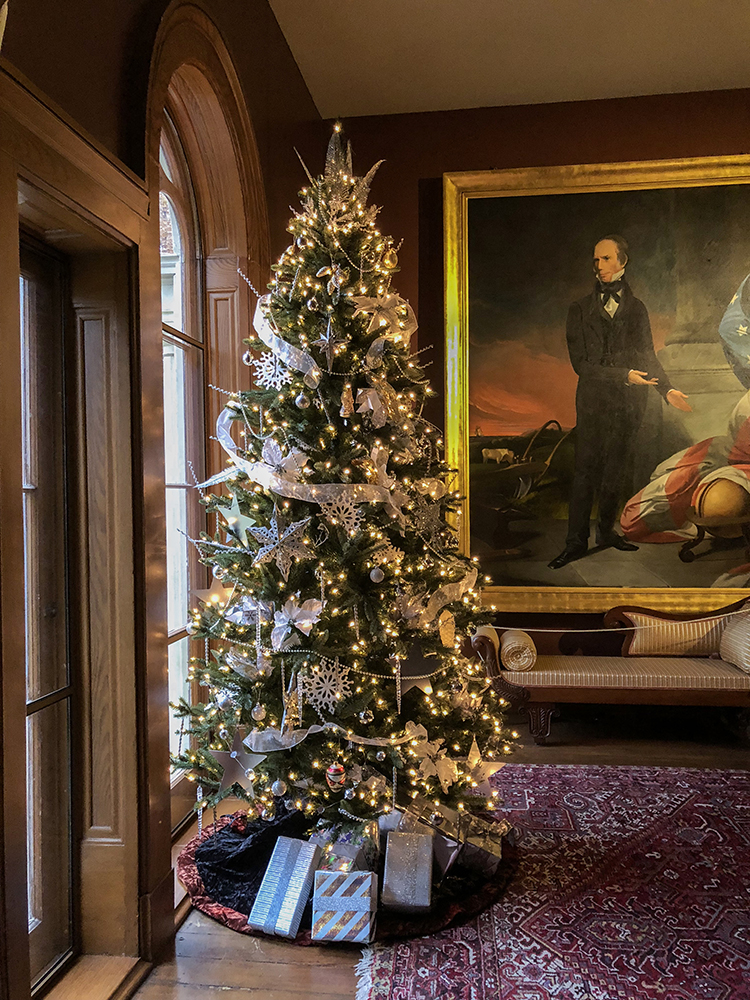 Communications Manager Jennifer Kane says the annual Christmas festivities kick off December 7 with the illumination of the property, with carolers on hand and candlelight tours to follow.
"When it's lit up along the outline of the mansion, along with the surrounding holly and pine trees and the smokehouse and all the outbuildings, it's a nice spectacle," she says. "We try to make it a fun gathering for the illumination when we turn the lights on for the first time and it's always the first Saturday in December."
Every Christmas has a different decorating theme, Kane says, and this year's is "Christmas Lights and Inaugural Balls," with decor in white, silver and red. A 9-foot decorated tree will once again be prominently placed in the upstairs window of the mansion, and gowns will be on display that were worn by Kentucky's first ladies and former Gov. Martha Layne Collins.
The more the merrier: multihome tours
The East Row Historic District in Newport showcases a few of its 1,000 or so homes each year in the East Row Victorian Christmas Tour and Tea. It's a perfect way to gear up for the holidays, says Kym Sutton, home coordinator for the tour, now celebrating its 25th anniversary.
This year's event will be December 7-8, with 10 homes and additional points of interest. Guests can walk between stops or use shuttle bus services.
Sutton says whether homeowners decorate minimally or festoon every hall, wall and bannister, visitors inevitably come away with plenty of holiday decorating ideas.
There will be artisan vendors, break areas and refreshments on the tour, in addition to the Christmas Victorian High Tea, now in its 10th year. There will be three sittings each day.
"If someone can do the tour and tea it really rounds out the entire experience," Sutton says. "You go through the old homes and see how they're decorated and see how life was" in that era.
In the Old Louisville neighborhood, eight private residences and three historic buildings have been selected for this year's 43rd annual Holiday Home Tour, December 7-8, Chairperson Susan C. Coleman Layman says.
The properties, within easy walking distance of one another, feature a mix of architectural styles and sizes, from mansions to small dwellings, she says. Accompanying events include a Victorian High Tea, an Evan Williams bourbon tasting and holiday gift boutique. A shuttle service is available, she says, adding that guests should plan a minimum of three hours for the tour experience.
"We hope you leave Old Louisville with a warm heart full of the holiday spirit, fond remembrances of your visit and a sense of appreciation for this outstanding community treasure," Layman says.
Here's a handy reference for the tours and events cited in the story, plus others. For costs and additional
information, contact event organizers at the phone numbers and websites listed.
Adsmore Museum, Princeton: Candlelight Tour, December 14. Victorian Christmas celebration with the home decorated circa 1901, through December 28 (closed December 24-25). (270) 365-3114.
Ashland—The Henry Clay Estate, Lexington: Illumination and Candlelight Tours, December 7. Candlelight Tours also offered December 12, 14. Also December 7: Holiday Wreath Workshops, PJ Polar Express with Santa. (859) 266-8581.
Dinsmore Homestead, Burlington: Christmas in the Country tours, music, refreshments, December 7-8. (859) 586-6117.
East Row, Newport: Victorian Christmas Tour and Teas, December 7-8.
Morgan Row, Harrodsburg: The Harrodsburg Historical Society's Holiday Tea Room, December 6-7. (859) 734-5985.
McDowell House Museum, Danville: Special Christmas decorations, December 5-15. Christmas Green Tea, December 8. (859) 236-2804.

My Old Kentucky Home, Bardstown: Merry and Bright Christmas-themed tours through January 5. An Old Kentucky Christmas Carol, December 6-7, 13-14 and 20-21. (502) 348-3502.
Old Louisville: Holiday Home Tour and Tea, December 7-8, plus traditional Victorian tea (reservations required) at the Conrad-Caldwell House Museum and Evan Williams bourbon tastings at the Louisville Bourbon Inn. (502) 635-5244.
Ripy House, Lawrenceburg: Christmas at the Mansion with tours, refreshments, small gifts for children and ornament making, plus a bourbon tasting, December 11. (502) 680-0948.

Riverview at Hobson Grove, Bowling Green: Christmas Candlelight Tour, with refreshments, December 14. (270) 843-5565.
Ward Hall, Georgetown: Christmas Candlelight Tours with Christmas trees reflecting different historical decorating styles from mid- to late 19th century, December 6-8, 13-17. (502) 863-5356.
Waveland State Historic Site, Lexington: Christmas teas (daytime and evening dates), December 3-4, 10-11, 17-18; Dickens' A Christmas Carol live performances, December 6-8, 13-15, 20-21. Meet Santa in Winter Wonderland Barn, December 7-8, 14-15 and 21; Meet Mrs. Claus, December 7, 14 and 21. (859) 272-3611.