France, Switzerland and, in this country, Wisconsin, may spring to mind as the world's best cheese lands, but across the Bluegrass State, full-flavored fromage abounds. June 4 is National Cheese Day, so this is the perfect time to explore Kentucky's local, artisanal cheese selections.
Kenny's Farmhouse Cheese
When Kenny Mattingly, a Tri-County Electric consumer-member, bought his parents' Barren County dairy farm in the 1980s, he never envisioned owning a large, artisanal cheese company. He wanted to raise his family on a farm, but the dairy industry was tumultuous.
"I saw a new vision for our farm," Mattingly says. "To make our milk more valuable on the farm, we could make cheese."
That vision was fulfilled and in July, Kenny's Farmhouse Cheese will celebrate its 25th anniversary. With over 26 varieties, its bestseller is white cheddar. Popular signature cheeses include funky Kentucky Bleu and buttery, earthy Kentucky Rose, named after his late mother, Mary Rose Mattingly, the original cheesemaker.
"Our signature cheeses are unique. You're not going to find anything exactly like them," Mattingly says. About half the milk the farm produces is used to make cheese.
Farm stays, which offer guests two apartments above the robotic milking center or a farmhouse for larger groups, are available at Mattingly Farms through Airbnb. Cheesemaking experiences can be arranged in advance.
Cheeses can be purchased online at www.kennyscheese.com, where a "where to find us" also lists retail locations, or at the farm store in Austin, which also sells Kentucky products. "We have met the people we produce for, and it affects how we do things," Mattingly says. "It makes me wonder how many people are enjoying our cheese daily."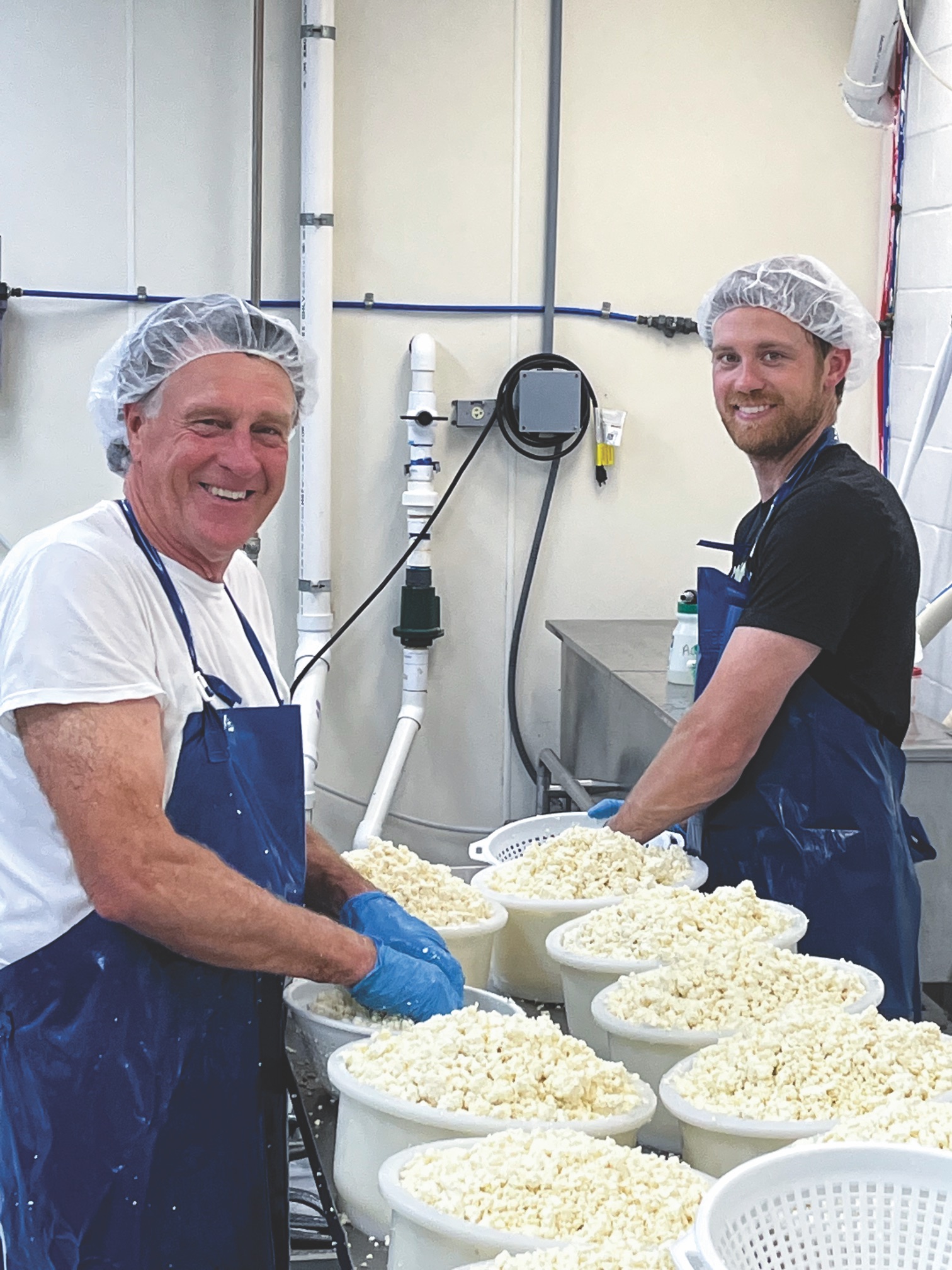 Kenny and his son Jared Mattingly separating the curds from the whey at the creamery. Photo: Kenny's Farmhouse Cheese
Maid-N-Meadows
Daniel and Keely Showalter, owners of Maid-N-Meadows cheese and dairy farm, know the voices of their cows.
"Because we are small, we have an intimate, personal relationship with our herd," Keely Showalter says.
Leasing the Heavenly Homestead Cheese facility, which was about to close shop, Daniel Showalter learned the ins and outs of cheesemaking from the owner.
His childhood dream was to own a dairy farm, and he says "it's a genuine dream" to be making cheese with his own product.
"We can't have an excellent product without healthy cows," he adds, which means taking care of the meadows and environment in which the cows live.
This concept led the couple, Farmers RECC consumer-members, to the name Maid-N-Meadows. It "carries the essence of all we are," Daniel Showalter says. The meadow is land they own, and the maid is a play on words: the cow and the milkmaid in the meadow. The company's labels feature an illustration of a milkmaid, inspired by their daughter, Jaden, who is now the cheddar maker.
To "complement what already is," Showalter says, they make cheeses based on seasons. Milk flavors change based on grass the cows consume. In spring, wild onions abound, so milk is used to make flavor-heavy cheeses like pepper jack and garlic herb cheddar. Other offerings range from a classic Gouda to a salty, buttery tome. All its products can be purchased on its website.
The next step for Maid-N-Meadows is adding an agritourism element, including tours, animal meet-and-greets and cheesemaking classes. Currently, tours are available at their Glasgow facilities by appointment only. 
Boone Creek Creamery
Boone Creek Creamery is an urban cheesemaking facility, one of only a handful in the United States. Visitors to the Lexington operation won't see cows or meadows, but instead sneak a peek into the cheesemaking process through open windows on the facility's walls and participate in open tours.
"We make cheese almost every day of the week," says Brian Taylor, general manager and Clark Energy Cooperative consumer-member. "We do everything by hand, including making labels and vacuum sealing the products."
Over 13 years ago, the late Edward "Ed" Puterbaugh, a microbiologist and advertising agency owner, started making cheese for fun. Those who tasted encouraged him to start his own business, and so began Boone Creek Creamery.
"Ed was a kayaker. He named Boone Creek Creamery after his favorite place to kayak," Taylor says.
Boone Creek Creamery offers staples like smoked Gouda and sharp cheddar, but unique options abound.
Scandinavian Grilling Cheese is a "bread cheese" served warm with toppings like blackberry jam, says Taylor, while Sassy Pimento is the "best tasting pimento around."
Cheese, butter, fudge and other Kentucky-made products can be purchased at its Palumbo Drive location, which it shares with 4th Level Roasters. Online purchases are available at its website.
The late Ed Puterbaugh, original Boone Creek Creamery owner, cuts the curds with a tool called a harp. Photo: Brian Taylor
Wildcat Mountain Farmhouse Cheese
Named after the nearby Civil War battlefield, Wildcat Mountain Farmhouse Cheese was started in 2014 by Ronnie and Clara Patton, Jackson Energy Cooperative consumer-members. However, their dairy farm has been milking cows since the 1930s; Ronnie Patton is a third-generation dairy farmer.
Clara Patton, who has a background in food science, is the cheesemaker and uses only milk from their farm. "It was an itch that wouldn't go away," she says.
"I needed to do it. It's certainly a thrill."
The couple built their business from the ground up, learning from local cheesemakers, including Kenny Mattingly. The night before their first farmers market, Clara only slept two hours, but she sold out on her first day. Now their cheese is carried in over 60 Kroger supermarkets across Kentucky and surrounding states.
"I feel good about our journey," she says.
She primarily makes cheddar, Gouda and colby, but adds herbs, spices and rubs to create more options. Somerset Aged Cheddar, Garlic Pepper Cheddar and Pioneer Coffee Rub are popular varieties.
At Wildcat Mountain's retail store at the East Bernstadt farm, visitors can sample and buy cheese and purchase local goods, including handmade cutting boards, jams and jellies. Cheesemaking facility tours must be scheduled ahead of time. Learn more here.
Clara and Ronnie Patton and their son Andrew Patton are proud of their fourth generation dairy farm and artisanal cheese company. Photo: Clara Patton