Nearly five years ago, Richard Mattingly and his daughter Stephanie didn't suspect their impromptu father-daughter trip to look at robotic milking machines would be so life changing.
What they learned revolutionized the Barren County dairy farm's business, and eventually provided Stephanie with a new career.
"I guess my daughter was in her junior year of college and it was spring break and she wasn't doing anything and I said, 'Why don't we go to Tennessee and look at these robots down there?'" Mattingly says.
He and his wife, Sharon, purchased Malvern Hills Farm in the Etoile community near Glasgow in 1995, raising Holsteins and eventually some chickens. By spring 2011, they'd begun dairy farming in earnest. But labor costs were high, and Mattingly sought a better way. After the trip to watch robot milking machines in action, he and a friend hit the road once again in fall and winter 2015- 2016, visiting 17 farms in five states to research the different types.
In 2017, Mattingly, a Farmers RECC consumer-member, purchased three DeLaval robotic milking systems for his 180 cows.
Here's how it works: Cows enter the milking area any time, and a transponder on their ears records which cows have visited the parlor, and which are overdue for milking, letting Mattingly access that information, or any mechanical malfunctions, though a phone app.
"I can control the robots from my phone and I can stop it, restart it, tell it to do everything as if I was right there beside the robot," he says.
And it's reduced his labor costs—instead of two to three employees, he now works solo.
Other automations at Malvern Hills include a manure scraper that clears barn alleyways on a set schedule and a feed pusher. Barns also are tunnel-ventilated with curtains and fans that open or close based on air flow to regulate temperatures, he says.
Meanwhile, in 2016, Stephanie graduated from college and got a job with DeLaval.
"That's the handy thing, that we have her to help out with technical problems," her father says.
Mooo-re automation
Other Kentucky farmers are embracing new technologies that increase production, sanitation, monitoring capabilities and more.
Cows dutifully line up to enter the Lely automated milking system bay at Ed-Mar Dairy on Eddie and Marcy Gibson's 130-acre farm in Walton. The unit is nicknamed "Pearl" after Marcy's grandmother, who originally owned the farm.
After spray-disinfecting the cows' udders, the laser-guided robot calculates the proper angles of approach before the machinery is attached and milk begins flowing into tubes. The cows contentedly munch feed during the approximately six-minute process before lumbering away and letting the next cow have a turn.
Gibson, a lifelong farmer, says his 50 Holsteins produce about 900 gallons of milk every two days. One day's worth a month typically goes to cheese making—a contractor creates eight varieties, including Sage Derby and Wildcat Jack.
Though Pearl saves him time from milking, Gibson's not idle.
"There's always stuff that needs doing and so probably no more free time than there was, but probably a more flexible schedule and that's worth a whole lot," Gibson says.
A few times a day, a valve is released on a nearby 10,000 gallon water tank, washing the barn floor with a large-scale flushing action. Cows seem unperturbed as water rushes over their feet, headed toward settling basins and lagoons to be reused later.
In the Austin community in Barren County, Tri-County Electric consumer-member Kenny Mattingly, owner of Kenny's Farmhouse Cheese, has a 350-acre family dairy farm he's owned since 1998. It's been in his family for more than four decades. He produces 26 varieties of cheese that are distributed throughout a 15-state region.
After straight-line winds destroyed his barn in 2016, Mattingly, who may be distantly related to Richard Mattingly, built a robotic milking center that debuted in April 2017 with two Lely brand milking units, each designed to milk 60 cows three times a day.
At first, the cows weren't sure about the new system and some balked.
"When we first transitioned the herd, it was pretty chaotic," he says. "It took about four days of us working with them 24 hours a day and then after that we just kind of let them loose and see what they did. About 60% of them had it figured out."
Mattingly also saw efficiencies. Milk production increased about 25% with the new robotic Lely system, he says, and it slashed labor costs by about half.
He uses a robot feed pusher to make sure the cows have easy access to their eats, and he's ordered a robot vacuum to deal with manure. He estimates the feed pusher paid for itself in about 1-1/2 years, and robot milkers, costing $210,000 each, should pay for themselves in four to five years.
From spreadsheets to tracking tags
On a 134-acre farm outside Russellville, Willis and Edna Schrock own and operate JD Country Milk, named after their five sons and three daughters who all have the first two initials "J.D."
The family, who are of the Mennonite faith, moved to Kentucky from Illinois in 1998 and raise 30 Jerseys and Holsteins. Sold in distinctive glass bottles in stores like Whole Foods and ValuMarkets in Kentucky, southern Indiana and parts of Tennessee, their milk undergoes low-temperature pasteurization and is nonhomogenized so the cream rises to the top.
"It's as close to raw as you can get it legally," Willis Schrock says.
Their automated equipment isn't considered robotic, he says, but after a cow is prepped for milking, the units automatically detach when done and can handle 16 cows at a time.
Orders are handled via email and logged into computer spreadsheets, and the farm markets itself in part through its website. In addition to whole, skim and 2% original and flavored milk, the farm sells cheese curds, drinkable yogurt, buttermilk and eggnog in season.
Chaney's Dairy Barn in Bowling Green has been in the Chaney family since 1888, and is now owned by Warren RECC consumer-members Carl and Debra Chaney. It encompasses about 54 acres.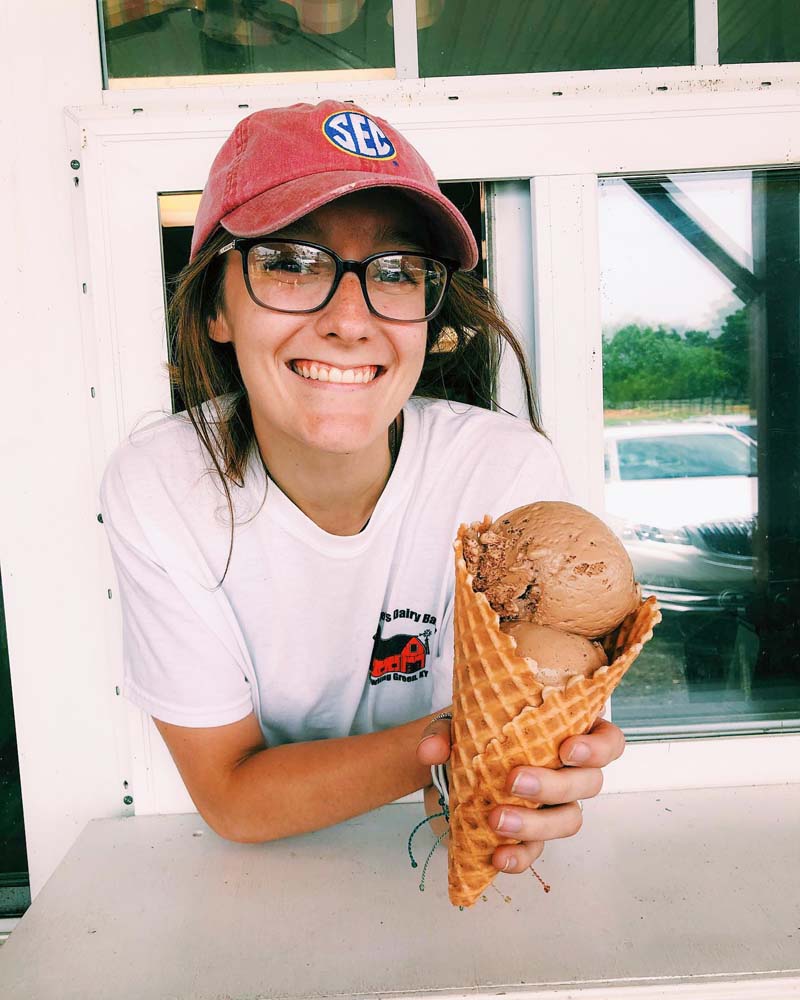 Chaney's Dairy Barn scoops out more than 20 flavors of ice cream to visitors. Photo: Chaney's Dairy Barn

Since 2016, they've used a $260,000 Lely robotic milking system for their 130-head Jersey herd, and figure it will pay for itself in about eight years through labor savings and a 25% milk production boost. The unit even pauses three times a day for a 15-minute self-wash cycle, and can be tracked with a phone app to monitor which cows have been milked, along with their cell counts, body weight, temperature and volume of milk.
An automated feed pusher dubbed "R2-MOO2" is also used on the farm, working around the clock without complaint.
Technological aids also appear at one of the largest dairy farms in Kentucky or Tennessee, Robey Farms, located in the Schochoh community in Logan County.
In the family since 1899, the farm is owned and operated by Pennyrile Electric consumer-members Lee and Denise Robey and their sons Chris, Adam and Eli.
About half the farm's 20,000 acres are owned and the remainder rented by the Robeys. Their 2,500 cows are milked three times a day on 50 milking units. The Dairy Farmers of America cooperative sends the milk to processing plants in Nashville and Murray.
Tracking tags on cows' ears record their production rates and activity levels. Though workers attach milking machines to each cow, they automatically detach. Four times a day, an automatic flushing system cleans out the barns.
Despite the innovations, Robey says some farming elements will always require a human connection.
"I think that technology will keep improving, but we will always need good people to manage the cows and the technology," he says.