Big lessons built in small packages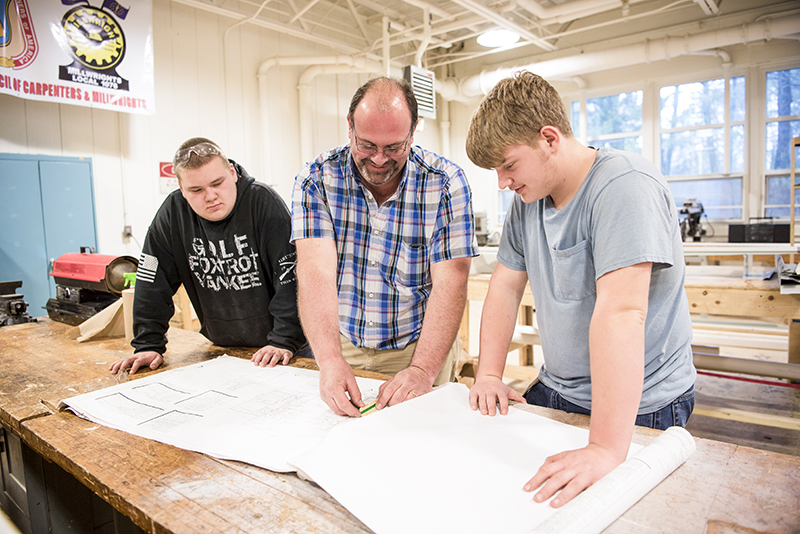 High school students get hands-on experience crafting tiny houses
The tiny house trend has grown over the last decade, spurred by the desire of owners to be debt- and mortgage-free, or to simplify their lives. However, for a group of students in eastern Kentucky, the joy of the tiny house movement isn't about owning a tiny space—it's about building one.
The Building It Forward project awards grants to area technology centers so students can learn how to build tiny mobile houses. The program is the brainchild of Kentucky Valley Educational Cooperative (KVEC) Executive Director Jeff Hawkins and Associate Director Dessie Bowling. They wanted a project that would personalize learning for all students and provide real-world applications for math and science. 
"This cut across all content disciplines and was a project where students could gain skills for their future, either with an employer or by starting their own business," Bowling says.
The first year KVEC offered the opportunity, three area technology centers (ATCs) won grants after their students presented their plans to a panel of architects, federal grant officers and local business people. Those chosen were Lee County Area Technology Center, with high school students from Lee, Owsley and Wolfe counties; Knott County ATC, which serves Knott County High School students; and Phelps High School in Pike County, which houses an area technology center for students there.  
But what were these students and their teachers signing up for? Each $15,000 ATC grant covered the time, resources and education for a group of students to learn how to build a viable tiny house during the school year. They also would be required to transport their finished project to a public showcase. All the tiny houses then would be auctioned off to raise money for another project cycle the following year.
"We'd already done a lot with project-based learning, bringing in folks in the industry and looking at how the kids were able to improve on their essential skills, but this was much more than that," says Knott County ATC Principal Danny Vance.
Solving real-world problems
Not all students learn in the same ways and efforts like these help students who prefer to work with their hands. Brandon McIntosh, a sophomore at Lee County ATC who is helping build the school's second tiny house, is one of those students. "It's more hands on," he says. "Over at the high school, it's a lot of paperwork. Over here it's take a couple of tests and then you're out here learning hands on, which is how a lot of kids learn better. I'm not a paper and pencil kind of person."
In the past, the students in Knott County ATC carpentry teacher Phillip "Stacy" Sparkman's classes would have had to practice their carpentry skills on a wall shared by two other classes. With the Building It Forward initiative, students were learning with real materials and solving real problems. 
Approximately 75 students currently are working on the tiny houses project at Knott County ATC, including students enrolled in the floor and wall framing, and ceiling and roof framing classes. Teddy Martin's Building and Apartment Maintenance students also are involved in the project, covering plumbing, electricity, heating and air conditioning. 
Most of the Knott County students who worked on the first project in 2016-2017 are still at the ATC this year, and the lessons they learned during the first construction cycle have guided and shaped the vision of their second tiny house.
"One of the main lessons we learned is that small isn't always easy," says Sparkman. The first year, students ran into issues with the plumbing and had to cut the metal framing in two places. This year, they avoided that by raising the bathroom and kitchen areas. All the plumbing goes inside the trailer except for the portion that drops and connects to the sewer line.
Another issue was storage. Last year, the sleeping area in the house was upstairs, but this year, students chose to build a Murphy bed on one wall and open the upper floor as a loft for storage. "You could put a twin-size mattress up there if you wanted to, but it's mostly storage," Sparkman says. For even more storage, students built two 8-foot drawers that slide under the kitchen and bathroom area. All of the cabinetry is custom-built, and all the wiring for appliances, television and air conditioner is hidden inside the walls. The basic floor plan totals 192 square feet.
From a teacher's standpoint, the house provides students hands-on learning opportunities with real-world problem-solving and critical thinking opportunities. "It starts with them deciding what they want the house to look like, and then we have to figure out what we need in it," Sparkman says.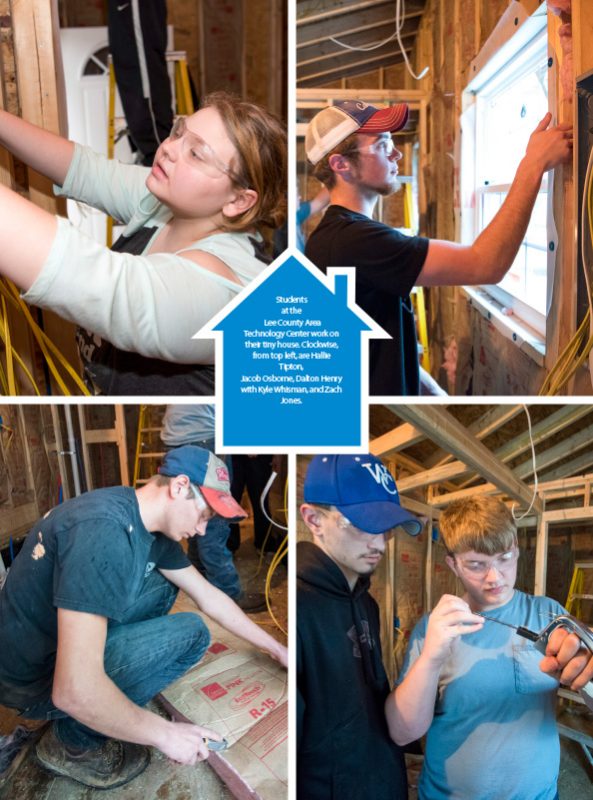 Lessons in green
The tiny house projects are also great lessons in energy efficiency. "The houses have high efficiency wall insulation, which is great to use with the narrow 2×4 wall construction. This makes the houses really tight," says Leslie County ATC carpentry teacher Victor Pennington. "All the appliances and even the vinyl siding that we get from Georgia Pacific is also energy-efficient."  
The students are using certified ENERGY STAR windows and doors, and high-efficiency "mini-split" HVAC units that allow temperatures to be controlled in individual spaces. Because ductwork can create considerable energy loss for a tiny house, the ductless feature of the mini-splits makes them more energy-efficient.   
"The students use all LED lighting throughout the house and an induction cooktop which also helps with energy performance," says Knott County's Vance.
Lee County ATC students made sure to use insulation with high R-values—R21 in the ceiling and floors and R15 in the walls, says carpentry instructor Tommy Judd. "And when we put in windows, we go around with the sealant. (Any homeowner) could do that in their home to try to cut down on the air coming in."
Working together
For Knott County High School sophomore Joseph Bradon, junior Keegan Pigman and senior Collin Mosley, the tiny house project provides camaraderie and an opportunity to build soft skills of communication and collaboration. 
"We figured out that teamwork was very important," Bradon says. Students also had to learn how to work within restrictions for both money and materials. For example, students wanted to tile the floor, but it would have made the house too heavy for the trailer. They also wanted to add a washer and dryer, but that would have cut 20 cubic feet of storage space. Skylights were nixed because they might have leaked, since the house is mobile. All of these roadblocks provided excellent learning opportunities. 
When Hurricanes Irma and Harvey drove up the price of building materials, the students had to figure in those higher costs. 
"It's just like if they'd bid a job and they had to deliver it," says Martin. "The kids have to deal with higher costs and learn how to adjust if they've bid a job." 
Sparkman and Martin say it was hard to create lesson plans, because each problem is unique. "For example, we had to reframe one window three times, but that's how they learn," Sparkman says.
Both teachers noticed that absenteeism fell off to nearly zero among this group. Students weren't just content to work on their project during school, but came to the school during the evenings and weekends, too. They were passionate about the project and their contributions to the end result. 
This school year, five additional ATCs were added to the three original schools: Breathitt County ATC, which includes Jackson Independent in addition to the county high school; Johnson County ATC; Leslie County ATC; Letcher County ATC, which includes Jenkins Independent; and Floyd County ATC. Students from all eight schools presented a session at the KVEC Promising Practices Summit in October 2017. In April, all eight tiny houses were transported to Pikeville's East Kentucky Expo Center for a public showcase during the KVEC Fire Summit before their sale through online auction.
Find more about these Tiny Houses, like the Johnson Central ATC students' experienceand information about last year's auction, at TheHoller.org.
SaveSave
SaveSave
SaveSave