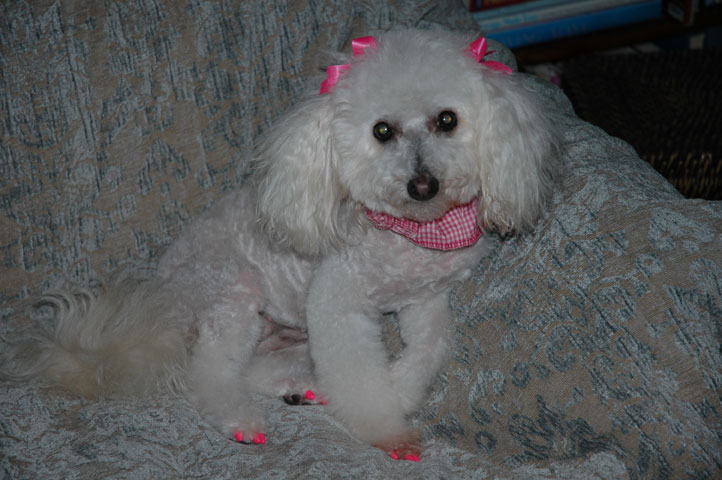 My Arab mare, Razz, died quietly on her 29th birthday. My first rescue dog, Allie, lived to be 14.
The older they got, the more I loved and treasured them.
But in general, we're not a culture that reveres the aged when it comes to pets, and that's a shame.
Hannah Harris of Brighter Days for Shelters , who works with the Harlan County Animal Shelter, loves senior dogs. She says there's not a lot of interest in the older dogs, and she feels people are missing out on some great dogs.
"I think seniors have a lot to offer. They're usually housebroken and well-behaved. They're not hyper and are rarely destructive" as young dogs can be.
"Adopting a senior offers a chance to save a life and hopefully have several wonderful years with a pet. Several adopters here have said they were inspired to adopt other senior pets after adopting their first one."
Peggy Roberson is another champion of senior pets. A volunteer with Ratbone Rescues of New Albany, Indiana, she took in a 16-year-old rat terrier, Dixie. Figuring the dog had been through enough, Peggy decided to keep her.
"I thought Dixie would probably not live much longer. But that was several years ago, and I'm now planning a party for her 21st birthday."
While there are those who welcome senior pets into their families, others aren't so lucky: shelters across Kentucky take in scores of older pets. After years of having a family, suddenly the dog or cat has got to go: there's a new baby, the family is moving, someone develops allergies, or nobody has time for the family pet.
And there aren't always a lot of good options.
To be fair, there are unfortunate circumstances when a family cannot keep their pet, perhaps because of death, illness, or financial problems. It's hard on both the family and the pet.
But as any rescuer will tell you, too many animals are given up because the animal has simply become an inconvenience—the animal has gotten old. With old age can come health or behavior problems an owner does not want to deal with. And some people cannot bear to watch their pet go through the stages of old life, so they turn the animal in to a shelter or rescue, believing the dog or cat will find another home.
As an animal control officer in Shelby County, James Collins has seen his share of older animals turned in, and knows how hard it is on them.
"Senior dogs are the least likely to adjust to a chaotic shelter," he says. "Some people consider their dog to be easily disposable, but they also don't want to be without a dog, so they turn the old dog in and get a younger dog."
When two stray huskies came into the shelter recently, the owners came to claim the younger male, but left the older mother, saying, "We don't need her anymore."
Because the shelter is run by the county, James is obligated to accept any animal turned in to the shelter. And there are times, he says, that a dog is actually better off being given up—an unwanted dog is generally neglected, perhaps living on a chain, or is abused in other ways. But when he can, James tries to help owners find a way to keep their pets.
"Allergies is a common reason for people giving up an animal. The first thing I suggest is to get allergy-specific testing: oftentimes the allergy is due to something else.
"And when an owner is willing, some training can do wonders for a dog's behavior problems, such as barking or aggression. Or maybe the dog simply needs attention: dogs are pack animals, they want to be part of the family.
"But much of the time, people have already made up their minds, and they turn the dog in."
To help combat the problem of older dogs being turned in so an owner can get a younger dog, the shelter has instituted a preventive policy: if you turn an animal in, you will not be allowed to adopt another one.
Denise Jones of the Woodstock Animal Foundation in Lexington has worked with a lot of people wanting or needing to turn in a dog. Her priority is to educate people on what is best for an animal.
"Some people may not realize how stressful it is on the animal to be rehomed, especially senior pets. Older cats in particular get stressed out, and may stop eating.
"Luckily, the public is becoming more aware about this subject: they're finding out that giving up a pet often means that animal will be euthanized. People didn't know that before, so they're willing to work more to keep the animal."
With all the animals she takes in, but especially senior pets, Denise tries to match an animal with a home particularly suited for that animal. Some dogs need to be the only pet in a home, some cats don't get along with dogs, or an elderly person needs a small dog. When possible, she takes the dog or cat directly from its home to its new home: for seniors, it can be stressful to live in foster homes only to be moved again.
And she continually asks owners to consider the harm they can inflict on their pet by giving it up, especially those who leave a pet to be euthanized at a shelter because they cannot bear to see their pet die at home.
"That animal has been there for you all these years—you need to be there for him."
Senior animals have found a friend in Jo Barnes, founder of Jo's Hope for Kentucky Animals in Lexington. Her group specializes in older and special-needs animals, and never lacks for animals to care for. Jo relates the recent story of a 12-year-old lab mix:
"Her owner was put in a nursing home and the family simply put the dog in a local shelter. The dog cries continuously. They say her cries are heart-wrenching. She was on the list to be euthanized. She will be coming to us today."
Clifford the Big Red Dog is another of Jo's successes. Clifford had been abandoned in a back yard with no food, water, or shelter. He was taken to a shelter where he sat for weeks. No one wanted this 10-year-old dog. Jo pulled him from the shelter and placed him with a foster parent—who promptly fell in love with Clifford and decided to keep him permanently.
Because illness and death of owners are such common reasons why animals are taken to a shelter, Jo urges pet owners to make provisions for their pets.
"People should make a backup plan for their pets in case they are unexpectedly hospitalized or pass away. This takes the burden off their family and friends and keeps the pets safe. They should make this plan in advance and make their directions clear; they can put this in their will."
Jo goes even further with senior pets with a community outreach program matching senior people with senior pets.
"Senior people are often alone and need comfort. If they do not feel they can take on a senior pet, we try to do visits and take loving older pets to comfort them—whether it be in hospice, a nursing home, or at their home."
Senior pets are lucky to have such rescuers on their side, but if you're still not convinced, consider the words of Sharon Mayes of the Shamrock Pet Foundation in Louisville:
"You may not have as much time with a senior pet, but the time will still be invaluable. They are so appreciative, and love you unconditionally.
"People say it just hurts too much when your pet passes away. I totally disagree: the joy of having them in your life far outweighs the pain of losing them.
"I wouldn't miss it for all the world."