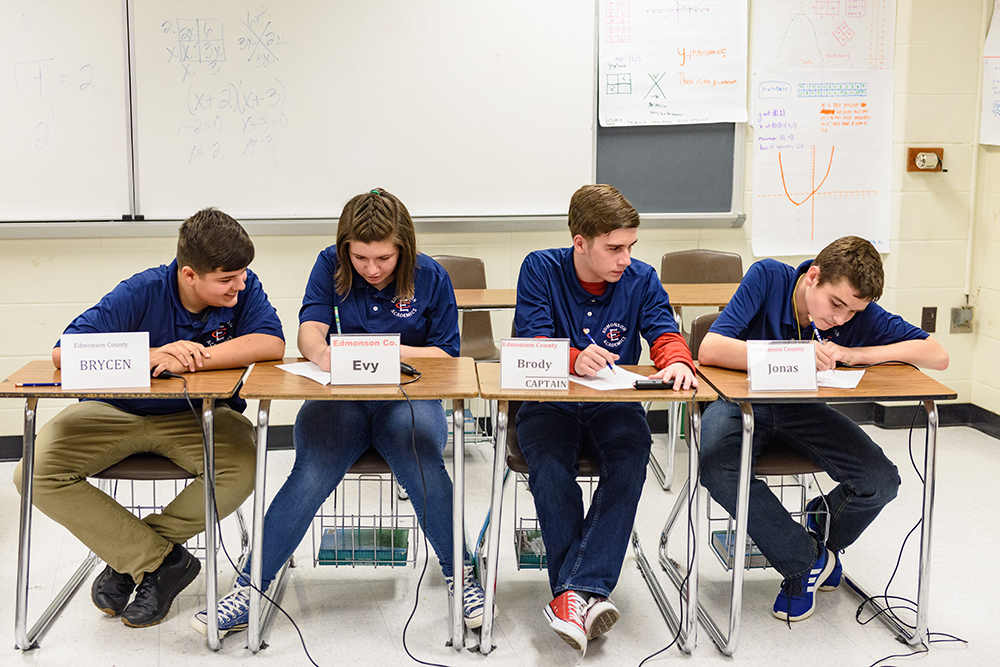 Competitive education programs offer students a chance to shine
From science and math bowls to spelling and history bees, from speech and writing competitions to quick recall matches, there's no shortage of academic challenge opportunities for kids who love to learn.
Even better, in this world where mind power of all types is celebrated, there's no one-size-fits-all approach. There are challenge formats to complement almost any learning style or interest, from Jeopardy!-style, buzzer-based quizzes that reward quick thinking, to individual, written assessments that celebrate deep knowledge of a subject.
So, no matter what topic your student may be interested in—or whether he or she is a bubbly extrovert or a more shy, introspective thinker—there's likely an event to foster and encourage that academic passion.
Celebrating knowledge
At Calloway County Middle School, the academic team is one of the most popular extracurricular activities offered. The roughly 45 members there feel like they're part of a family of sorts, says team coach Scott Pile, a West Kentucky RECC consumer-member who runs the program with help from his wife, Whitney.
"We have tried to build a culture where we practice after school, but we have fun. We do not want stressed-out kids. We tell our students, 'As far as you want to go, as hard as you want to work, let's do this thing together,'" Pile says.
His approach seems to be working: the school's sixth grade team and varsity academic team (composed of seventh and eighth graders) have each won 10 regional championships in the Governor's Cup statewide tournament, and the varsity team ranked fourth overall at the state finals this year.
Perhaps the most well-known academic challenge program in the state, with more than 20,000 students and about 1,165 Kentucky schools participating, Governor's Cup includes eight events for students in elementary through high school: Quick Recall; Future Problem Solving (a team-based, critical thinking competition); Composition; and Written Assessments in math, science, social studies, language arts and arts/humanities.
"There is nothing like (Governor's Cup) anywhere else in the country, in terms of the breadth and scope of its events, as well as the ways that the program has involved itself and become a part of the culture at the majority of schools in our state," says John Bennett, executive director of the Kentucky Association for Academic Competition, which sponsors Governor's Cup.
Calloway County Middle was also the middle school representative for Kentucky at the National Science Bowl Competition in Washington, D.C., in April—its fifth time appearing at the national event, which is sponsored by the United States Department of Energy. Its Future Problem Solving (FPS) Team was named Kentucky Middle School Champion at this year's Governor's Cup and went on to compete at the International FPS tournament in June at the University of Massachusetts Amherst.
"I think at a lot of schools, they mostly focus on sports and athletics, and it's really nice to be part of something that isn't that, and still have an opportunity to go to all these events and get recognition and feel great about it," says Ellie Whisman, a three-year veteran of the academic team at Calloway County Middle School.
The various academic challenges also give intellectually curious
students a welcome means of channeling their desire to discover.
"I learned something new every day at practice," says Drake Calhoon, who competed in Mathcounts, Quick Recall, Science Bowl, and group and individual FPS during her three years on the Calloway County Middle School Academic Team. This year, she was also state runner-up in the middle school Governor's Cup Composition event, where students write an on-demand essay to a prompt question.
"Just being able to independently pursue subjects that I enjoy learning about is one of the best things about these competitions," agrees high school junior David Suarez of Somerset, a member of the 2019 Science Bowl Team at the Gatton Academy of Mathematics and Science in Bowling Green, which was Kentucky's high school representative at the National Science Bowl competition in Washington, D.C., earlier this year. (The Gatton Science Bowl team has represented Kentucky at nationals for the past six years running, says the team's sponsor, Cheryl Kirby-Stokes, a Warren RECC consumer-member.)
Gaining self-discovery
At Danville High School, the Forensics (aka Speech) Team has its own dynasty brewing thanks to its nine state team championships, eight state team runner-up trophies and 19 individual national finalists—including two national champions—under the 25-year leadership of head coach Steve Meadows, a Blue Grass Energy consumer-member who lives in Fayette County.
At speech events, students typically present either a prepared monologue or an extemporaneous speech on a given topic in front of a panel of judges who evaluate them subjectively. The process is sometimes nerve-wracking, but it teaches participants important life lessons.
"They learn to deal with pressure and how to handle it gracefully," Meadows says.
Students who participate say the process dramatically improves their communication skills.
"I think confidence is one of the greatest benefits of speech and debate—not only in terms of overcoming a potential fear of public speaking, but also in finding meaning in what you say and the way you communicate that to other people," says Katie Critchfield, a 2019 graduate of Danville High School and former Forensics Team member who advanced to this year's National Speech and Debate Association Grand Nationals, held in Dallas in June.
Sometimes, a chance to participate in an academic competition can lead students to discover a love for a subject, when it hadn't been there before.
Mary Kate Godfrey, a 2019 graduate of Elizabethtown High School, had always loved theater, but never fully appreciated poetry until becoming a participant in the Poetry Out Loud Competition, which is sponsored nationally by the National Endowment for the Arts and overseen at the state level by the Kentucky Arts Council.
As Kentucky's 2019 Poetry Out Loud state finalist, Godfrey earned an all-expense paid trip to Washington, D.C., in April to recite her prepared poems, including England in 1819 by Percy Bysshe Shelley, in competition for a $20,000 top prize.
Though that honor went to the finalist from Minnesota, Godfrey says participating in the program gave her "a deeper appreciation for poetry and writers in general" as well as opportunities to meet and network with writers and poets in Kentucky and across the nation. "It was really cool to see artists and writers succeeding at what they love," she says.
Students who thrive in academic challenge competitions find them to be "a safe place to demonstrate their talents," says Todd Garrison, a Farmers RECC consumer-member and head coach of the academic team at Glasgow High School, which has won three back-to-back national Small-School Division Quiz Bowl titles, among other accolades.
Plus, the events offer talented students a chance to interact with others from across the state and beyond, who, like them, are often at the top of their classes academically.
"These are typically some of your brightest kids, and it's valuable to be able to put them in situations where they can not only showcase their talent," Garrison says, "but meet others like them from other schools and be challenged as well in a positive way."
Academics in action
Whether they're reciting poetry or buzzing in with instant answers to any number of subjects, Kentucky students impress in academic competitions.
2019 Kentucky Poetry Out Loud State Champion Mary Kate Godfrey, an Elizabethtown High School graduate, presents England in 1819 by Percy Bysshe Shelley: https://youtu.be/48njh0Fiho4
Watch the teams from Middlesboro High School and Glasgow High School square off during the final of the 2019 National Academic Quiz Tournaments' Small School National Championship, Traditional Public School Division: https://youtu.be/T72bTVLbTaY