Kentucky's electric cooperatives pull together
Reinforcing a safety culture, Hurricane Ida restoration efforts
Good Catch
A safety initiative at Blue Grass Energy, Nicholasville, is helping employees identify and communicate hazards in the workplace. Since the program's inception in January 2021, co-op employees have submitted 40 Good Catch reports totaling 440 views. Employees can submit, view and discuss a Good Catch on the cooperative's internal communications platform, The GRID.
"It has a social media feel to it, which is very relatable," says Blue Grass Energy Safety Coordinator Matt Thomas. "Because The GRID is compatible with both co-op and personal devices, everyone has quick access and our employees can easily post a Good Catch no matter where they may be. This information is instantaneously shared with the entire company, getting the message out much sooner than through emails or having to wait until the next scheduled safety meeting."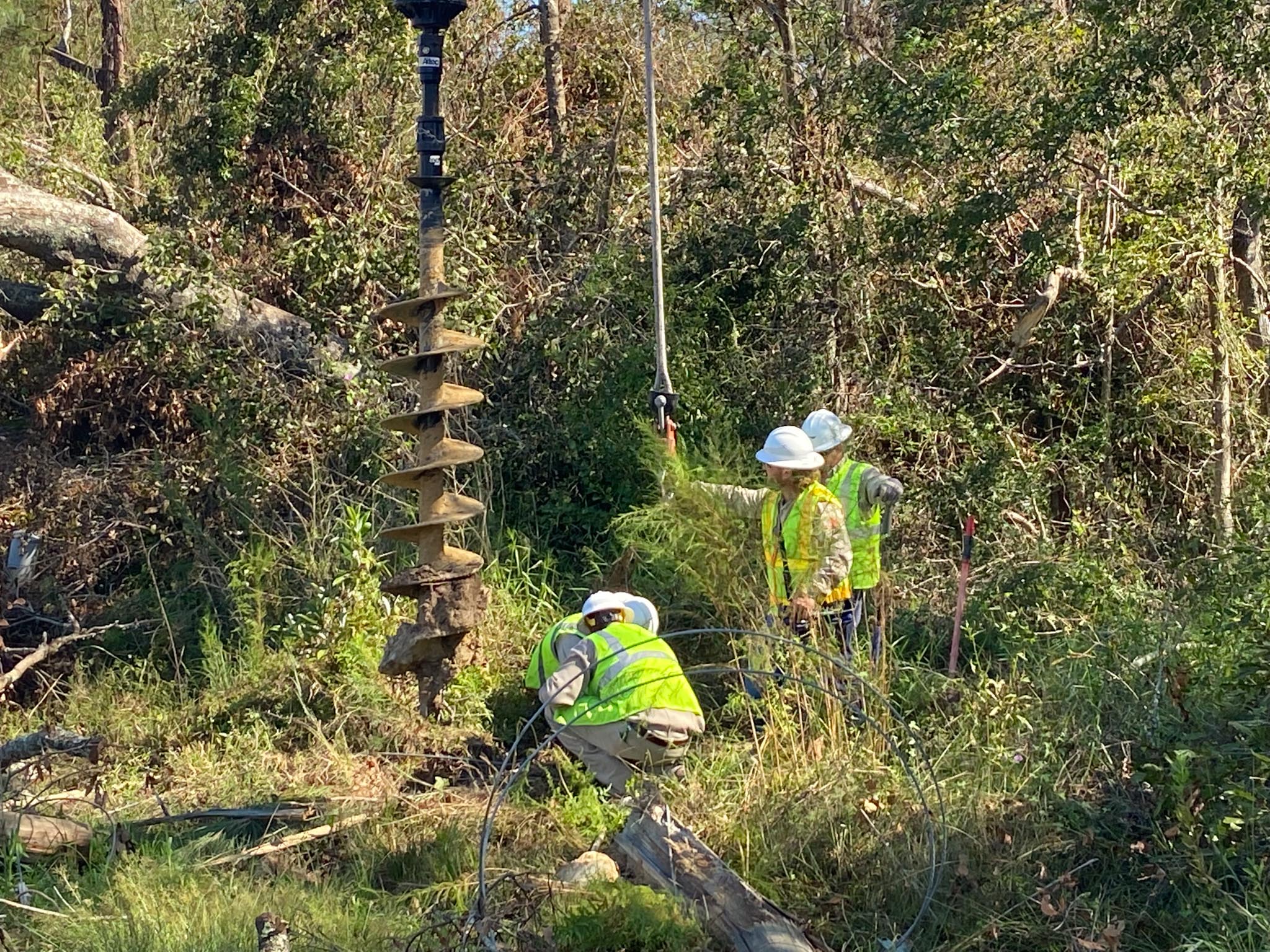 On September 10, a Kenergy crew replaces a three-phase pole that had been snapped due to trees falling through power lines. Multiple crews worked to rebuild a mile-long section of line and poles in southeast Louisiana. Photo: Tony Dempsey
What a relief
In addition to 120-plus contractors released by Kentucky co-ops, more than 40 Kentucky co-op personnel are back home from Louisiana after assisting in Hurricane Ida recovery efforts.
Packing winds exceeding 100 miles per hour, the hurricane devastated the infrastructure of DEMCO, an electric cooperative serving the Greater Baton Rouge area. The damage included 60 broken and 100 stripped transmission poles, and 400 broken distribution poles, many of them in remote and swampy marshlands.
At the height of the storm an estimated 100,000 of the co-op's 113,500 meters were without service.
DEMCO CEO and General Manager Randy Pierce says mutual aid crews' participation was instrumental in restoring power weeks ahead of original estimates. "Hurricane Ida restoration included use of up to 900 crewmen working 16-hour days. These guys faced incredible environmental challenges. Many had never experienced Louisiana, known for its heat and humidity—and after a storm, it's almost impossible to imagine how difficult and dangerous it is. We have flooding, the swamps are filled with snakes and alligators, and the red ants, flies and mosquitoes are everywhere—these guys were out in the worst of it," says Pierce. "What they accomplished is nothing short of miraculous—the storm hit on August 30 and by September 20, crews restored power to 99.9% of all members weeks ahead of original estimates."
Hundreds of mutual-aid personnel responded from cooperatives in Kentucky, Missouri, Oklahoma and Florida. Coordinated by the Kentucky Electric Cooperatives Safety and Loss Prevention team, the Kentucky mutual aid response included co-op crews from Fleming-Mason Energy, Kenergy Corp., Nolin RECC and its Wide Open Utility Service subsidiary, Shelby Energy and South Kentucky RECC.
The top priority of each local Kentucky co-op is service to its own consumer-members. Before committing resources to mutual aid requests, each co-op ensures it has ample crews available for all local needs, including routine maintenance and emergencies.