And the 2018 Best in Kentucky winners are…
Awesome adventures, athletes with hustle and out-of-the-way diners; historic treasures, home-grown musicians and great places to visit that border on wacky; bigger-than-life personalities, rugged scenery and hand-crafted libations to wet the whistle—these are just a few of the things Kentuckians love best, and they're not shy about giving their favorites a shout-out.
Here are Kentucky Living readers' picks for the "Best in Kentucky" for 2018:
Sponsored by:
Family Day Trip
WINNER – Mammoth Cave National Park
Described as a "grand, gloomy and peculiar place" more than 175 years ago by early cave explorer Stephen Bishop—an African American brought to Mammoth Cave as a teenager and considered one of the greatest of the cave's explorers, having discovered miles and miles of this subterranean labyrinth on his own—Mammoth Cave makes for a perfect family outing. The park's 52,800 acres offers tours belowground and above, canoeing on the Green River, horseback riding, bicycling, picnicking, camping and other outdoor pursuits.
SECOND PLACE – Louisville Zoo
THIRD PLACE –Cumberland Falls State Resort Park, Corbin
QUIRKY ATTRACTION
WINNER – Dinosaur World Kentucky, Cave City
Go back in time at Dinosaur World, a prehistoric playground where some 150 life-size dinosaurs strut their stuff in a natural setting. Besides seeing these amazing creatures, you can dig for fossils, pan for real minerals and gems, and put your paleontology fieldwork knowledge to the test at the Boneyard and unearth a life-size Stegosaurus skeleton.
At the Touch-and-Tell, guess what dinosaur is inside a hole without seeing it. Visit the Mammoth Gardens and see woolly mammoths as they appeared during their time. Stop in at the Prehistoric Museum and see a variety of fossils, and cool off at the Movie Cave, where you can catch an educational flick on dinosaurs.
SECOND PLACE – Wigwam Village Inn #2, Cave City
THIRD PLACE – Louisville Mega Cavern
SELFIE SPOT
WINNER – Cumberland Falls, Corbin
Here is natural beauty exemplified: Cumberland Falls, the "Niagara of the South" and the only place in the Western Hemisphere to experience the phenomenon of the moonbow on moonlit nights. No wonder Kentucky Living readers flock to Cumberland Falls State Resort Park for selfies—the 125-foot-wide curtain of water cascading over rocks that geologists estimate are about 250 million years old is spectacular.
SECOND PLACE -Natural Bridge State Resort Park, Slade
THIRD PLACE – Henderson Riverfront
FARM TOURIST ATTRACTION
WINNER – Chaney's Dairy Barn & Restaurant, Bowling Green
There's so much more than ice cream happening at Chaney's Dairy Barn & Restaurant. And make no mistake, the ice cream is delicious (Big Red Rumble anyone?), but there are also educational and self-guided farm tours featuring a robotic milker—one of the few in the state—plus active fun, including a barnyard playground with monster slides, jumbo jumping pillow and seasonal corn maze, plus a restaurant serving up lunch and dinner. Behind it all are Carl Chaney and the entire Chaney family, who are passionate about educating the public about dairy and agriculture.
SECOND PLACE – Hinton's Orchard & Farm Market, Hodgenville
THIRD PLACE – Kentucky Horse Park, Lexington
DAY TRIP
WINNER – Mammoth Cave National Park
The Great Wall of China. The Acropolis. Australia's Great Barrier Reef. And Mammoth Cave National Park. You read that right. This geologic time capsule is a World Heritage Site for meeting criteria, including containing "superlative natural phenomena or areas of exceptional natural beauty and aesthetic importance," having "outstanding examples representing major stages of earth's history," and "the most important and significant natural habitats for in-situ conservation of biological diversity."
Its mysterious and endlessly intriguing chambers, formations and sites like Frozen Niagara, the Bottomless Pit and Gothic Avenue aren't bad, either.
SECOND PLACE – Cumberland Falls State Resort Park, Corbin
THIRD PLACE – Red River Gorge Geological Area, Stanton
HISTORIC SITE
WINNER- My Old Kentucky Home, Bardstown
The abolitionist-inspired ballad, My Old Kentucky Home, Good-Night!, written by popular 19th-century composer Stephen Collins Foster, is one of the most influential songs in American culture. Originally named Federal Hill, the iconic historic plantation inspired Foster's song. A national treasure, this 19th-century mansion's rooms are filled with priceless 200-year-old original artifacts, including the Rowan family's Victorian parlor furniture.
Learn about the home's illustrious inhabitants, visit lush formal gardens and hear the song, My Old Kentucky Home, performed by a cast of talented tour guides.
SECOND PLACE – Fort Boonesborough State Park, Richmond
THIRD PLACE – Shaker Village of Pleasant Hill, Harrodsburg
WINERY
WINNER – Farmer & Frenchman Winery, Henderson
The name says it all: Farmer & Frenchman Winery presents a style, sensibility and wine list that reflect the owners' comingled French and Kentucky heritage on fifth-generation family farmland in Henderson's rolling countryside. A small-farm winery, it encompasses Kentucky wines and French imports, a European-influenced café, bed and breakfast inn and private farm-stay cabins (opening this fall), and event space.
"We strive to craft wine that mingles agrarian tradition with stylish interpretations of the French classics," says Katy Groves-Mussat, who owns the winery with her husband, Hubert Mussat.
SECOND PLACE – Purple Toad Winery, Paducah
THIRD PLACE – Talon Winery & Vineyards, Lexington and Shelbyville
DISTILLERY
WINNER – Maker's Mark Distillery, Loretto
The only operating distillery designated a National Historic Landmark, Maker's Mark is one of Kentucky's most popular tourist destinations and perfectly reflects the unique character of the whiskey created here.
SECOND PLACE – Jim Beam American Stillhouse, Clermont
THIRD PLACE – Woodford Reserve Distillery, Versailles
CRAFT BEER
WINNER – Country Boy Brewing, Georgetown, Lexington
Country Boy Brewing was founded in Lexington in 2012 by Daniel Harrison, Nathan Coppage, Jeff Beagle and Evan Coppage, who met through the local homebrew club and shared a passion for unique craft brews. In 2017, these "four Kentucky boys" opened a brewery and taproom in Georgetown, earning the distinction of being the first such operation in Scott County.
The brewery has received numerous awards, including the Young Professionals Vision Award from Bluegrass Tomorrow. And while it seems like they were an overnight success, craft beer's fab four had to overcome a slew of obstacles, including gaining a thorough understanding of the environment of the craft beer world and getting folks to see that what they were trying to do was simply make great beer—like their wildly popular Cougar Bait and Shotgun Wedding.
SECOND PLACE – West Sixth Brewing, Lexington
THIRD PLACE – Alltech Lexington Brewing & Distilling Co., Nicholasville
BARBECUE
WINNER – Arrowhead Archery & BBQ, Hodgenville
Barbecue and archery under one roof? Yep. In fact, diners can watch archery competitions in the dining room while munching on ribs, burgers, fish sandwiches and more, and desserts that include peanut butter pie, banana pudding and hot fudge cake with ice cream. But this is not the only thing that sets this barbecuing "best" apart.
"We can promise that when you eat at our restaurant you are getting smoked-fresh-daily meats, never frozen, that have been smoked low and slow for your desires," says Ashley McLain, co-owner and manager. "We know each and every customer by name unless they are a first-timer, and we cook every side item that we serve from scratch just like your grandma would."
SECOND PLACE – Red State BBQ, Lexington
THIRD PLACE – TIE- J&B Barbecue & Catering, Henderson; Old Hickory Bar-B-Q, Owensboro
HAMBURGER
WINNER- Laha's Red Castle, Hodgenville
One satisfied diner called Laha's Red Castle "a diamond in the rough." Another noted, with unabashed enthusiasm, that Laha's is the "most amazing burger joint in the entire world." On that same note, someone else proclaimed it to be "the answer to universal peace."
Laha's knows how to make a rave-worthy burger, the kind that is seasoned just right with onion and cooked on a circa-1950s Vulcan Hart grill. It is deliciousness diners have been able to count on for more than 80 years, ever since William and Sally Laha first opened the joint back in 1934.
SECOND PLACE – Dovie's, Tompkinsville
THIRD PLACE – Metzger's Tavern, Henderson
DOWN-HOME RESTAURANT
WINNER -Paula's Hot Biscuit, Hodgenville
For such a small eatery tucked off the beaten path, Paula's Hot Biscuit certainly draws the crowds. Known far and wide for its hearty breakfasts and hot lunches—the kind of down-home delectable, rib-sticking spread Mom whips up when you're visiting home—Paula's is all about good food served by friendly staff in a family atmosphere that is as country as a biscuit.
SECOND PLACE – The Lighthouse Restaurant, Edmonton
THIRD PLACE – TIE
Ramsey's Diners, Lexington; The Dixie Café & Quick Stop, Keene
SWEET SPOT
WINNER -The Sweet Shoppe and Dessert Café, Hodgenville
Pies, cakes, cupcakes, caramel apples, cookies, chocolate-covered strawberries, ice cream treats and lots and lots of fudge—peanut butter, tiger butter and Kentucky bourbon fudge being among fave flaves.
Appreciative sweet-tooths all over the state and beyond love The Sweet Shoppe and Dessert Café's secret-recipe fudge cooked in double boiler kettles and shipped all over. The shop also offers a variety of locally made Amish products: jams, jellies, molasses and honey.
SECOND PLACE – Pate's Cake Shop, Bee Spring
THIRD PLACE – TIE 2nd Street Treats, Henderson
Crank & Boom Ice Cream Lounge, Lexington
KENTUCKY MUSICIAN/BAND
WINNER – Jericho Woods, Irvington
For the third consecutive year, Jericho Woods has been chosen by Kentucky Living readers as the best musician/band in the state. Self-described as "one-part Grand Ole Opry, one-part Muscle Shoals, a big dash of '90s country, with Mellencamp's Heartland Rock in their hearts … and still 100 percent Kentucky," Jericho Woods may well be the only current duo from Kentucky being featured on CMT and GAC (Great American Country).
How else do Josh Mitcham and Paul Priest describe themselves? "Very proud Kentuckians!"
SECOND PLACE – Chris Stapleton, Nashville, Tennessee
THIRD PLACE – The Kentucky Headhunters, Edmonton
EVENT or FESTIVAL
WINNER – W.C. Handy Blues & Barbecue Festival, Henderson
One of the largest free music festivals in the nation, The W.C. Handy Blues & Barbecue Festival is also one of the country's longest-running free music festivals. Why? Because the music is hot, with live performances by some of the best blues musicians, both national and local, and because the festival celebrates the "Father of the Blues."
It was during W.C. Handy's decade in Henderson when he "learned to appreciate the music of my people … then the blues were born, because from that day on, I started thinking about putting my own experience down in that particular kind of music." Of course, there's also the barbecue. And the scenic Audubon Mill Park where the festival takes place.
SECOND PLACE – Lincoln Days, Hodgenville
THIRD PLACE – Kentucky Bourbon Festival, Bardstown
ARTS/MUSIC VENUE
WINNER – The Louisville Palace
Ornate, atmospheric, historic—The Louisville Palace is the only functioning classic movie theater in the city. Built in 1928, this architecturally unique venue promoted its premium sound system and was the first theater in the city to feature movies with sound.
Today, the theater's name is synonymous with quality touring Broadway attractions; local, national and international performing arts presentations; classic films; and concerts with headlining contemporary, gospel, R&B, variety, comedy and country artists.
SECOND PLACE – Renfro Valley Entertainment Center, Mt. Vernon
THIRD PLACE -Preston Arts Center, Henderson Community College Campus, Henderson
ATHLETE
(currently playing)
WINNER – Kevin Knox, University of Kentucky
A dynamic and prolific scorer, Kevin Knox was an honorable mention All-American selection, the 2018 Southeastern Conference Freshman of the Year, and a member of the 2018 SEC All-Tournament team. He led UK in scoring as a freshman and declared for the 2018 NBA Draft after his freshman season. He was a lottery pick by the New York Knicks and named to the All-NBA Summer League First Team.
SECOND PLACE – Justin Thomas, Goshen
THIRD PLACE – Ivy Brown, Western Kentucky University
RADIO/TV PERSONALITY
WINNER – Matt Jones, Kentucky Sports Radio, Louisville
Matt Jones is the host and founder of the fan-centric Kentucky Sports Radio, which presents University of Kentucky basketball, football and recruiting "in the most ridiculous manner possible."
The program has become the largest independent college sports blog in America, in addition to having over 40 radio affiliates around the state. Pretty amazing for a guy who just wanted to launch a podcast as a means to do what he loves best: talk UK sports.
SECOND PLACE – Cale Tharp, ABE 93.7, Hodgenville
THIRD PLACE – TIE Dawne Gee, WAVE 3, Louisville; Terry Meiners, 840 WHAS, Louisville
PLACE FOR ADVENTURE
WINNER – Mammoth Cave National Park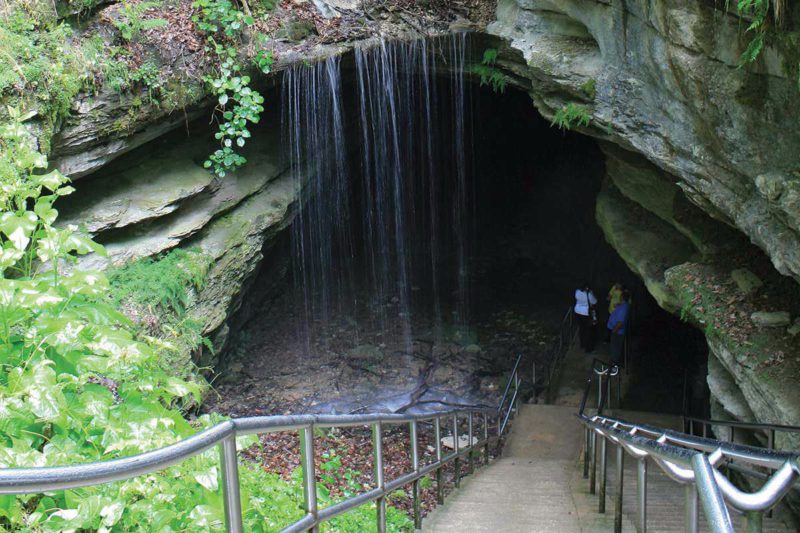 Squeeze through Fat Man's Misery. See lonely Sand Cave, where explorer Floyd Collins met his tragic fate in 1925. Crawl along undeveloped
passageways. Visit the Big Woods for a peek at the uncut forest of Old Kentucky. Drift along the Green River in a canoe.
Learn about prehistoric American Indian explorers. Get a glimpse of historic cave writing. Walk to the Old Guides Cemetery, final resting place of former enslaved cave guide Stephen Bishop. Mammoth Cave is the place for colossal adventures.
SECOND PLACE – Natural Bridge State Resort Park, Slade
THIRD PLACE – Land Between The Lakes National Recreation Area, Golden Pond
CAMPING SPOT
WINNER – Red River Gorge Geological Area, Stanton
Designated a Geological Area, National Natural Landmark and National Archaeological District, Red River Gorge is also on the National Register of Historic Places. Beyond all the accolades, it is beloved by Kentuckians for its rugged and spectacular scenery, unique geological features like natural sandstone arches and amazing recreational opportunities: hiking, canoeing, climbing, communing with nature, camping and more.
SECOND PLACE – Green River Lake State Park, Campbellsville
THIRD PLACE – John James Audubon State Park, Henderson
HOUSEBOATING LAKE
WINNER – Lake Cumberland – Somerset-Pulaski County, Russell County, Burnside, Monticello-Wayne County and Clinton County
Houseboating. Fishing. Family fun. When "Lake Cumberland" is dropped into the conversation, lake lovers instantly conjure up images of a sun- and water-soaked getaway with friends and family to one of the largest lakes in Kentucky.
Lake Cumberland also has the distinction of having more rental houseboats in one location than anywhere else in the United States, earning it the title of "Houseboat Capital of the World."
SECOND PLACE – Green River Lake
THIRD PLACE – Kentucky Lake, Marshall County, Calloway County
HUNTING or FISHING SPOT
WINNER – Land Between The Lakes National Recreation Area, Golden Pond
Land Between The Lakes has some of the best hunting, fishing, camping, horse riding, off-highway vehicle driving and environmental-conservation education programs around. Outdoor lovers, adventurers and families alike can easily fill up a day or a week cavorting among its 170,000 acres of forests, wetlands and open lands.
Kayak along the Land Between The Lakes Regional Water Trail. Explore the Homeplace 1850s Working Farm and the Woodlands Nature Station. Take a trip to the stars at the Golden Pond Planetarium and Observatory. Cruise around the Elk and Bison Prairie.
SECOND PLACE – TIE Kentucky Lake – Marshall County, Calloway County; Lake Barkley, Cadiz
MADE IN KENTUCKY PRODUCT
WINNER – Ale-8-One, Winchester
Authentic, original and Kentucky Proud, Ale-8-One is one of the last soft drink bottlers in the United States and the only one in Kentucky continuing to receive and refill the returnable, long neck, green glass bottles. (The company gives 1 percent of sales from these returnable bottles to environmental nonprofits in Kentucky through its partnership with 1% for the Planet. )
Many fans say the best tasting Ale-8 is contained in these bottles, full of memories! With select availability in the heart of Ale-8 country, these special bottles are thicker and heavier than today's bottles—perfect for showcasing Ale-8's crisp, clean ginger taste with just a hint of citrus.
SECOND PLACE – Maker's Mark Bourbon, Loretto
THIRD PLACE – The Sweet Shoppe and Dessert Café Fudge, Hodgenville
ARTS & CRAFTS FAIR
WINNER – Berea Craft Festival
The Berea Craft Festival brings juried artists from across the country to the Folk Arts and Crafts Capital of Kentucky for a three-day festival at the historic and beautiful Indian Fort Theater. Shop for artisan-made treasures. See raku pottery firing. Watch a silversmith or dollmaker in action. Enjoy a variety of music, from folk to jazz to mountain music, and munch on festival goodies, including roasted corn in the husk, funnel cakes and kettle corn.
SECOND PLACE – St. James Court Art Show, Louisville
THIRD PLACE – Glendale Crossing Festival
FARMERS MARKET
WINNER – Lexington Farmers Market
Exquisite arrays of fresh-cut flowers, artisan and beer cheeses, specialty coffees and bubble tea, beeswax candles, all-natural dog biscuits, olive oil, balsamic vinegar and sea salt—the Lexington Farmers Market is so much more than produce, although it has tons of that, too—corn, tomatoes, beans, apples, peppers, peaches, watermelons, herbs and more—fresh from the farm. The market has served central Kentucky for four decades, with booths offering everything from meat, eggs and mulch to Kentucky wines, beers and chocolates.
SECOND PLACE – Hardin County Farmers' Market
THIRD PLACE – Henderson Farmers Market