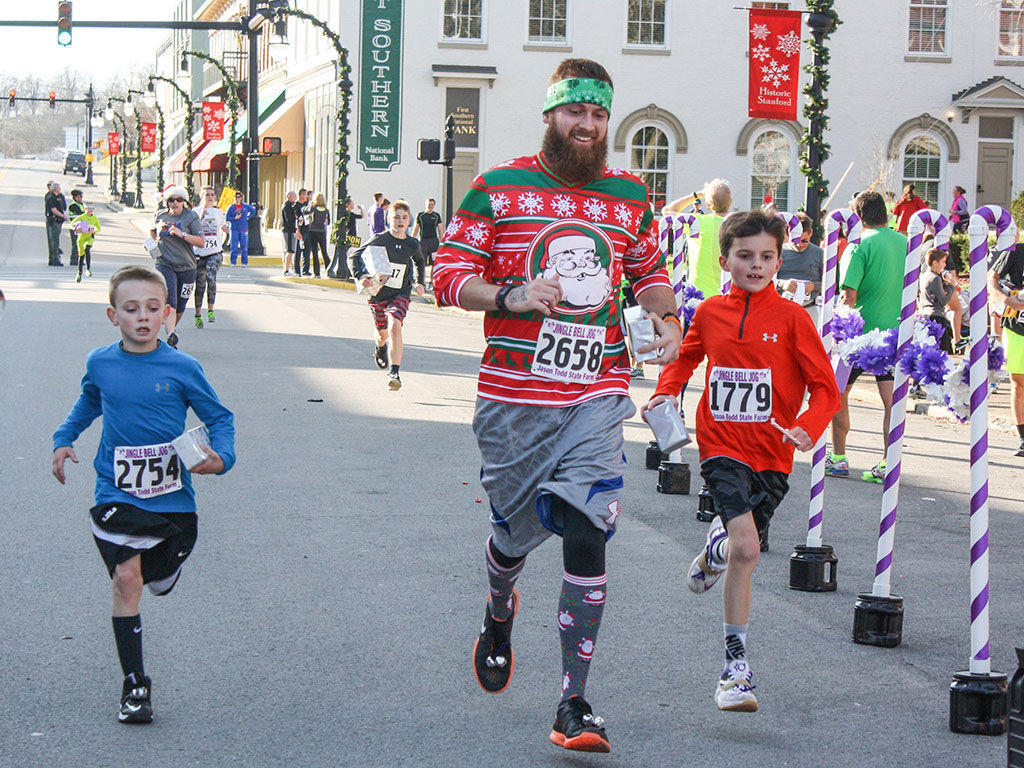 Check out Renfro Rock 'N Run's toe-tapping 2015 race-day music video, featuring stunning scenic vistas with 500-plus runners.

Turkey trot and jingle jog your way with these cold-weather 5K run/walks
Now that fall is here and winter is on its way, there's no need to put away those running shoes just yet. When it comes to 5K runs and walks here in Kentucky, things are still heating up.
MCEC Dashing Through the Snow 5K & Fun Run-November 19
www.m-c-e-c.org
Facebook
On your mark, get set, go—to Benton's third annual MCEC Dashing Through the Snow 5K and Fun Run. Held at Mike Miller Park, this event, which benefits the Marshall County Exceptional Center, offers something for everyone, including the competitive, speed-timed race, and the noncompetitive, 1-mile Fun Run that sets a more leisurely pace.
First lighted on race night, the park's spectacular Christmas light display casts a festive glow on the evening's activities. Later, hot chocolate and s'mores are served around the park pavilion's fireplace to kick off the awards ceremony. And of course, Santa makes his appearance.
Event organizer and Marshall County Exceptional Center Interim Executive Director Lindsey Wall says the race is run even if rain, sleet, or snow is in the forecast. "It does take some dedication, but it could not go for a better purpose," she adds. All proceeds benefit MCEC, a private, nonprofit organization that provides free services to intellectually and developmentally disabled individuals.
This year's 5K offers more age divisions and awards. As the event continues to grow and evolve, Wall says, "We hope to make this our best yet."
Reindeer Run/Walk-December 3
Facebook
Imagine racing a 5K against Santa Claus. You can do just that at the second annual Reindeer Run/Walk held along downtown Owensboro's riverfront.
In the season's spirit of goodwill, the odds are, you'll probably outrun Santa. In fact, event organizer Sherrianne Leach says, "Santa's going to come in dead last."
Even so, Santa's no sore loser. He sticks around after the race to pose for photos. And he'll probably drink a cup or two of hot chocolate at the winners' board.
Don't worry if you don't post the fastest race time. There are plenty of other prize-snagging opportunities, like the coveted best costume award, so come dressed in an ugly sweater or other festive holiday attire. Participants' names are also drawn randomly for a shot at prizes, like Fitbits, Kindle Fires, and gift cards.
This event benefits Care Net of Owensboro, providing free pregnancy tests and ultrasounds to qualified expectant mothers. Leach, who is Care Net's director of development, says it's fun to see families spending time together while running the 5K. She adds, "It gets you in the spirit of Christmas."
Jingle Bell Jog-December 4
www.stanfordjinglebelljog.org
Facebook
On December 4, 2016, jingling bells will fill Stanford's frosty air as runners and walkers dash down Main Street for the ninth annual Jingle Bell Jog.
Angela and Jason Todd first organized the event in memory of Angela's father, who had Alzheimer's disease. Since 2008, this 5K's proceeds have contributed $80,000 to the Alzheimer's Association.
"You're donating to a good cause, and also having some good family fun," Angela says. The Alzheimer's Association receives 100 percent of entry fees.
The fun includes a photo booth complete with props like Santa hats, reindeer antlers, and snowman carrot noses. Mid-course, there are sugar cookie and candy cane stations.
Excitement builds at gift stations dotting the route where entrants choose a wrapped package to carry to the race's end. Inside, there might be clothes hangers, a Chia Pet, or even diamond jewelry. "As long as they cross the finish line with the present still wrapped, they get to keep it," Angela explains.
From local business sponsors to participating runners and walkers, the entire community rallies around this 5K that rings in the Stanford holiday season. Jason says, "We have wonderful volunteers who work tirelessly to make sure we have a first-class event."
Renfro Rock 'N Run-November 19
www.renfrorocknrun.com
Facebook
Are you looking for a 5K that celebrates running, walking, and music? Then lace up for the fourth annual Renfro Rock 'N Run. Winding alongside Lake Linville in Renfro Valley, this scenic course offers colorful fall farmscape views.
Live music echoes through the countryside's rolling hills. With a music costume contest lending to the festive atmosphere, you just might share the race trail with famous lookalikes such as Elvis, Johnny Cash, or a member of the rock band KISS.
Race-day fans cheer on participants as they sprint their way toward the final stretch to emerge from an under-road tunnel in the heart of Renfro Village. There, snacks like bananas and granola bars await, as does a fun photo booth, perfect for commemorating personal victories. All of that is followed by the awards ceremony recognizing top runners and walkers.
For anyone thinking of signing up for a 5K, event organizer Kayla Rowe suggests giving it a try. "You might not have the fastest time or be the best runner," she says, "but at least you're giving it your best effort to better yourself and to live a healthier life."
Contact event organizers for more information on 5K race registration and fees.
MORE RACES
Erlanger
Turkeyfoot Trot 5K Run/Walk-November 12, 9 a.m.
Race begins at St. Barbara Church, 4042 Turkeyfoot Road
www.turkeyfoottrot.com
Facebook
Leitchfield
Hometown Christmas Run-December 3, 8 a.m.
James Beville Park, 810 Nature Trail
www.graysonext.org
Owensboro
Reindeer Run/Walk-December 3, 9 a.m.
Downtown behind Hampton Inn at McConnell Plaza, 100 Saint Elizabeth St.
Facebook
More Info
Berea
Berea Rotary Club Jingle Bell Run-December 3, 4 p.m.
Race begins in front of Boone Tavern Hotel on Main Street.
(859) 986-2371
Shelbyville
Shelby County Humane Society Santa Paws 5K-December 10, 9 a.m.
Race begins at the corner of Sixth and Main streets, downtown Shelbyville
www.shelbycohumanesociety.org, click on Events tab
Grayson
PJ 5K Run/Walk & Reindeer Run-December 3, 11 a.m.
Main Street in downtown Grayson
Frankfort
Frankfort Frosty 5K-December 4, 2 p.m.
Lakeview Park, 118 Park Ave.
Facebook
Stanford
Jingle Bell Jog-December 4, 2:30 p.m.
Race course is on Main Street.
www.stanfordjinglebelljog.org
Somerset
Santa's Sleigh 5K Run-Walk-December 10, 9 a.m.
Start and finish at PT Pros, 1138 S. Hwy. 27
Facebook
Lexington
Racing Feet on City Streets
Reindeer Ramble 5K Run/Walk-December 10, 9 a.m.
Keeneland, 4201 Versailles Road
www.ymcacky.org
facebook
Louisville
Sweaty Sheep Christmas 5K and Eggnog Challenge-December 18, 3:30 p.m.
Race begins near Belle of Louisville, 401 W. River Road.
www.sweatysheep.com
Facebook
For a list of other runs, see John's Run/Walk Race Calendar
Ready, set, run!
Before a wintry race, here are a few cold-weather considerations to keep in mind:
• Most 5Ks/walks are run in the morning. While training, simulate race-day conditions with early morning outdoor runs to prepare your body for frosty temperatures.
• Loosen muscles with a pre-run warm shower, or wear hot-out-of-the-dryer clothing.
• Don't forget sunscreen and lip moisturizer. Protecting your skin is just as important during winter months as it is in warm weather.
• Check weather forecasts. Here in the commonwealth, November and December temperatures may soar to the 70s or drop to the frigid teens. Dress accordingly.
• Avoid overheating by wearing peel-away layers of clothing.
• Even in colder conditions, stay hydrated by drinking plenty of fluids.
• If possible, arrive right before the race begins to avoid chilly pre-run exposure. When waiting at the starting line, keep those muscles moving.
• In snowy conditions, keep an eye out for slippery surfaces.
• Post-race: immediately change into dry, warm clothing.
• Congratulate yourself—you just ran a 5K!
As always, consult your doctor before beginning a new exercise regimen.
Five 5K benefits:
1. Get physical! Not only does running tone muscles and burn extra calories, it's a cardio-blasting workout.
2. Get intellectual! Running kicks to the curb school or work stress, while enabling greater focus on day-to-day activities.
3. Get social! Lacing up provides tons of opportunities to interact with others in the running community.
4. Get healthful! And stay healthful. From cancer to diabetes and heart disease, running helps your body fight a variety of disorders. As an added wintertime bonus, running boosts your immune system.
5. Get spiritual! As you continually set and achieve personal goals, you'll walk away from the finish line with a winning, confident new mindset.