Gear up for some fun at these automotive attractions around the state 
Here in the Bluegrass, we like our horses fast and our cars faster. We take pride in things that are Kentucky-made, like the Corvette and Toyota vehicles. So with plenty of high-speed racetracks, state-of-the-art automobile manufacturing plants and museums dedicated to celebrating these man-made marvels across the state, hit the highway for an automotive adventure of your own.
Kentucky Speedway
Have a need for speed? Then race over to Kentucky Speedway for some heart-pounding, pedal-to-the-metal action. Since 2000, this 1.5-mile tri-oval track in Sparta, served by Owen Electric Cooperative, has thrilled racing enthusiasts all across the Bluegrass and beyond.
For NASCAR fans, all three of the national touring series race at Kentucky Speedway. This year's event is July 12-14, starting with the Camping World Truck Series, followed by the Xfinity Series and culminating with the Monster Energy Cup Series, the premier stock car series in the country.

When it comes to NASCAR, Kentucky Speedway's turn three is notorious as one of the toughest turns on the circuit, according to Jacob Davis, senior account executive. "We've repaved the track in 2016 and increased banking on turns one and two," he explains. "That made it even tougher on turn three because it flattens out on that side."
The track also is home to two driving schools, the Rusty Wallace Driving Experience and the NASCAR Racing Experience. Fans can sign up for an adrenaline-pumping spin behind the wheel of a race car or call dibs on riding shotgun with a professional driver.
Once the checkered flag has been waved, make a pit stop with your crew at one of the tent or RV campsites on the 1,000-acre grounds. There are a variety of campsites, from the Infield at the heart of the action to the scenic Hawk's Landing.
Even if you're not a racing fan, Davis still suggests visiting Kentucky Speedway to watch a race. "It's a large spectacle that's really cool to be a part of," he says.
National Corvette Museum
Buckle up for a road trip to Bowling Green, home of the National Corvette Museum (NCM). Since 1994, it has welcomed more than a million Corvette enthusiasts from around the world to pay homage to this automotive icon.
Boasting 115,000 square feet, the museum features more than 80 Corvette models and one-of-a-kind concept cars. Thousands of photos, videos, advertisements and other rare memorabilia span the Corvette's history. Ongoing displays include the Skydome's Generations Exhibit that highlights changes in the Corvette over the decades since production first began in 1953 to the present day. The Rare Colors display showcases the Corvettes in rarely seen, low-production hues.
Don't miss the Corvette Cave-In: The Skydome Sinkhole Experience. This interactive exhibit chronicles the sinkhole collapse that swallowed eight Corvettes in the wee hours of the morning on February 12, 2014. Visitors venture into a mini-cave to experience a virtual sinkhole collapse, see all eight "Sinkhole Corvettes" on display and peer into a manhole where the sinkhole floor lies over 30 feet below.
The Corvette Store offers must-have memorabilia, and you can grab a bite to eat at the Corvette Café, a 1950s-era diner. If you're ready to take a ride in "America's sports car," check out the NCM Motorsports Park, less than 2 miles from the museum. There, you'll hit the track for a hot lap, where a professional driver takes you for a breathtaking spin in a Corvette at speeds over 100 mph.

"You don't have to love Corvettes to visit," says Katie Ellison, marketing manager. "We have so much more than just Corvette displays, and you'll walk away having a better understanding and appreciation of an international sports car that's made right here in Kentucky."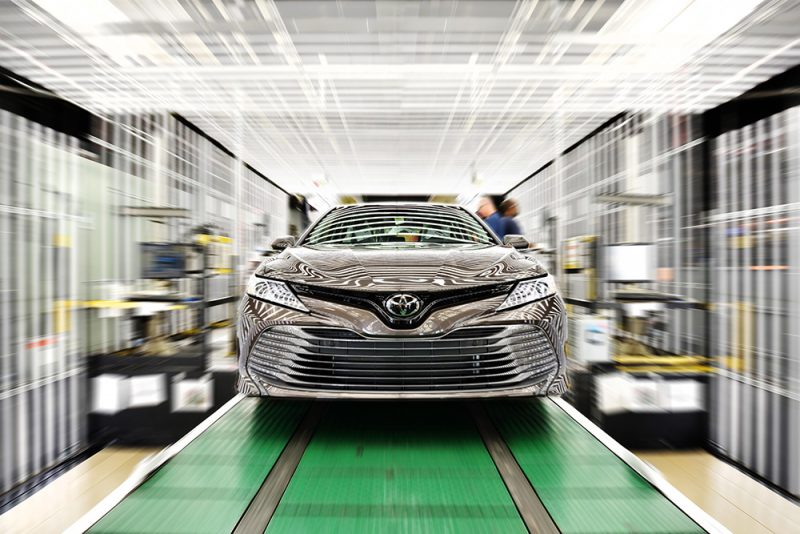 Toyota Motor Manufacturing Kentucky
Want to tour America's first and the world's largest Toyota vehicle manufacturing facility? Then hit the road and head to Toyota Kentucky in Georgetown where more than 2,000 cars are assembled each day.
The guided, tram-driven tour spotlights people and machines working together to create the Avalon, as well as the Camry, America's best-selling car for 15 years. In fact, you can check out a mint condition 1988 Camry, the first ever made in the United States.

"We offer a tour that's for a lot of different types of groups, whether it's a school group, or a family or a group of business folks," says Ashley Chatham, external affairs analyst. "We think it's a really fun, educational experience for just about everybody."
Geared for those in first grade and up, the tour illustrates how math and science collide with state-of-the-art technology and engineering, while exploring the ever-evolving automotive manufacturing industry. Visitors also get a firsthand look at the world-renowned Toyota Production System.
"We would invite all Kentuckians to visit us in Georgetown and take a tour at some point to see what it takes to build a car," says Chatham.
DRIVE ON OVER
Before cruising over to these automotive attractions, remember to call ahead for age, height or other restrictions.
1 Speedway Drive, Sparta
(859) 578-2300
Mon.-Fri., 9 a.m.-5 p.m. with seasonal weekend hours determined by event schedule. July 12-14: NASCAR national touring series. Also hosts autocross events, car shows and 5K runs.
505 Grimes Rd., Bowling Green
(270) 777-4509
Open 7 days a week, 8 a.m.–5:30 p.m.
350 Corvette Drive, Bowling Green
(270) 781-7973 or (800) 53-VETTE (83883)
Open daily 8 a.m.–5 p.m., closed major holidays. (Last admission tickets sold at 4:30 p.m.) Located at I-65, exit 28.
Swope's Cars of Yesteryear Museum
1100 North Dixie Ave., Elizabethtown
(270) 765-2181
Winter hours, Nov. 1-March 31, Mon.-Sat., 10 a.m.-4 p.m.; Summer hours, April 1-October 31, Mon.-Sat., 10 a.m.-5 p.m. Closed Sundays and holidays. Admission is free. Guided tours available. Features a vintage car library and a do-it-yourself car video theater. Car clubs and bus groups welcome.
Toyota Motor Manufacturing Kentucky
1001 Cherry Blossom Way, Georgetown
(800) 866-4485
Free tours Mon.–Fri., 9:30 a.m., 11:30 a.m., 1:30 p.m., and Thurs., 6 p.m. Children must be in first grade and up to attend. Reservations recommended.
SaveSave
SaveSave
SaveSave
SaveSave