Relaxing alternatives to the holiday rush
As temperatures fall and the hectic rush of the holiday season looms, a cup of warm tea might be just the thing to offer the soothing pick-me-up you're craving. Across the state, cozy tea rooms allow you to lose your cares at the door and indulge in a refreshing sensory and culinary escape.
Sip and savor
"We find people really enjoy having tea when they are celebrating a special occasion or simply have a few extra minutes at lunch and want to relax and savor the experience," says Melodie Lincavage, owner of Richmond's Four Sisters Soap and Tea Emporium, which offers a menu of more than 90 flavors of certified organic, fair trade loose-leaf teas. Lincavage, whose Madison County farm is served by Clark Energy, offers tea-time staples like mini quiches, pimento cheese sandwiches and blackberry scones, using locally sourced ingredients.
"Most of it is from our farm. If not, we're using Madison County blueberries, or Madison County blackberries. That's the way we operate," says Lincavage, who also founded and manages the Downtown Richmond Farmers Market.
Stop in daily at Four Sisters' historic, downtown Richmond location for either traditional Low Tea (including bottomless pots of tea plus a three-tiered tea tray featuring savories, scones and desserts) or Cream Tea (bottomless tea plus a two-tiered tray of scones and desserts) along with a full menu of gourmet soups and sandwiches. While you're there, you can also browse Lincavage's extensive line of handmade goat's milk soaps. For a truly vintage tea experience, join Lincavage at one of the monthly Second Tuesday Teas at White Hall State Historic Site (reserve a spot by contacting White Hall, (859) 623-9178).
With the crisp chill of fall in the air, expect to find tea flavors like pumpkin cream and cinnamon caramel apple on the menu at Mrs. Teapots Tea Room in downtown Bellevue, which also has an extensive array of flavored iced teas. While still in culinary school, owner Paula Gallo-Knight dreamed of a "place with white lace curtains in the window, where people could get little pastries and a cup of tea," she says.
For the past 12 years, Gallo-Knight has welcomed customers for High Tea by reservation, Tuesday through Saturday at 11 a.m. and 1:15 p.m. and Sundays for groups of 15 or more. She also serves a full lunch menu for walk-in customers from 11 a.m. to 3:30 p.m. While other tea rooms typically serve tiered trays of baked goods and sweets, Gallo-Knight serves her tea fare in four courses: quiche and salad; fresh fruit and scones; sandwiches such as chicken salad or mini paninis; and dessert. Cheese also is included. "No one goes away hungry," she says. Adding to the place's unmistakable charm: Everything is served on a collection of antique china and silverware Gallo-Knight has collected over the years.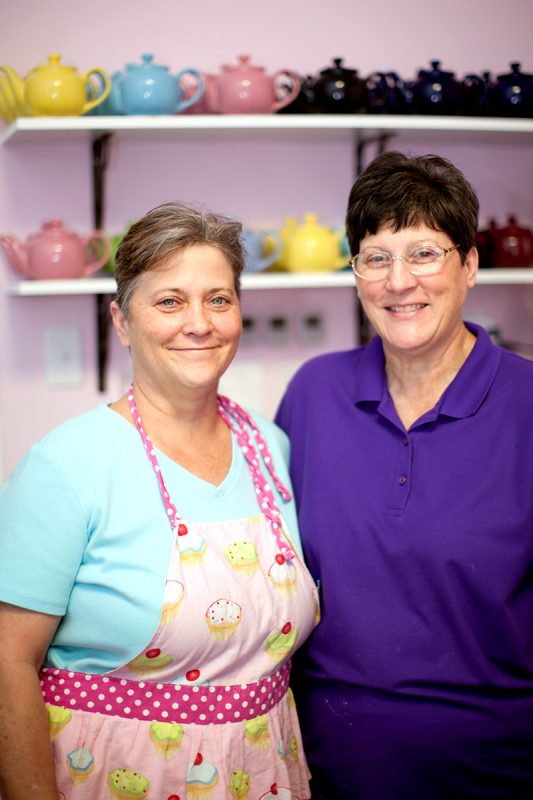 Looking to take your tea with a side of rural charm? Sisters Amy Pickerell and Paula Jaenichen, the co-owners of 2 Sisters Tea Room in Vine Grove, offer 55 flavors of tea—including customer-favorite flavors like Bourbon Street Vanilla Rooibos and Scottish Caramel Pu'er—in their bright, inviting tasting room in a quaint, two-story Victorian-era home. You'll know you're there when you spot the bright-pink wheelbarrow fairy garden in the front yard. Opt for walk-in service (for parties fewer than five) from 11 a.m. to 3:30 p.m. or reserve a spot at one of their Afternoon Teas, which include bottomless pots of tea, served daily at 12:30 p.m. and 2 p.m. The best part of the job, Jaenichen says, is introducing patrons to their next favorite tea.
"We tell people, 'Try something you wouldn't normally try. It might be your next favorite flavor. If you don't like it, we'll dump it and find you another pot of tea.'" She's also passionate about the tea experience itself, which encourages people to be in the moment. "Tea time lets you disconnect from digital devices and work, and enjoy a peaceful time and face-to-face conversation," Jaenichen says.
Did someone say tea party?
If you're looking to channel your inner child, you can make even your most lavish tea party dreams come true at Sisters Tea Parlor & Boutique in Buckner, where owners Connie Young and her daughters Lori Crowe and Kelly Stariha want their guests to feel as though they've escaped into a whimsical "sanctuary for the senses and the soul." Enjoy bottomless pots of tea from an extensive tea menu of more than 30 flavors, while having fun at the parlor's "Dress-Up for Grown-Ups Vanity," where you can don fancy hats, wraps, tiaras and pearls during your visit.
"We laugh and say it's big girls pretending to be little girls pretending to be big girls. So it all comes full circle," says Crowe. Afternoon Tea is served Monday through Saturday in one of the parlor's three tea rooms. For added whimsy, Sisters Tea Parlor often hosts special themed High Teas celebrating their love of "tea-riffic" women like Audrey Hepburn and Jane Austen. "We want our guests to leave their cares at the door and feel truly pampered," Crowe says. "Our tea trays are decadent and filling. You really feel like a queen when you're here."
Tea parties also are a staple at Expressions Tea and Gifts in Somerset, which dubs itself "the perfect spot for a spot of tea." Its modern, cheery tea room is staffed by residents at Bluegrass Oakwood, a facility for adults with special needs. "Our residents assist with all aspects of the tea parties, from preparation to tea service to cleanup," says Stacy Back, the store and tea room manager and a South Kentucky RECC member.
Private tea parties can be arranged by appointment, or make plans to attend one of the public tea parties Expressions hosts each month. The upcoming Christmas Tea Party (December 12 at 5:30 p.m.) features a full meal plus holiday-themed tea fare, including "Christmas in a Cup Tea" and eggnog cheesecake bars. If you have a young daughter or granddaughter in your life, Expressions' next Princess Tea Party with Elsa (December 16 at 11:30 a.m.) could make for the perfect holiday together-time treat.
New to tea?
You can learn to do tea time like a pro, thanks to Tea Mini Classes offered monthly at Elmwood Inn Fine Teas in Danville. Owners Bruce and Shelley Richardson, who ran the popular, former Elmwood Inn Tea Room in Perryville, now primarily focus their full-time energies on importing, blending and packaging teas for gourmet wholesalers and retailers across America and internationally.
They also create custom teas for domestic and international clients, and their 14 books are used to train staff all over the world about all things tea. If you're looking for an in-depth introduction to the finer points of tea, Elmwood Inn Fine Teas  is a great place to start. There you can sign up for a Tea For Beginners workshop, purchase a book on the history of tea, or simply shop from among its hundreds of flavors of loose teas.