#WorldsLargestPocketknife at Red Hill Cutlery, Radcliff
Jason Basham joked, "Let's build the world's largest pocketknife," to his dad Lonnie and brother, Josh, who along with his mom, Kim, own and operate Red Hill Cutlery and Basham Lumber in Radcliff.
Jason says they felt they needed something distinctive after the Kentucky state legislature named the city "Knife Capital of Kentucky," in September 2018.
Red Hill Cutlery, the state's largest dealer, with online sales worldwide, operates the Kentucky Museum of American Pocketknives as well as the Patton Museum gift shop.
State Reps. Dennis Parrett and Dean Schamore along with Mayor J.J. Duvall worked to secure the designation.
The Bashams were in the early stages of planning a new 5,000-square-foot showroom and museum, which opened in October 2019, so they were also looking for a reason to get people to the store.
It takes a village to build the world's largest pocketknife
After hearing Jason's pitch and seeing subsequent designs at a pocketknife trade show in January 2018, W.R. Case & Sons Cutlery Co. later signed on, along with Radcliff/Fort Knox Tourism, to monetarily support the idea.
Red Hill Cutlery has been a Case dealer since 2004. "Case was the perfect group to come with, too—they were used to us coming up with left-field ideas," says Jason.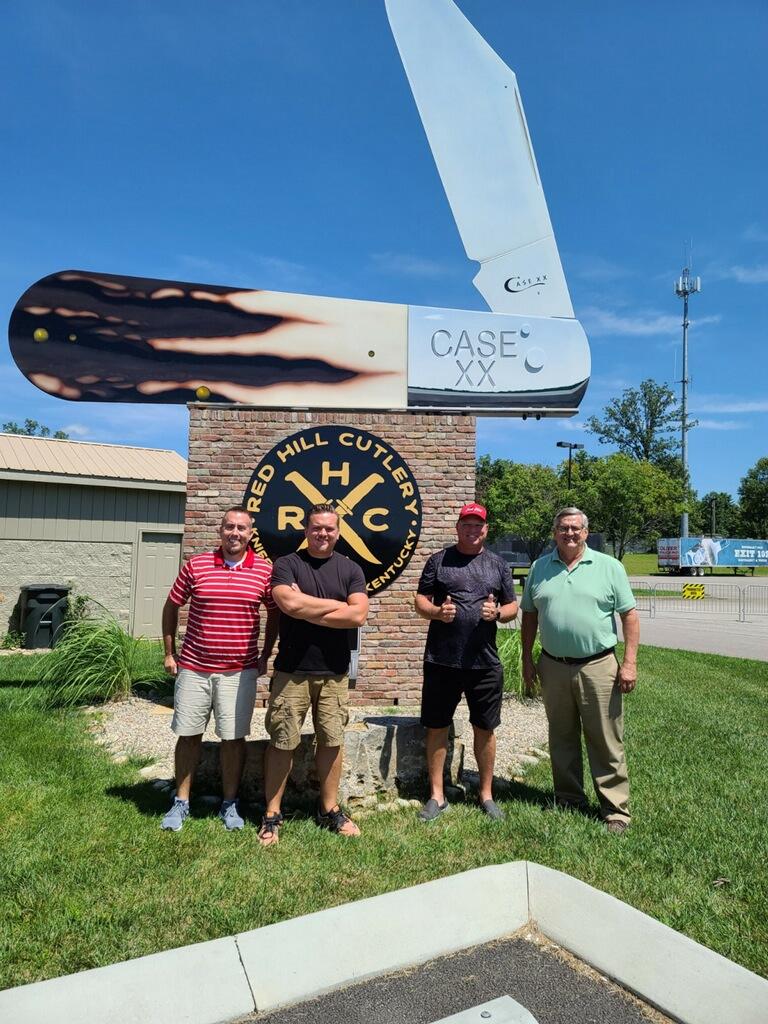 The knife was built by Modern Welding in Elizabethtown and detailed by Ward Frahler of Glenn's Auto Body shop in Vine Grove. The knife is made to replicate a Case XX Genuine Stag Barlow knife.
At over 6,200 pounds, "the sharp blade is 17-1/2 feet long," says Basham. "People say it's not a real knife. It is. It's super thin, but it's a real pocketknife with a backspring and pins that hold it together. It's only 3 to 5 inches wide and is painted to look 3D."
The knife is 37 1/2 feet long when fully open, he says. "The biggest piece of steel is 20 feet long, and the blade is 17 1/2 feet, to scale it out of a 20-foot piece. It took three sheets of steel to make the blade and the handle front and handle back."
"Glenn Bieber, of Glenn's Auto Body, suggested we have Ward Frahler of Vine Grove, who paints cars for custom car shows, to paint the knife," he says.
"I handed Ward a real Case knife with a stag handle, and I asked him if to make this, and that is all he needed," Jason says. "It took him about two weeks then Bieber came in and added coats of clear coat on it. The clear coat should last 15–20 years."
Another thing that was not factored in was placing the knife outside. "We wanted it to be like a landmark, like, 'Turn left at the big knife,' or 'If go past the knife, turn back around,'" says Jason. "We wanted it to be like the Hollywood sign, where everyone takes a photo with it. It's kind of neat, as it has turned out like that."
But placing the knife outside, it had to be able to handle side-force winds. "It had to be reinforced," Jason says. "And, toward the end, Dad wanted to put it up in the air the to prevent graffiti. It's very difficult when you start talking putting something that heavy in the air. Engineer Jeff Bridges had to come in and scale it like you would a bridge."
Jason says it had to be 8–10 ft in the ground on footers, with 6 yards of concrete in the pillars. "It's a structural anomaly really. When you talk to engineers and tell them what you are doing, they are like, 'What the hell you are talking about.'"
While the knife was being fabricated, painted and put together, Jason and his brother were working long nights, as the new showroom was being built at the same time. "The knife was like the candle on the cake," says Jason.
What do people think about it?
People who are knife collectors are dumfounded by it. Boy Scout groups and Toby Tour buses pull up and want to take pictures with the knife.
They encourage people to use the hashtag #WorldsLargestPocketknife so they can see all the people with the knife.
"It's neat to see the people who have stopped and taken pictures with it," says Jason. "That was kind of what I kind of sold it as. You always see families take the Gatlinburg sign picture, in Smoky Mountains, with mom and dad, the kids and grandma, they're sitting on that log in front of the knife. I always wanted it to be Radcliff but like Gatlinburg's sign where you say, 'Hey before you hit the road, let's run up the hill to the knife store and take a picture with the knife.'"
Qualifying for Guinness World Records
All along, it was designed as a working pocketknife to qualify for the Guinness World Records. They anticipate an announcement any day now. The group that holds the world record for world's largest pocketknife now is in India and has held it for over 15 years says Jason.
He says trying to qualify for Guinness World Records is a strenuous, long mountain of paperwork. "We submitted everything online. They want surveyor reports, engineer reports and to know how we are marketing it before they send anyone out," says Jason. "All indication is that we have passed every test and every structural report."
Jason says he wanted to bring pride to Radcliff. "We had been known as the city beside Fort Knox. … It's like the New Radcliff, we're going to be a tourist stop on I-65. Radcliff is changing its identity; it has its own private identity."
"I hope as kids get older, if they are traveling through, they will remember when they stopped in Radcliff to take a picture with the world's largest pocketknife," says Jason.
Red Hill Cutlery
92 Bourbon Trace
Radcliff, Kentucky 40160
(800) 378-7120
Facebook: Red Hill Cutlery
Hours: Tuesday–Friday 10 a.m.–6 p.m., Saturday 10 a.m.–4 p.m.