[soliloquy id="16150″]
State program helps communities get the jump on jobs
"The Build-Ready program is really about working in advance to help create opportunities for jobs and improving quality of life in communities all across Kentucky," says John Fischer, director of community development with the Kentucky Cabinet for Economic Development.
Kentucky's Build-Ready program opens the door to employment faster by shortening industrial project timelines and reducing costs, creating a win-win for companies and communities.
First implemented in 2014, the Build-Ready process begins when communities proactively—and literally—lay the groundwork for potential business opportunities by preparing a site. To receive certifications, communities must take steps such as obtaining permits and approvals, completing environmental studies, and constructing a building pad. Also required are infrastructure, including road access, electricity, gas, water, sewer, and telecommunications; and a building rendering, preliminary designs, and preliminary construction plans.
Once certified as Build-Ready, the site is exactly that—ready for a building to be constructed, meaning a company can locate there almost immediately. While there are literally dozens of other shovel-ready sites, the commonwealth boasts 10 certified sites, the latest a 22-acre tract within Hopkinsville's nearly 316-acre Commerce Industrial Park, certified in November 2016. Additional sites are "in the pipeline," as communities continue focusing on economic development, says the cabinet's sites and building coordinator, Jerry Martin, who works alongside Fischer.
Whether a community is hoping to attract a distributor, a food processor, or an automotive supplier, Build-Ready sites offer flexibility and expandability, propelling industrial development forward. Economic Development Cabinet Communications Director Jack Mazurak explains, "The more flexibility you can have, the more opportunities a community has to attract a wider range of businesses."
Kentucky Transpark
One industrial park utilizing such opportunities to maximize its business-building potential is Warren County's Kentucky Transpark, served by Warren RECC. With a prime location, plus abundant natural resources and transportation networks, south-central Kentucky allows companies to produce and transport products cost effectively and efficiently. Smack-dab in the center of this ever-growing hotbed of manufacturing, Kentucky Transpark, until recently, boasted not one, but two Build-Ready certified sites.
Due to high levels of interest in the two Build-Ready pads, local officials decided to advance one site further by building a speculative facility, complete with a July 2016 ribbon-cutting ceremony on the 108,000-square-foot facility.
"Though the site no longer counts toward the current Build-Ready total, the spec building adds another enticing element for companies looking to expand or relocate," says Mazurak. "It also stands as a tangible example of Kentucky communities working in advance to meet the demands of the business industry."
Additionally, the 900-acre Kentucky Transpark is a fast-growing industrial park with particular strengths in automotive parts manufacturing and component assembly, as well as education and training institutions. A new I-65 interchange, currently under construction and scheduled for completion in the near future, is poised to spark even more economic growth in the park and the community beyond.
4 Star Industrial Park
Also flexing its manufacturing muscle is Henderson's 4 Star Industrial Park, the state's first certified Build-Ready site, served by Kenergy Corp. electric cooperative. The park is also food and beverage industry certified, offering further appeal to that sector.
Though 4 Star was certified in 2014, the foundation was laid in the late 1990s when Henderson, McLean, Union, and Webster county officials first pooled their coal severance tax dollars to advance their region's economic development. They purchased agricultural property that later became the 4 Star Industrial Park, including the 150,000-square-foot Build-Ready pad.
Donna Crooks, interim president of Kyndle, the Kentucky Network for Development, Leadership, and Engagement, says Henderson's Build-Ready site distinguishes the area as a business-ready community. Local economic leaders are partners in the initiative.
Big Rivers Electric Corporation is one of those aiding in retention and expansion endeavors. Jennifer Keach, its Communications and Community Relations director, says the company developed a robust economic development incentive rate that matches or surpasses rates across the nation.
"The more growth we have, that savings goes back to our members," says Keach. "It's an important initiative for us to support our communities in that way."
As a result of the Build-Ready site and progressive recruitment efforts, there has been increased interest from companies looking to locate at 4 Star. "We've built it, so now we're ready for them to come," says Crooks.
Bluegrass Crossings Business Centre
Another industrial park seeing renewed interest because of the Build-Ready program is Ohio County's Bluegrass Crossings Business Centre, served by Warren RECC.
To attract businesses to the area, Daviess, Hancock, McLean, Muhlenberg, and Ohio county officials first sought funding to construct a speculative building in the 1,200-acre industrial park. After striking out, they turned their attention to the Build-Ready program.
"Very few communities have the ability to finance a speculative building, and this is a way that they can get another option that they can market," says Kim Logsdon, Green River Regional Industrial Development Authority executive director.
Coal severance tax money funded the 150,000-square-foot building pad, completed in 2014. The Build-Ready site cost approximately $170,000, a huge savings compared with the speculative building's $2 million price tag.
With the Build-Ready infrastructure in place, Logsdon says the site is an estimated three–six months ahead of a "regular green field site." He adds, "We're way ahead of the game on most industrial sites in the United States.
"We feel like with our location and our incentive programs, we would provide a good company an opportunity to make money and grow," says Logsdon. "We just have to find the right client to fit into it."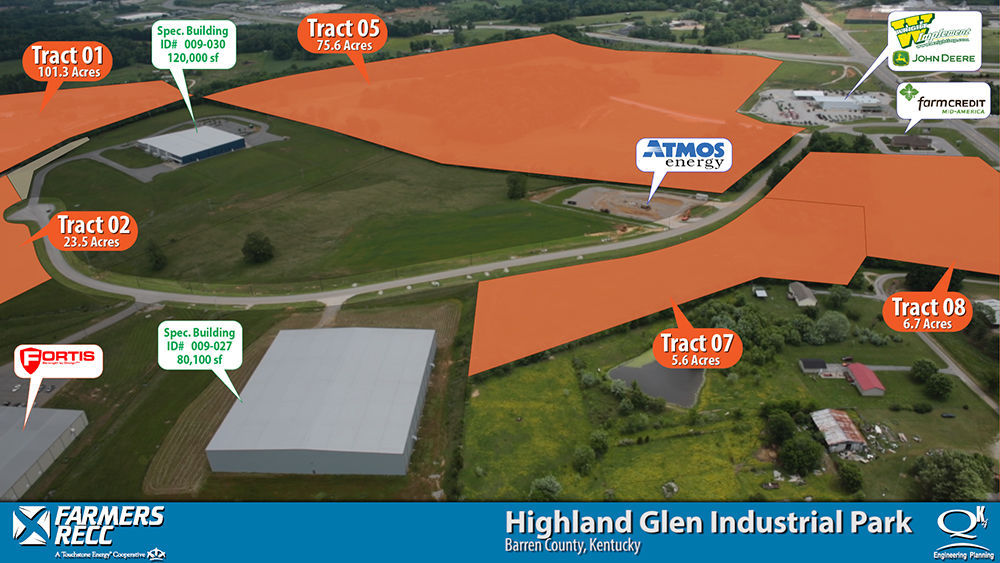 Highland Glen Industrial Park
When Barren County's economic development leaders first heard of the Build-Ready program, says Dan Iacconi, executive director of Glasgow/Barren County Industrial Development Economic Authority, "We wanted to be part of the Kentucky Cabinet for Economic Development's initiative because it demonstrates that Kentucky is working ahead and being very progressive to attracting new industries."
Build-Ready certified for two years now, Highland Glen Industrial Park has since had a dramatic increase in visits from corporations interested in locating there. And because of the community's fast-tracked, preconstruction timeline, a prospective client can locate quickly to begin its operation.
"Everything is completed, and it's already streamlined," says Iacconi. "They can start laying brick or building a building."
Highland Glen's Build-Ready site, served by Farmers RECC, shows potential business partners that the community works cooperatively in building for the future.
Once a community invests in a Build-Ready site, it's crucial that it advertise that it's open for business. Today's socially and globally connected climate makes accomplishing this easier than ever, and local business partners and state initiatives are there to assist with marketing.
PowerVision
Data is power. That's exactly what the 16 owner-member cooperatives of East Kentucky Power Cooperative (EKPC) provide to more than 1 million Kentuckians in 87 counties. With the recent unveiling of PowerVision, the most cutting-edge economic development tool in the country, this data is empowering companies all around the globe to make important business decisions that impact the state's rural communities.
"We give decision-makers the data and the knowledge that they need to make wise choices about where to locate potential facilities," says Brad Thomas, EKPC's economic development associate manager, who works on behalf of all 16 co-ops. "And we think those wise decisions are to invest in rural Kentucky, because we have a skilled workforce, low electric rates, and a quality of life that you're not going to find anywhere else. It's that total package that really makes economic development work in Kentucky."
How does PowerVision make this possible? It uses state-of-the-art technology to showcase and market industrial parks that are both Build-Ready and business-ready. It begins when Louisville's Qk4 Inc., an engineering and planning firm, uses drones to shoot aerial video of industrial parks. Thomas explains, "Not only are they taking video, but they are taking digital surveys of the industrial sites. It's essentially a 3D rendering of the site that allows you to get the terrain and the undulations of the ground and also the attributes of the area."
These drone videos and three-dimensional terrain maps then can be downloaded free through PowerVision. "We have used this on some preliminary economic development projects in testing," Thomas says. "When the PowerVision data was shared, the development company was able to determine that the cost to develop our site was less than any of the other sites under consideration. And it was all because we gave those 3D engineering files to them for free." Learn more at www.dataispower.org.
Through September 2016, projects totaling over $500 million took place within the territories of EKPC's 16 owner-members, showing that these members are punching far above their weight in the economic development world. These numbers are expected to climb even higher as a result of PowerVision.
"There's nobody else in the economic development world that's doing what we're doing right now," says Thomas. "And that's a cool thing because nobody ever expects technology like this from Kentucky, much less rural Kentucky and out of rural electric cooperatives."
If any company should wonder, "Why do business in Kentucky?" KentuckyUnited has answers: Low electrical costs, progressive financial incentive programs, and an ideal location within 600 miles of two-thirds of the U.S. population.
KentuckyUnited
To promote the advantages of doing business here in the commonwealth, the Kentucky Association for Economic Development (KAED) partnered with state, local, and regional economic development organizations to create KentuckyUnited. These members share a common goal—marketing Kentucky.
"KAED wants to be there to work with our economic development partners from around the state," says Hal B. Goode, KAED president and CEO. "We do that by having conferences and having our membership interact with economic development professionals from around the world."
Last September, Goode and other economic development partners attended Chicago's International Machine Trade Show to bring all that Kentucky has to offer to the discussion table with an existing-business luncheon, attended by Governor Matt Bevin, highlighting companies with headquarters in Chicago and thanking them for their investment in Kentucky. Members talked one-on-one with the nation's top manufacturing consultants and developers during November's KAED conference in Lexington.
Such networking encourages frank conversations with industry leaders, enabling members to ask, "What are you looking for?"—a question that Goode says applies to Kentucky's workforce, manufacturing sites, speculative buildings, and Build-Ready pads.