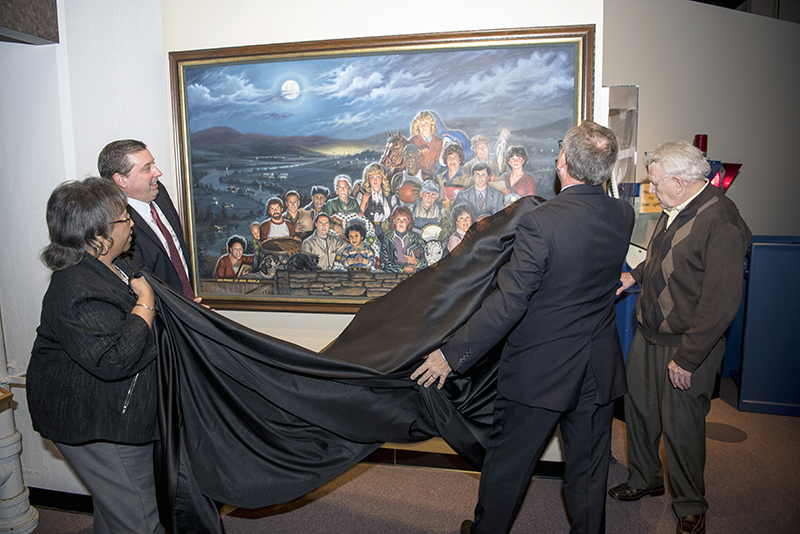 Co-op painting now a piece of history
From a coal miner in Salyersville to a basketball player in La Grange, the faces of 21 members of Kentucky electric cooperatives peer into the future in a 1984 painting by Michael Finnell, now on display at the Thomas D. Clark Center for Kentucky History in Frankfort.
At a ceremony attended by more than 140 high school students on the Kentucky Association of Electric Cooperatives Frankfort Youth Tour, the Our Power is Our People artwork was formally donated to the Kentucky Historical Society by KAEC President and CEO Chris Perry.
"Our mission is to improve the quality of life for our members," Perry says. "To share their story—past and present—at this history museum is a natural extension of our commitment to the communities we serve."
Our Power is Our People was commissioned to represent the 1.8 million people served by co-ops in 117 of 120 Kentucky counties. Upon the move of its headquarters in 2017, KAEC leaders determined the painting deserved a more accessible venue.
"The Kentucky Historical Society is very honored to accept this painting," says Kent Whitworth, the society's executive director. "Not only is it a compelling work of art, but the stories it tells are very much in keeping with our state mandate to preserve Kentucky's history."
The painting was the idea of Ron Sheets, who served as KAEC president from 1978 to 2010. Sheets attended the unveiling, offering advice to the youth tour students, with a nod to history.
"Remember back, think ahead," Sheets says, quoting a plaque he displayed in his KAEC office.