The Flying Nun, Co-op Style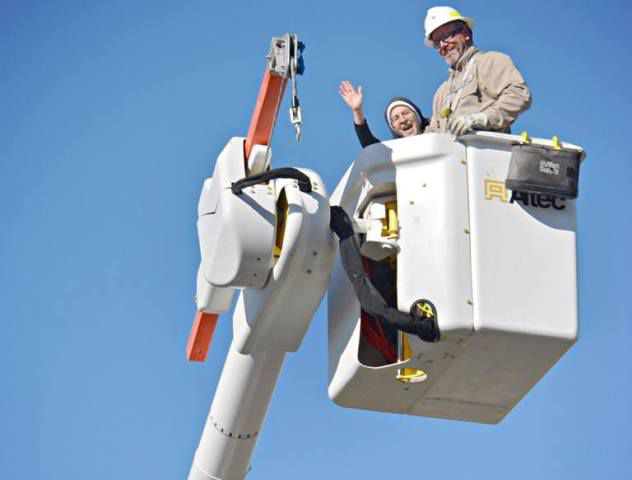 Sally Field, step aside and make way for the real flying nuns.
Two sisters—both in full habits—got a rare opportunity when Owen Electric Cooperative offered to take them up in the bucket of a co-op truck.
Sister Elizabeth Ann and Sister Margaret Mary, principal and music teacher respectively, at St. Joseph's Academy in Walton, Ky., were cheered on by their students during the Oct. 16 ride.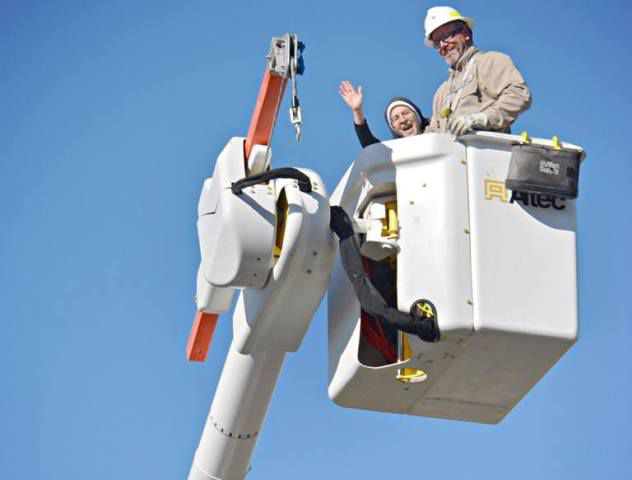 Whitney Duvall, Owen Electric's manager of communications, and her husband Travis, a journeyman lineman at the Owenton, Ky., co-op, brought the bucket truck to the school where their son Trace, 5, is a kindergartener.
The children got to blow the horn, try on gloves and ask questions. But the principal had another idea.
"She came over to me and asked, 'Could I go up in that maybe?' " Whitney Duvall said.
"We were shocked, and excited, and delighted to take her up. They are a very adventurous group of nuns," she added.
An extra harness was found, Travis Duvall secured her and up went Sister Elizabeth Ann.
"They made an announcement over the intercom and the entire school dismissed to come out to the parking lot and watch her," Whitney Duvall said.
"Getting into the bucket was kind of hard because there's no door, you have to climb over it," said Sister Elizabeth Ann. "It's very small inside. I didn't realize how small."
And then they went up.
"It was just so incredible. You could see all over Walton. It was so beautiful. The day was perfect and the kids were waving to me and I was waving back," Sister Elizabeth Ann told ECT.coop. "It was a once in a lifetime thing."
Sister Elizabeth Ann was having such a good time that Sister Margaret Mary, who is legally blind, asked if she could go up.
Why not?
"While she was up there, my husband placed her hand on the controls and asked if she wanted to move the bucket around," Duvall said. Sister Margaret Mary initially declined, but then asked if Sister Elizabeth Ann did it.
When told she hadn't, Sister Margaret Mary decided to accept the offer and one-up the principal.
Michael W. Kahn Whitney Duvall

This article originally appeared on ECT.coop