2017 College Basketball Preview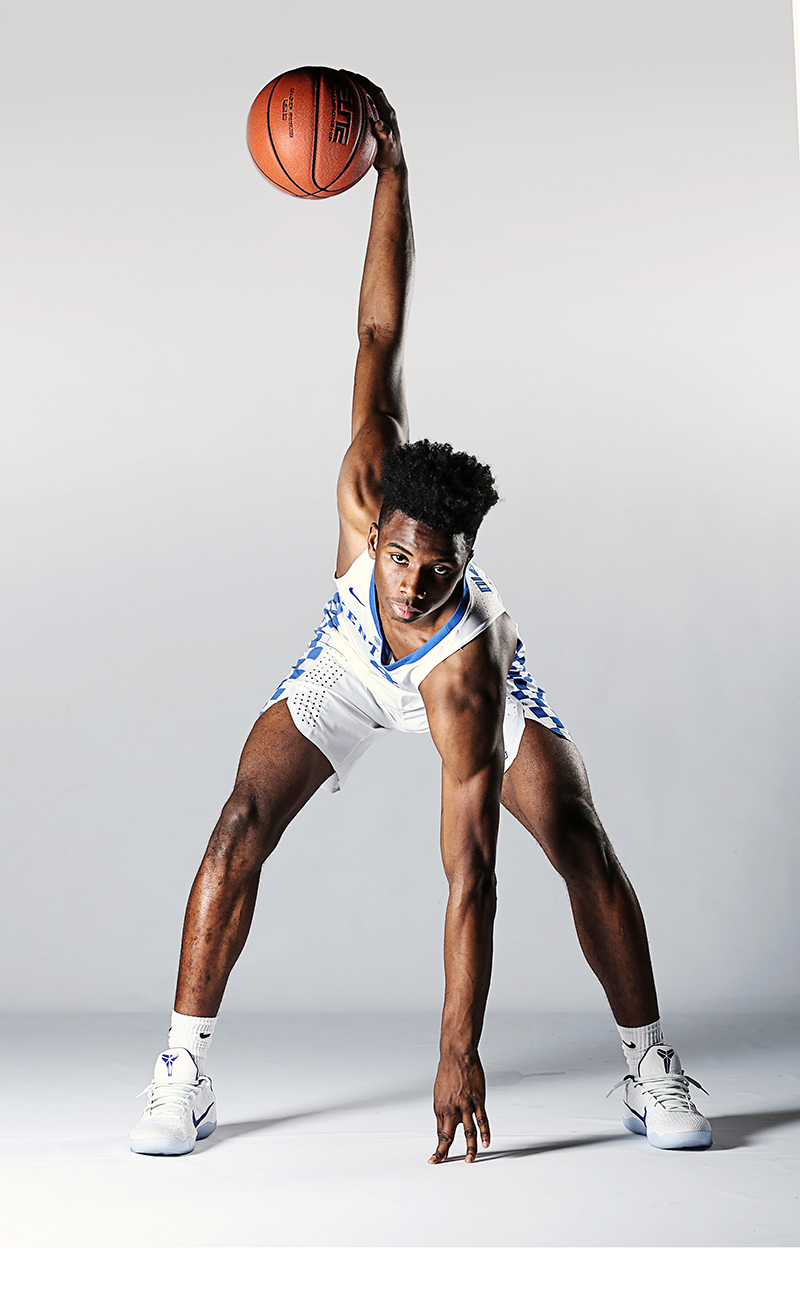 Nothing captivates fans across the Bluegrass like college basketball. The season starts in early November, and preseason practices and celebrations, like Kentucky's Big Blue Madness (October 13), rev up this month. Read on to learn fun tidbits about each of the state's Division I men's teams, and get a taste of what's in store this season.
Fiercely competitive, relentless, and driven: just a few terms you might hear to describe high-level Division I athletes. Likewise, you can use these same words to describe the action taking place at the pingpong table inside the Wildcat Coal Lodge, the UK basketball team's campus dorm.
This is where the new batch of Wildcats keep their competitive juices flowing away from the court. Imagine the entertainment value of watching guys with 7-foot wingspans going all out over table tennis. The only unanswered debate: who's best? This battle will be settled at a later date, much like the outcome of the Cats' season.
Head coach John Calipari often says his team is one of the youngest in the country, but this year's team could be his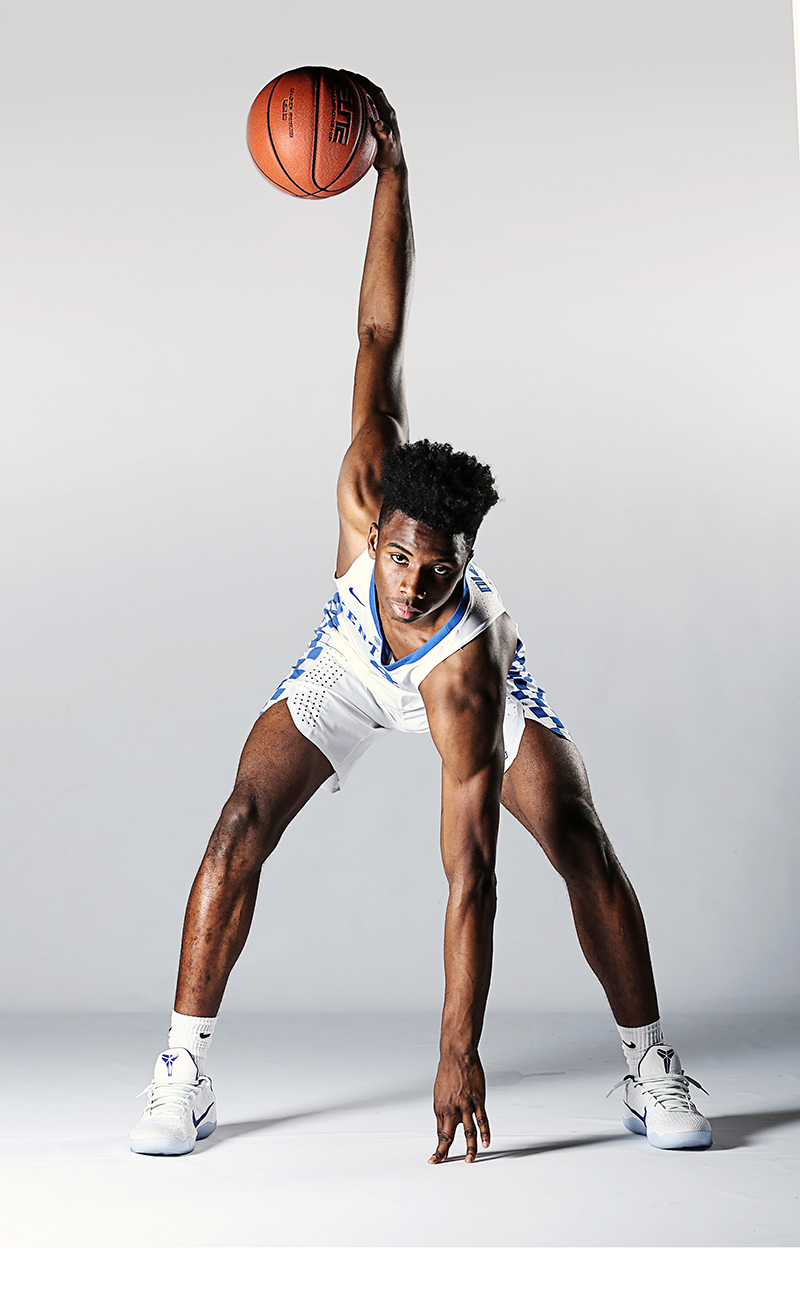 youngest to date. Kentucky lost every player who saw significant playing time last season except one—Wenyen Gabriel, who averaged a little under 4 points and 4 rebounds a game as a true freshman.
Hamidou Diallo will be an important part of this year's team. Having enrolled for the spring semester last season, he was able to practice and learn without the pressure of playing in a game.
Just like most years, the Cats will rely on a talented bunch of freshmen as they attempt to meet high expectations this season.
No Donovan Mitchell, no problem? When Mitchell made the jump to the NBA after his sophomore season, it looked like the Cards would have a major hole to fill. That's true, but they've also got some talented players to fill the void.
Putting in the work is generally not a problem for the Cardinals. A fingerprint scanner at the practice facility allows the players access to the gym at all hours. "It's not out of the ordinary to see guys on the floor together at 2 or 3 in the morning," says Sports Information Director Kenny Klein.
Junior Deng Adel is the Cards' second-leading scorer among returning players, behind Quentin Snider, averaging 12.1 points a game last season. Adel went through the NBA draft process and received some valuable feedback that should help him on the court this season.
It's not uncommon to see this basketball team tailgating at Louisville football games. Generally, they'll practice before or after the game and it's a perfect way to break up the early season grind.

The Western Kentucky Hilltoppers certainly rode an emotional roller coaster over the summer with star freshman Mitchell Robinson. Robinson, one of the top recruits in the country, had second thoughts about playing in Bowling Green at the end of July, but ultimately decided Western Kentucky was the place for him.
This summer Western Kentucky escaped to Costa Rica. And for a team largely made up of newcomers, it proved to be the perfect bonding exercise. Away from the court, the Hilltoppers visited an orphanage, zip-lined through the rainforest, and took a four-wheeler excursion.
Most of the players felt the best activity was visiting with the kids at the orphanage. The players read books, danced,
played soccer, and visited a nearby zoo with the kids.
"Those kids were really happy to see us and we were really happy to see them," freshman Taveion Hollingsworth says.
Senior Justin Johnson echoes that: "Just showing those kids attention and love for an hour lets them forget their worries for a day."
Johnson is the only returning player who received playing time last season. He gave football a try during the spring and summer, but ultimately decided the basketball court was the right move for his future.
Head coach Rick Stansbury is determined to return the program to prominence, and this year could be a big step in that direction.
Teams win on the court, but they are built off the court. This summer the Eastern Kentucky Colonels did a lot of building in Oakland, Maine. Most of the team made the trip to the Northeast to the home of forward Nick Mayo. During their week and a half together, the players went to a Red Sox game and ate lobster on the beach.
Imagine being Mayo's parents and having all these massive athletes in your home. "Nick's mom told me they ate 160 lobsters in nine days," says EKU head coach Dan McHale. For the record, it was Mayo, the Colonels' leading scorer at 18.5 points per game, who inhaled eight lobsters in one sitting.
The Colonels will get a shot in the arm in the form of Jackson Davis, a highly touted prospect coming out of high school in Lexington. Davis sat out last season due to transfer rules. McHale refers to him as a "monster."
McHale, entering his third season at the helm of EKU's basketball program, took on a massive rebuilding project. This season the results should be much improved over the previous campaigns that saw EKU win a total of just 27 games.
Morehead State head coach Preston Spradlin is starting from scratch and rebuilding the Eagles' basketball program. This fall he introduces 10 new players and three new coaches. In July, the newly formed team made it a priority to come together and build trust among one another through a number of activities.
For example, Spradlin says players and staff members were split into three teams of seven to tackle MSU's multilevel
ropes course.
"The object was to get from one obstacle to the next, and you had to work together to figure it out," he says. "That's what we have to do this year, figure it out."
MSU is a team that lost all five starters from a year ago, and there will certainly be a lot to figure out. Lamontray Harris and Jordan Walker are the leading returning scorers for the Eagles, averaging 9.4 and 7 points per game, respectively.
You get the sense the Eagles will find a way to figure it out this season.
Murray State has a proud basketball tradition, but last season the Racers finished below .500 for the first time since 1987, breaking a string of 29 consecutive winning seasons.
The good news for the Racers is that they return their top two scorers in seniors Jonathan Stark and Terrell Miller. Stark led the team, averaging 21.9 points per game and set a new single-season record for made 3-pointers at Murray State with 108.
Head coach Matt McMahon finds it hard to put into words just how far Stark has come during his time at Murray. A common bond—work ethic—has drawn player and coach close over the years. "There have been nights where I've left my office at 11 at night and he's on the court," McMahon says. "When I return to my office at 7:30 the next morning, he's already beat me into the complex."
Somebody to watch for this year? Guard Leroy Buchanan, who goes by the nickname Shaq. Buchanan comes to Murray from Northeast Mississippi Junior College, where he averaged 18.4 points per game.
There is no doubt the Racers are looking forward to starting a new winning streak and once again being on top of the Ohio Valley Conference.
Northern Kentucky head coach John Brannen has a saying his team lives by: "We say the same thing 5,000 times instead of 5,000 different things one time."
Taking the Norse to their first-ever NCAA Tournament last season wasn't easy and it wasn't fancy. Brannen, who was once an assistant at Alabama, also lives by another motto from Crimson Tide football coach Nick Saban: "Remove the clutter."
The Norse became a March darling last year when they captured the Horizon League Championship, making an improbable run to the NCAA Tournament. This all came in the first year the school was eligible for the postseason.
Northern Kentucky returns 10 players from a team that finished 24-11 last year. Now a junior, Drew McDonald averaged a team high 16.4 points per game and 7.7 rebounds per game last season, earning first team all-league honors. Brannen loves returning experience. He constantly tells his team their success will be determined by the men already in the room. For NKU, it's not about a recruiting class; it's about developing players already in the program.
Brannen grew up about 15 minutes from NKU's campus, which means he knows just how far this program has come in a short amount of time: "When we go out, it takes a little longer to eat dinner now, and that's a good thing," he says.