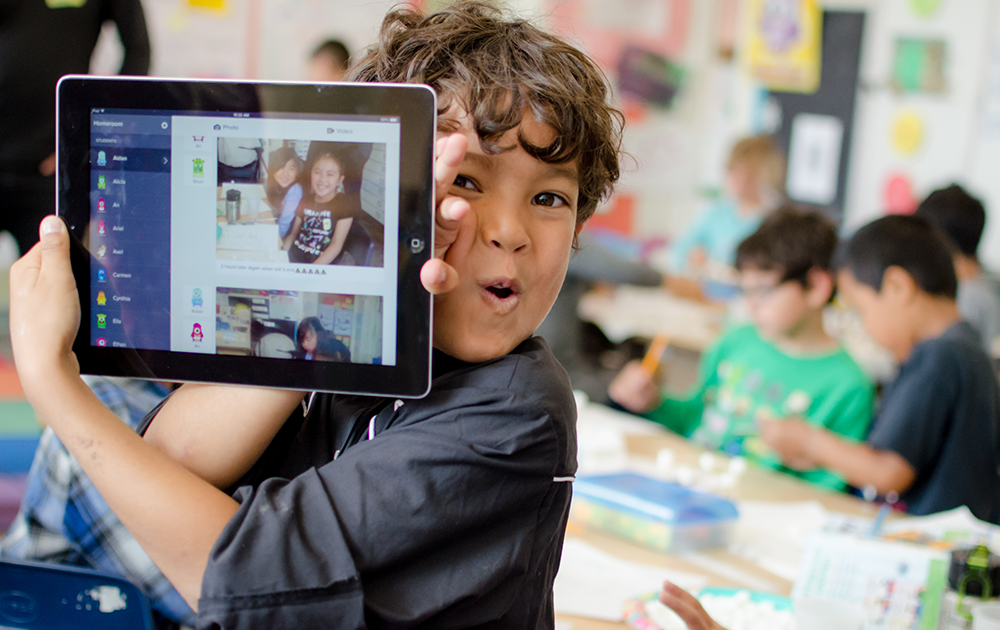 Teaching kids to be better people and better students
The push for individualized education and instant information on the web give children great advantages, but without essential building blocks of character, these advantages may not take kids as far as we want them to go. Kentucky's schools are using insightful techniques to help kids develop the character essential for healthy lives.
Building understanding
With a room full of first-graders from varying backgrounds and nationalities, veteran teacher Amber Valerio at Southside Elementary in Shelbyville sets the tone from day one for students to really care about one another.
"To build community, we have a daily morning meeting that allows us to take time to connect with each other. I find that if kids feel part of the group, they begin to want to do the right thing," Valerio says.
To teach the right things to do, she regularly communicates how honesty, kindness, and hard work pay off for the individual and the whole group. She awards "Class Dojo" points when students reach group and individual goals, many character-based. Class Dojo is a computer-based behavior management program for classrooms. Teachers can reward positive and negative points, communicate with parents, post classroom photos, and more with this app. Many teachers use Class Dojo, but Valerio is intentional about catching students who aren't looking to get caught doing the right thing.
"Part of what I want to teach them is that when they do the right thing—even when they think no one is watching—that
is real character," she says.
Valerio uses the "Seven Habits of Happy Kids: The Leader in Me" values to guide and correct behavior, reviewing the values and reading corresponding picture books in class to help children understand and gain self-responsibility. Valerio reminds students of Habit 5 when conflict arises: "Seek first to understand, then be understood."
"If one student is hurtful to another, I expect them to apologize—not just a general 'I'm sorry,' but instead 'I apologize for…' I allow the other student to accept the apology or not. I then ask the student who was hurt to tell the other person what he or she expects them to do in order to remain friends.
"For example, a child might say, 'If we're going to be friends, I need you to keep your hands to yourself.' Then I ask the peer to respond with, 'I will keep my hands to myself. Thank you for accepting my apology.' This kind of specific, proactive approach to hurtful behavior helps bring the class together and move forward with their day."
In a busy first-grade class, you might think taking time away from academic instruction to deal with character instruction would be impossible, but Valerio prioritizes it. "No one can learn if they don't feel safe, and it doesn't matter how much you know academically if you don't know how to treat others well. I love that teaching character is part of my role," she says.
Grow in kindness
Calloway County elementary schools, served by West Kentucky RECC, use a team approach to helping students grow in kindness. One of the elementary schools builds a sense of community by hosting team days every nine weeks.
"During team days, kids and staff are divided by random drawing, not grade level," explains Michelle Hansen, coordinator of the Calloway County Family Resource Center, part of the statewide family resource and youth services centers program. "They work together to compete. Points students have received for good behavior and extra effort during the normal school days are added to the team score," she explains. "Team days are a great way for students to learn that their behavior impacts others. Then teachers can talk about positive and negative consequences of day-to-day choices. Team day gives all of us a great incentive and awareness to develop character."
Calloway County elementary schools have also used resources from the Character Counts! program, offer parenting classes, and have implemented the Kentucky Positive Behavioral Interventions & Supports (PBIS) network. PBIS
provides training and resources for teachers to implement positive, proactive strategies that help students become more responsible and self-disciplined, and to communicate character expectations the same way across grade levels. Teachers in the PBIS network report that their schools "have seen a decrease in behavior referrals, and the students have shared that they feel more confident in their learning environment, which allows them to concentrate on learning," Hansen says.
Good grit and good heart
One of the most challenging character qualities for even adults to demonstrate is follow-through. Instead of bowing out, students at Kentucky's newest residential public high school, the Craft Academy, housed at Morehead State University, are learning healthy ways to manage stress, embrace failure, and keep trying.
"We want our students to develop more grit—find so much passion for their area that they stay the course even if they don't find immediate success," says Dr. Garrick Ratliff, associate director, Guidance Counseling Services. "Researchers find that academically gifted students sometimes don't push through hard times with as much endurance as their peers because they've never had to fight. They've never failed. We help them learn that perseverance is as important as natural talent." Craft Academy hosts workshops and seminars to teach coping skills, conflict resolution, and time management to help students gain this perspective.
"In addition to helping our students grow as whole persons—socially, emotionally, physically, and mentally—we also want to create in them a sense of gratitude. We want them to see that it is a responsibility and a privilege to give back. Our community is incredibly supportive of the university, so the student body supports the community by volunteering," Ratliff explains.
Residential counselors work alongside staff to help students create and participate in a contributing community. The school requires service hours, and promotes the vision that students will become adults who imagine, impact, and invent Kentucky.
Conflict happens
At the Gatton Academy on the campus of Western Kentucky University, high school students learn how to handle life's inevitable conflicts well.
"At Gatton Academy, we use several programs to teach students how to live with integrity, compassion, respect, equality, and diversity," explains Dr. Pokey Bowen, assistant director, Counseling Services. The residential high school offers seminars and workshops on a rotation basis, but students know by the school culture and what is communicated in classes and seminars that all staff members are available to help them grow more than academically.
"At our apology seminar, we teach that 'I'm sorry' is where the apology begins, not ends, and to make restitution where possible. We teach students not to blame, but to listen thoroughly to others before responding—hearing another person's perspective or background often drains anger because it explains motives," Bowen says. "We use an activity called 'Mirror Mirror' to help students consider and hear different points of view without necessarily agreeing with them. We host role-playing seminars called 'What Would You Do?' to help students think through scenarios before they face them. We want our students to discuss integrity, appropriateness, decision making, and community responsibility."
The Gatton Academy also teaches the 48-hour rule: take 24 hours to think about how to address a conflict, and then use the next 24 hours to find people and ways to address it or let it go, Bowen says.
"Letting conflict fester helps no one," he says. "And we teach students to allow themselves Points of Freak Out (POFO). When a student faces something overwhelming with the potential to derail their academic work and relationships, they know they have an open invitation to seek out a Gatton staff member for assistance. I think it is relieving for students to know they can have a POFO."
In the school year ahead, students will serve in communities, learn to apologize sincerely, practice perseverance, and have conversations about honesty and conflict, led by teachers and administrators who are preparing students for more than an achievement test. In a culture where talent and appearance is often praised more than internal qualities, students around Kentucky are learning that character can limit success—or bring it about.