Kentucky bourbon boom hits Shelby County
Roll out the barrel and the welcome mat in Shelby County for the renaissance of the Kentucky bourbon industry.
On a picturesque 300-acre tract near Guist Creek Lake, construction of the $115 million Bulleit Distillery is progressing on schedule, with the facility scheduled to open by the end of 2016. Diageo officials marked the midway point of construction with a progress report in October.
"With the help and support of the Shelby County community, today I am proud to say that the construction of this distillery is on time," says Dan Feeser, chief engineering director at Shelbyville for Diageo. "I look forward to next year when we can gather once more and celebrate the end of a successful construction project and the beginning of Bulleit being made right here in Shelby County."
Nick Morris, engineering manager for Shelby Energy Cooperative: "The new Bulleit distillery is projected to use approximately 3.5 megawatts of power. As a result, many projects are underway that will strengthen the reliability of both transmission and electric distribution lines."
Among about 150 construction workers on-site each day, Shelby Energy Cooperative is working to provide the energy infrastructure for the 1.8 million proof gallons distillery.
A team from Shelby Energy Cooperative and East Kentucky Power Cooperative, Winchester, which generates and transmits the electricity, has been working collaboratively to complete the project. Power for the distillery will come from the Clay Village Distribution Substation located on the corner of the distillery property.
"To ensure reliable service to the site, we will be serving the facility with what we call a loop feed," says Morris. "In layman's terms, we are installing an electric distribution circuit that has redundancy—multiple circuits that can feed power to the site in either direction."
In addition to the electrical system, other key elements of the distillery's foundational infrastructures are on track, including water, gas, sewer, and land grading. Structural framing of the distillery, barreling building, and power house is also nearing completion.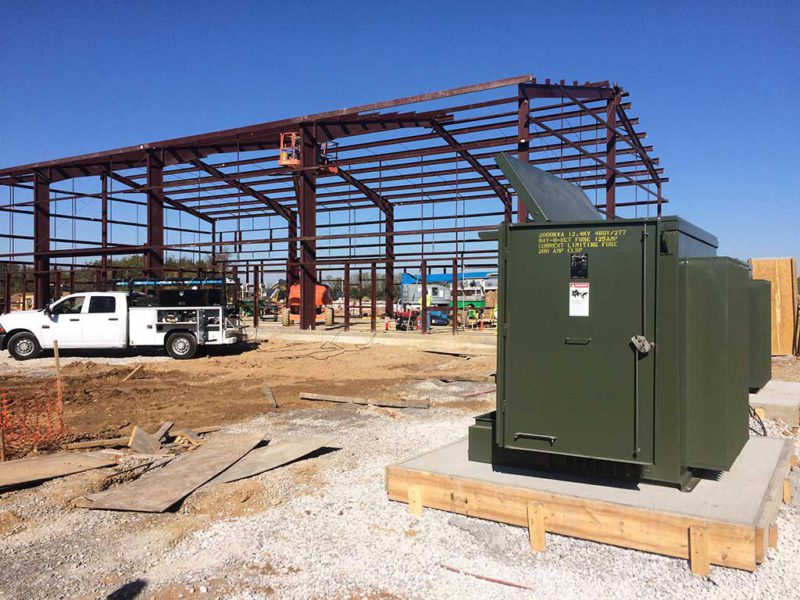 Once completed, the distillery will employ approximately 30 people who will specialize in maturation and distillation of Bulleit Frontier Whiskey. The distillery has been strategically designed so that production can be expanded if needed.
"The project is really taking shape and it's exciting to look around and have a true sense of what the site will look like in the end," says Pauline Rooney, vice president, Distillation, Maturation, and Engineering for Diageo North America, as well as chair of the Kentucky Distillers Association.
The first completed warehouse is already holding barrels of bourbon. The warehouse is expected to be full by mid-October. A second warehouse is nearing completion, and ground was broken on a third warehouse in September. Each has a capacity of 55,000 barrels. The warehouses offer state-of-the-art technology to ensure all barrels are aged consistently, including automated windows, fans, and insulation for temperature control and vapor dispersion.
The Bulleit Distilling Company plans to buy corn from local farmers and will implement a wet cake operation on-site for use by local farmers. The wet distiller's grain is a byproduct of the distillation process and is considered a cost-effective and environmentally conscious way for farmers to feed their cattle.
Diageo has set aside approximately 100 acres of land around the property line to serve as a natural barrier to site operations. Buildings have been strategically located on open areas with plans to reforest more acres on-site than will be impacted by construction.
Distillery officials say water conservation and protecting lake habitat are also top priorities. Water will be withdrawn—very slowly—from Guist Creek Lake into the plant storage pond, which will then provide water needed for distilling. Additionally, a 6 million gallon bio-pond on-site is capable of containing all the liquid on property, as well water that could be generated through the most extreme "100-year" rain event.
The Bulleit Distilling Company was founded in 1987 by Tom Bulleit, a Lexington attorney who revived his great-great-grandfather's high-rye bourbon recipe. The Shelby County distillery will mark the first time the Bulleit brand has its own distillery.
"With the existing bourbon heritage in our state and surrounding communities, it's been a really good project to be part of," Morris says. "It's gratifying and rewarding to know our energy team has such an impact on a project that will be great for our community."