Mammoth Cave's history adds "depth" to its geological wonders
As we approach the staircase that leads to the entrance to Mammoth Cave, cool air from beneath the surface wraps itself around us. The temperature in the cave hovers in the mid-50s year-round, a reminder that the hundreds of miles of open space beneath south-central Kentucky is in some ways its own world.
That sharp contrast between cave and surface has drawn millions of people to Mammoth Cave National Park for 80 years, though the cave's much longer history of attracting visitors is written on its very walls.
Prehistoric drawings, along with an array of ancient artifacts including torches, pottery, cloth and mummies— all preserved by those cool, constant temperatures—indicate that the first humans visited what we now call Mammoth Cave about 5,000 years ago. Those early visitors mined the cave's upper levels for gypsum, epsomite and other minerals. The first European settlers arrived in the late 1700s.
Mammoth Cave's history is as nearly as deep as the caverns themselves. On this day, I'm joining a group of about 80 visitors on Mammoth Cave's Historic Tour, a two-hour, 2-mile journey with a difficulty level described as "moderate" on the park's website. We descend into the cave entrance, through the revolving door and soon are staring up at the Mammoth Dome, with its 200-foot-high ceiling.
Park ranger Jerry Bransford is our tour guide. At 74, Bransford, a consumer-member of Nolin RECC, has been giving tours of the cave for 17 years, fulfifilling a childhood dream of continuing a historically unique family tradition.
Bransford is the great-great grandson of one of Mammoth Cave's first explorers and guides. Materson Bransford was born in Nashville in 1819. His mother was an enslaved person and his father was his wealthy white owner, Thomas Bransford. Thomas leased his son to the private owners of Mammoth Cave in the mid-1830s. There, Mat and another enslaved person, Stephen Bishop, helped map the cave—as teenagers.
In Mammoth Cave's sometimes confining depths, Bishop, Bransford and others found a freedom they lacked on the surface. Carvings of their names have been found roughly 7 miles down.
They also served as guides for wealthy and prominent cave tourists, who included visiting royalty from Russia and Brazil along with historic figures like writer Ralph Waldo Emerson and Gen. George Armstrong Custer.
Mat Bransford was the first of 12 Bransfords to serve as a cave guide, a family tradition that ended when the U.S. government bought Mammoth Cave, made it into a national park in 1941 and dismissed all the African-American guides.
Telling their stories
Jerry Bransford heard these stories as a child growing up in nearby Glasgow, and is proud to tell his ancestors' and the cave's stories to visitors from around the country and the world twice a day— and he gets good feedback. "I get cards from as far away as California, New York, all over," he says, "People say, 'Thank you, Jerry. I had no idea.' The audience response has been tremendous."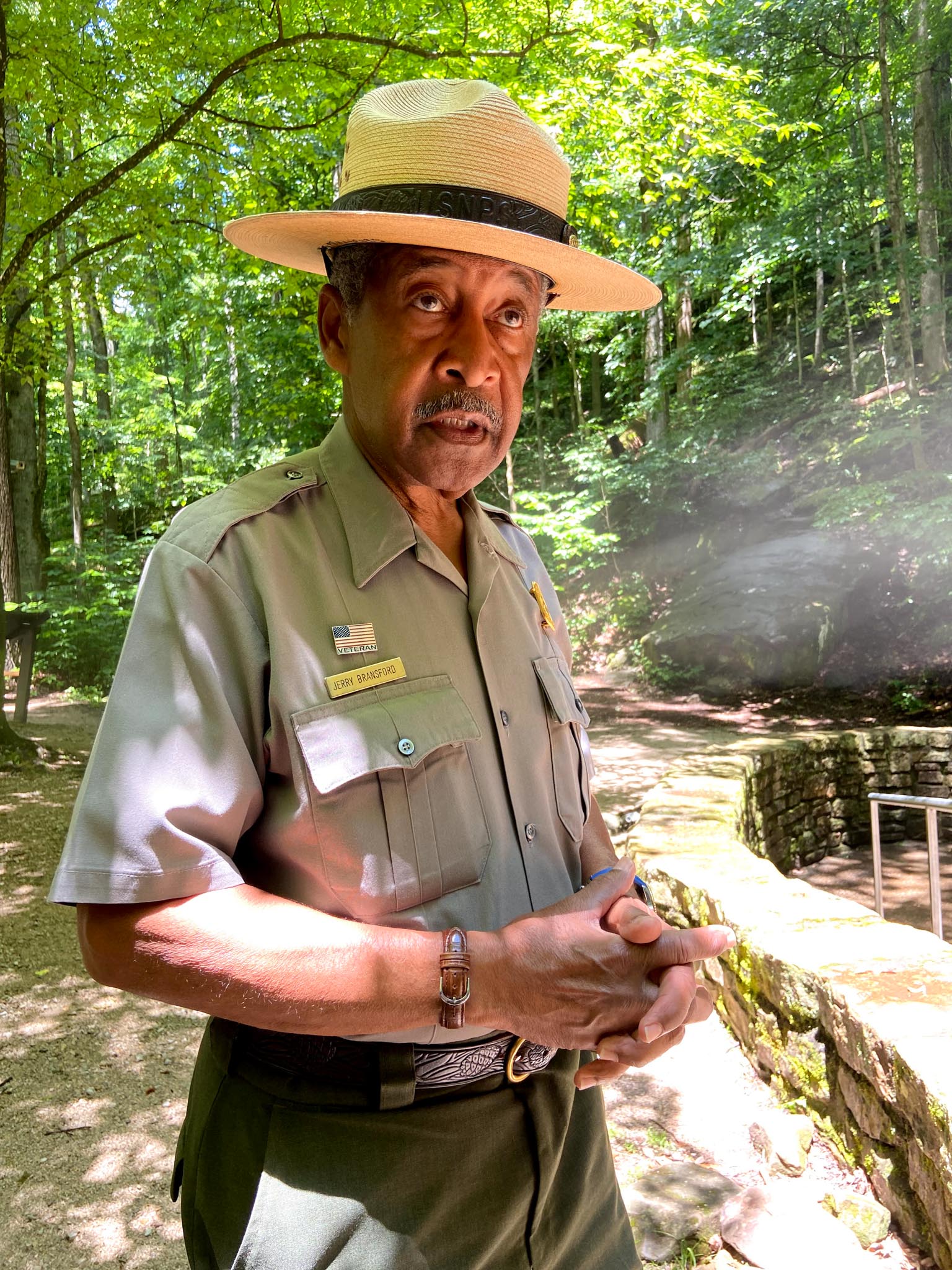 Jerry mixes in humor with the history and geology. At one point, he turns off the electric lights and the 80 of us stare into a darkness so thick we can't tell if our eyes are open or closed, at which point, Jerry says, "If any of you have a question, please raise your hand."
For much of the tour, we are in transit, sometimes in narrow confines. (At 6-feet, 3 inches and 250-plus pounds, I can attest that the passages known as "Tall Man's Agony" and "Fat Man's Misery" are accurately nicknamed.) The occasional tight enclosures are some of what makes the cave experience interesting, in part because of the contrast between those spaces and the vast openness of others which feel like subterranean cathedrals.
For those who crave a more intense cave experience, the park has long offered far rougher and more strenuous excursions, known as "crawling tours," where visitors snake their way even deeper into the cave. Those have been temporarily suspended due to COVID-19, though the park administration hopes to bring them back as soon as it's deemed safe to do so. On the other end of the difficulty spectrum, Mammoth Cave offers the Accessible Modified Tour, which, per the park's website, "is designed for persons with a disability, limited physical mobility, or any other reason for a tour with no stairs."
If you take all the tours Mammoth Cave offers throughout a normal year, you'd cover about 16 of the cave's 412 documented miles, which makes it the longest known cave system on Earth. Note that tours often sell out, sometimes two weeks in advance, and rangers caution visitors to book ahead. Mammoth Cave National Park also offers more than 50,000 acres of above-ground space as well for outdoor activities like hiking, camping, horseback riding, mountain biking and kayaking.
Jerry Bransford recommends the hiking as well as the cave, particularly the dozens of historic cemeteries throughout the park, evidence of communities gone but not forgotten. He's working with the National Park Service to establish a cemetery monument to honor his forefathers and their contribution to this national treasure. He does all this because he loves this place and its history, as his ancestors did. Spend enough time here and you might, too; there's something about the cave that sticks with you even when you leave it. As Jerry says, "I feel like the cave is inside me."
---
See more of Mammoth Cave 
More history, cave highlights and more can be found in this wide-ranging assortment of videos focusing on Mammoth Cave: 
Untold to the Unforgettable: African American Heritage in Kentucky  From Mammoth Cave (National Parks Service). In this video, park ranger Jerry Bransford shares his family's story and heritage, spanning all the way back to his ancestors serving as some of the first enslaved guides of Mammoth Cave in the 1830s.
Mammoth Cave National Park in a Day (Travel Channel). An early explorer called  Mammoth Cave National Park a "grand, gloomy and peculiar place," and that's where hosts Corinne Leigh and Rob Czar want to spend their day. Check out their must-see spots at the world's longest known cave system. 
Mammoth Cave: A Place Called Home (PBS/Western Kentucky University). This is a 30-minute documentary about the history of Mammoth Cave and the surrounding area.
Mammoth Cave National Park 1866 v 2016 with Narration from Charles Waldack's Writing (William Gross Magee). Charles Waldack took America's first underground photographs at Mammoth Cave in 1866. This video includes Mammoth Cave photography over the last 150 years, narrated with Waldack's writing.