Best in Kentucky awards live at Kentucky State Fair August 24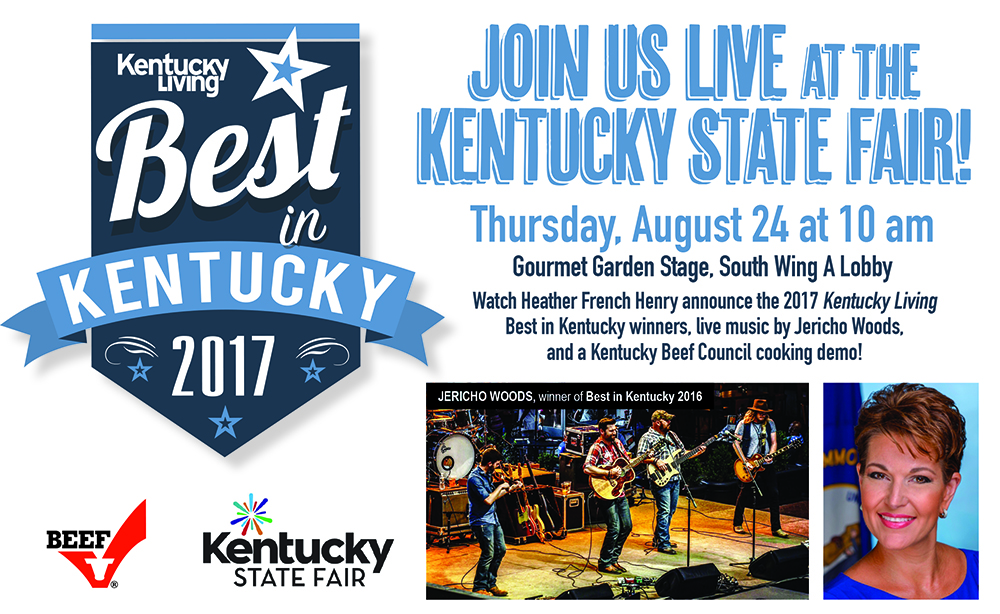 Who are Kentucky's favorite basketball player, TV meteorologist, and radio personality?
What is Kentucky's favorite barbecue, flea market, and shooting range?
The 2017 Best in Kentucky awards, as selected by readers of Kentucky Living magazine, will be announced live at the Kentucky State Fair at a special event on the Gourmet Garden stage.
Hosted by Miss America 2000 Heather French Henry, the Deputy Commissioner of the Kentucky Department of Veterans Affairs, the 2017 Best in Kentucky awards recognize our readers' favorites in 32 categories, plus the Best in Kentucky "Hall of Fame" in 11 additional categories.
Since 2010, the Best in Kentucky recipients have been announced in the pages of Kentucky Living magazine. For the first time, the Best in Kentucky winners will be announced live prior to the publication in the magazine, in the September issue of Kentucky Living. The public is invited to attend the 2017 Best in Kentucky Awards Show at the Kentucky State Fair at 10 a.m. on August 24 in the South Wing Lobby, not far from the Pride of the Counties exhibit which features many of Kentucky Living's tourism partners.
2016 Best in Kentucky winner for Kentucky Recording Artist, Jericho Woods, will perform at the event, which will also feature a live cooking demonstration by the Kentucky Beef Council and nominees for 2017 Best Hamburger.
Kentucky Commissioner of Agriculture Ryan Quarles and Kentucky Living columnists Byron Crawford, Sarah Fritschner, Dave Shuffett, and Dave Baker are all slated to announce award winners in categories ranging from Best Craft Beer to Best Hiking Trail.
The Gourmet Garden Stage is inside the air-conditioned South Wing A Lobby. A telecast of the event will also be available on KentuckyLiving.com and our social media channels following the event.
Check out the 2016 "Best in Kentucky" winners here.
Kentucky Living magazine is published by the Kentucky Association of Electric Cooperatives. KentuckyLiving.com offers the same focus on the life and people of Kentucky that you'll find in Kentucky Living.
Both Kentucky Living magazine and KentuckyLiving.com continue to support electric cooperatives in Kentucky by creating a community of people who take pride in thinking of themselves as Kentuckians and as knowledgeable electric co-op members in order to improve their quality of life.
Kentucky Living magazine is the largest circulation publication in the state. Each month it is received by more than 475,000 homes and businesses, and is read by more than one million people.