Here are your 2019 'Best In Kentucky' Winners
LONG WEEKEND GETAWAY
WINNER
Lake Cumberland—Somerset-Pulaski County, Russell County, Burnside, Monticello-Wayne County and Clinton County
Here are all the comforts of home, on the water: A gleaming houseboat with equipped kitchen, covered sundeck and even a hot tub for relaxing under a star-studded Kentucky sky and a slide for splashing down into the crystal-clear waters of Lake Cumberland. It boosts the ordinary vacay to extraordinary, the kind that makes lots of smiles and memories.
SECOND PLACE
Cumberland Falls at Cumberland Falls State Resort Park, Corbin
THIRD PLACE
Land Between The Lakes National Recreation Area, Golden Pond
DAY TRIP
WINNER
Mammoth Cave National Park, Mammoth Cave
Nearly a dozen cave tours with intriguing names like "Domes and Dripstones," "River Styx" and "Gothic Avenue." Free Heritage Walks and natural history Porch Talks. Biking, hiking and horseback riding. Boating, canoeing and kayaking. Camping, fishing and swimming. It's takes a king-size place to offer all these activities and more. Lucky for us, Mammoth Cave National Park is in Kentucky's backyard.
SECOND PLACE
Cumberland Falls at Cumberland Falls State Resort Park, Corbin
THIRD PLACE
Red River Gorge Geological Area, Stanton
KID-FRIENDLY ATTRACTION
WINNER
Ride a camel. Feed a lorikeet. Beat the heat at a nautically themed splash park. Follow the swinging red-tailed monkeys in the new African primate exhibit, Colobus Crossing, and head to a small Himalayan village in Nepal to see the new snow leopard habitat and play at the Cub House.
Marking 50 years in 2019, the Louisville Zoo is a fun place for family outings that also provides a peek into the worlds of animals we share the planet with—rare antelopes of Africa, wallabies of Australia, jaguars of South America and so many more.
SECOND PLACE
Kentucky Down Under Adventure Zoo, Horse Cave
THIRD PLACE
FARM TOURIST ATTRACTION
WINNER
Chaney's Dairy Barn and Restaurant, Bowling Green
Chow down on a Porker, Dairy-Aire or Spicy Bird sandwich before or after a self-guided tour of the robotic milker at Chaney's Dairy Barn and Restaurant. The robotic milker stays busy 24 hours a day, milking the farm's Jersey cows so visitors always have a chance to see it in action.
The playground is a kid magnet, with a tower with slides, swings, Ten Spin and ginormous inflatable Jumbo Jumping Pillow. Fun family events include the Ice Cream & a Moovie outdoor summer movie series, Miss Glimmer Appreciation Day in June (featuring a free scoop of ice cream), a corn maze for fall and Breakfast with Santa in December.
SECOND PLACE
Dennison's Roadside Market, Horse Cave
THIRD PLACE
Hinton's Orchard & Farm Market, Hodgenville
HISTORIC SITE
WINNER
My Old Kentucky Home, Bardstown
My Old Kentucky Home is one of the most iconic 19th century homes in America. Named for the abolitionist-inspired ballad, My Old Kentucky Home, Good-Night!, written by America's first composer, Stephen Collins Foster—known as "The Father of American music"—the Federal-style mansion was commissioned by John Rowan Sr. and completed in 1818, the centerpiece of a 1,300-acre plantation.
The mansion-museum stays busy through the year with programs like A House Divided (September 1-30), which explores its connection to the American Civil War, and the popular Weep No More, Bizarre Victorian Mourning & Funerary Customs (October 1-31).
SECOND PLACE
Shaker Village of Pleasant Hill, Harrodsburg
THIRD PLACE
Mammoth Cave National Park, Mammoth Cave
WINERY (NON-FRANCHISE)
WINNER
From a former golf driving range planted with 2,500 vines in 1998 to Kentucky's largest winery today, the Purple Toad pairs modern winemaking techniques with Old World know-how to produce its high-quality wines. Forty-three different wines are typically available, including best-sellers Black & Bruised and Strawberry Lemonade—the perfect refresher for summer's heat.
SECOND PLACE
Farmer & Frenchman Winery, Henderson
THIRD PLACE
Talon Winery & Vineyards, Lexington and Shelbyville
DISTILLERY
WINNER
Maker's Mark Distillery, Loretto
"My grandparents, Bill and Margie Samuels, simply wanted to make a whisky they would enjoy sharing with their friends," says Rob Samuels, eighth generation distiller and chief distillery officer. "As a result, Maker's Mark helped change the way people thought about bourbon."
Never bitter or sharp, Maker's Mark is made with soft red winter wheat for a one-of-a-kind, full-flavored bourbon that's easy to drink.
SECOND PLACE
THIRD PLACE
Woodford Reserve Distillery, Versailles
CRAFT BEER
WINNER
Country Boy Brewing, Georgetown, Lexington
"We are a place where all are welcome to come and enjoy some of the best beer that Kentucky has to offer," says Daniel "DH" Harrison, who owns Country Boy Brewing with Nathan Coppage, Jeff Beagle and Evan Coppage.
Indeed, Country Boy has created a special experience in a taproom that has a life and energy all its own.
"People want more than just a beer or dinner," says Harrison. "They want to drink in the culture." And that means sipping core faves, including Cougar Bait, Shotgun Wedding, Halfway Home and Cliff Jumper, while enjoying a gorgeous view from the taproom patio.
SECOND PLACE
THIRD PLACE
PIZZA
WINNER
With 18 locations throughout the central part of the state, this Kentucky pizza chain that originated in La Grange is a family-oriented restaurant offering a vast number of pizza options, from traditional to gourmet, gluten-free to specialty. The Hometown Favorite is topped with pepperoni, ham, pork topping, Italian sausage, mushrooms, onions, green peppers and black olives. Mmm.
The restaurant freshly shreds its mozzarella daily and sources the best locally grown produce. In addition to pizza, the menu includes appetizers, salads, sandwiches and wraps, pasta entrées and one very sweet treat, a pizza dessert made with cream cheese, seasoned fruit and streusel.
SECOND PLACE
THIRD PLACE
Rockhouse on the River, Henderson
BARBECUE
WINNER
Here is the quintessential roadside barbecue joint, a Kentucky Proud member where the brisket, ribs, chicken, pork and sausage are still smoked low and slow and all of the sides are made fresh daily.
"Visitors enjoy the fun and unique atmosphere," says owner David Carroll. "But of course the food and service is what is most important—and that's why we have so many who will drive a couple of hours just to eat some barbecue and hang out."
SECOND PLACE
THIRD PLACE
J&B Barbecue & Catering, Henderson
HAMBURGER
WINNER
A Tompkinsville landmark for eight decades, Dovie's is known for its burgers—soft, secret-recipe pieces of heaven fried in a soybean oil bath. The burgers are made just like they were back when Stanford Moore opened this mom-and-pop restaurant for his sister, Dovie.
People come from miles and miles away to step back in time, order their Dovie burger at the antique counter—complete with the original barstools—and wash it down with a glass-bottled soft drink or a tall glass of ice-cold milk.
SECOND PLACE
Laha's Red Castle, Hodgenville
THIRD PLACE
DOWN-HOME RESTAURANT
WINNER
The Lighthouse Restaurant, Sulphur Well
Roll up your sleeves and tuck into an all-you-can-eat, family-style meal in a restaurant with a down-home feel. Located on a country road about 15 minutes from Edmonton, the restaurant is a stroll across the street from Metcalfe County's historic Sulphur Well Park.
Diners tell owners Tammy and Rodney Deckard that coming to The Lighthouse Restaurant is like sitting down at grandma's supper table. Catfish, fried chicken, Penn's County Ham and more are served with sides including coleslaw, fried apples, country green beans, creamy stewed potatoes and red-eye gravy and biscuits. Desserts include pies that are always homemade and always delicious.
SECOND PLACE
The Dixie Café & Quick Stop, Keene
THIRD PLACE
SWEET SPOT
WINNER
The Sweet Shoppe and Dessert Café, Hodgenville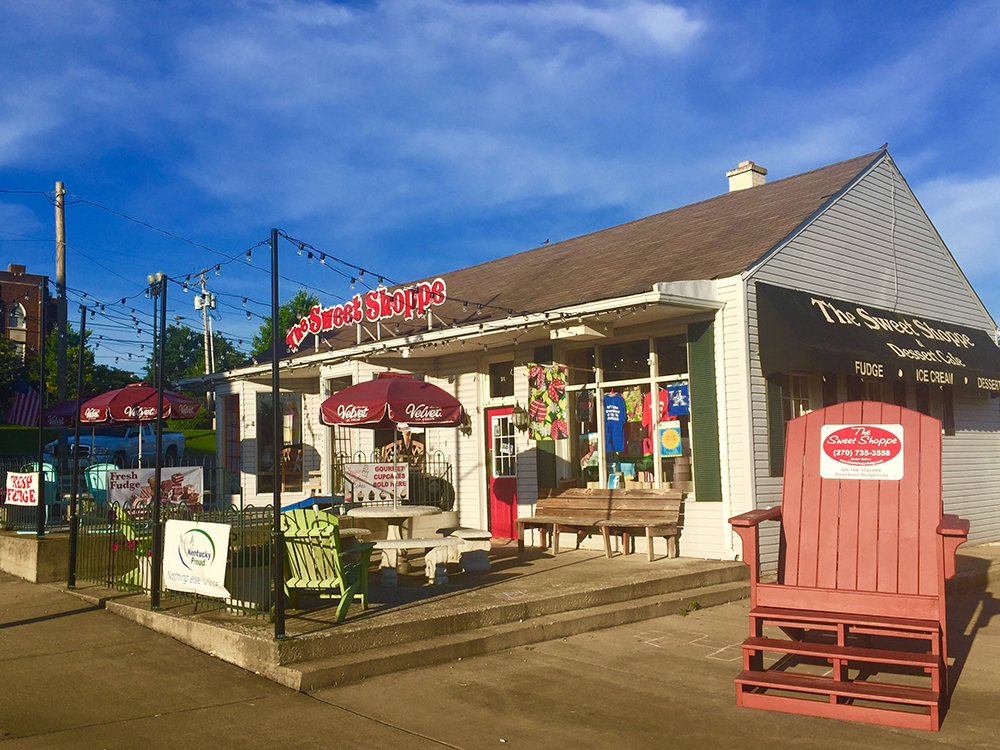 Nirvana for the sweet tooth: The Sweet Shoppe and Dessert Café in Hodgenville has 28 flavors of its own secret-recipe homemade fudge: cookies and cream, key lime, chewy praline, raspberry-chocolate swirl, chocolate caramel sea salt and more—all whipped up in double boiler kettles.
Sixteen flavors of Velvet and Bluebell ice cream are served in the shop's hand-dipped milk shakes, banana splits and sundaes. Trays full of cookies, turtles, gourmet apples, lemon bars, fudge-dipped strawberries and lots of other yummies also can be enjoyed with a view of downtown Hodgenville's Abraham Lincoln statue on the side.
SECOND PLACE
Crank & Boom Ice Cream Lounge, Lexington
THIRD PLACE
Chaney's Dairy Barn, Bowling Green
KENTUCKY MUSICIAN/BAND
WINNER
Chris Stapleton, Nashville, Tennessee
Country music sensation Chris Stapleton, nominated for multiple Academy of Country Music awards in 2019, is currently on the road on a sold-out All-American Road Show. The tour includes a stop at Louisville's KFC Yum! Center on November 2.
SECOND PLACE
The Kentucky Headhunters, Edmonton
THIRD PLACE
Tyler Childers, Nashville, Tennessee
MUSEUM
WINNER
National Corvette Museum,
Bowling Green
Visitors love that they can learn the history of the iconic Corvette—first introduced in 1953 in New York as a "dream car"—at the National Corvette Museum. The experience is blown off the charts when they slip behind the wheel of one of these snazzy sports cars—whether it is an interactive racing simulator or a C7 Stingray on the racetrack at the nearby NCM Motorsports Park.
SECOND PLACE
Audubon Museum and Nature Center at the John James Audubon State Park, Henderson
THIRD PLACE
The Lincoln Museum, Hodgenville
EVENT or FESTIVAL
WINNER
W.C. Handy Blues & Barbecue Festival, Henderson
It's free. It's fun. And it fetes the "Father of the Blues"—W.C. Handy, who spent some 10 years in Henderson. The W.C. Handy Blues & Barbecue Festival, one of the country's longest-running free music festivals, remembers the composer, musician and music publisher who was at the forefront of popularizing blues music with hits like Memphis Blues and St. Louis Blues.
The annual festival brings outstanding blues musicians and succulent slow-cooked barbecue together in one beautiful setting—Audubon Mill Park—for four days in June.
SECOND PLACE
Monroe County Watermelon Festival, Tompkinsville
THIRD PLACE
Lincoln Days Celebration, Hodgenville
PLACE FOR LIVE MUSIC
WINNER
Renfro Valley Entertainment Center, Mt. Vernon
It's not surprising, in a place known as Kentucky's Country Music Capital, that Renfro Valley Entertainment Center is all about the music: classic country, Southern gospel, mountain bluegrass.
Marking 80 years of headlining entertainment in 2019, this is a venue that values its commitment to offer a variety of shows appealing to all ages in its two theaters. With a staff noted for its Southern hospitality, Renfro Valley hops from April through December in its vast valley complex that also includes RV parks and shopping village.
SECOND PLACE — TIE

Rib Lickers Smoke Shack, Glasgow
GOLF COURSE
WINNER
Bright Leaf Golf Resort, Harrodsburg
Golfing groups agree with the slogan that Bright Leaf Golf Resort is "The Place to Be Since '63." The resort caters to groups who like to grill, play cornhole, listen to music, swim or play the lighted nine-hole, par 3 course after a long day on the challenging 18-hole golf course. Packages include lodging, green fees, cart fees and meals.
Overseeing operations is Helen King, daughter of Bright Leaf visionaries and builders, C.R. "Buck" and Virginia "Waddy" Blankenship.
"She works here every day—even now at 91 years of age," says granddaughter Tia Taylor. "Helen is the owner and 'mom' of her business, which employs four generations of the family."
SECOND PLACE
Valhalla Golf Club, Louisville
THIRD PLACE
Dale Hollow Lake Golf Course at Dale Hollow Lake State Resort Park, Burkesville
PLACE FOR ADVENTURE
WINNER
Red River Gorge Geological Area, Stanton
Thousands of hikers, wildlife lovers, photographers, picnickers, rock climbers, rappelers and other outdoor enthusiasts are irresistibly drawn every year to Red River Gorge, where adventure and camping opportunities abound.
Designated a Geological Area within Daniel Boone National Forest, this National Natural Landmark and National Archaeological District on the National Register of Historic Places is known for its spectacular overlooks, streams and unique geological features such as natural sandstone arches.
SECOND PLACE
Mammoth Cave National Park, Mammoth Cave
THIRD PLACE
Natural Bridge State Resort Park, Slade
CAMPING SPOT
WINNER
Red River Gorge Geological Area, Stanton
Regardless of camping style (tent, cabin, backcountry, group, RV park), visitors find their refuge at Red River Gorge, with everything from tent, horse and boat-in camping to more remote areas for those seeking the solitude of the forest primeval.
Gorge campers enter a wilderness of breathtaking scenery marked by cliffs, stone arches, waterfalls, lakes and ponds where they can drop a line and spot wildlife, including elk, eagles, peregrine falcons and black bear.
SECOND PLACE
Green River Lake at Green River Lake State Park, Campbellsville
THIRD PLACE
Land Between The Lakes National Recreation Area, Golden Pond
HOUSEBOATING LAKE
WINNER
Lake Cumberland—Somerset-Pulaski County, Russell County, Burnside, Monticello-Wayne County and Clinton County
It's hard to resist the call of pristine waters, miles of shoreline, cascading waterfalls and hushed coves tucked in out-of-the-way places. So don't. When the "Houseboat Capital of the World" beckons, plan a vacation in a custom houseboat on Lake Cumberland.
Choose from among the largest fleet of rental houseboats in one location, including two of the largest rental houseboats in the United States. No matter the size, interests, ages or budget of your party, there is a houseboat with your name on it.
SECOND PLACE
Kentucky Lake, Marshall County and Calloway County
THIRD PLACE
Dale Hollow Lake at Dale Hollow Lake State Resort Park, Burkesville
PUBLIC HUNTING/FISHING AREA
WINNER
Land Between The Lakes National Recreation Area, Golden Pond
The waters of Land Between The Lakes can be fished year-round, with crappie, largemouth bass and a variety of sunfish in the spring; white bass, catfish, sauger and largemouth and smallmouth in the summer; crappie, catfish and largemouth and smallmouth in the fall; and crappie, smallmouth bass and catfish in the winter. And fishers, take note: fishing success is rated mostly good throughout the year.
SECOND PLACE
Lake Cumberland—Somerset-Pulaski County, Russell County, Burnside, Monticello-Wayne County and Clinton County
THIRD PLACE
Barren River Lake at Barren River Lake State Resort Park, Lucas
MADE IN KENTUCKY PRODUCT
WINNER
There's an old joke at Maker's Mark: "If we could make it any faster, we wouldn't." From the old letterpress used to hand-cut labels to the way the distillery insists on hand-rotating barrels and hand-dipping bottles, Maker's Mark is still doing things just like it did when it began production in 1954.
Still, there's always something new and exciting going on at this little distillery in Loretto, from the unique culinary experiences at Star Hill Provisions to in-depth specialty tours to annual events like the Handcraft Festival and Holiday Open House. Of course, the chance to hand-dip a bottle in Maker's signature red wax is reason enough for many visitors to make the trip.
SECOND PLACE
Kenny's Farmhouse Cheese, Austin
THIRD PLACE
The Sweet Shoppe and Dessert Café fudge, Hodgenville
ARTS & CRAFTS FAIR
WINNER
Destination: The Pinnacles in Berea, a forest with hiking trails and hidden caves, scenic overlooks and scented wildflowers. Each year for three fabulous festival days, stunning art, delicious food, wandering musicians, dancers and artisans converge at the Indian Fort Theater at The Pinnacles.
What an opportunity to enjoy folk, jazz and mountain music, a variety of foodstuffs and browsing for handcrafted, one-of-a-kind treasures—pottery, jewelry, dolls, baskets, paintings, woodcrafts and more.
SECOND PLACE
St. James Court Art Show, Louisville
THIRD PLACE
Henderson Lions Club Arts and Crafts Fair
FARMERS MARKET
WINNER
With its dozens and dozens of booths, heaping tables of colorful produce, baskets of fresh-cut flowers, piles of artisan and beer cheeses, gaggle of growers and crowds of shoppers, the Lexington Farmers Market feels more like a festival than a Farm and Garden Market Cooperative.
But for more than 40 years, this year-round market has brought the goods—everything from meat to mulch, baked goods to beer and wine—and the dynamic atmosphere to downtown Lexington.
"Visitors love that they get to talk to farmers, support the local economy, see friends and eat delicious products from right here in Kentucky," says market manager Josh England.
SECOND PLACE
THIRD PLACE
Watch the entire ceremony from the Kentucky State Fair here!